A Taiwanese shipping magnate is to sue ex-RBS boss Fred Goodwin for up to £3billion for allegedly using his company's cash to keep the bank afloat before it collapsed.
The claim is believed to be one of the biggest lawsuits ever brought against a British individual.
Nobu Su, the billionaire chairman of Today Makes Tomorrow (TMT), accuses Goodwin – along with two former senior colleagues and the bank itself – of "hijacking" TMT's accounts and using them as "unlimited cash machines".
Between 2007 and 2009, when RBS was on the brink of disaster, the tycoon claims Goodwin "siphoned off" billions of dollars without consent.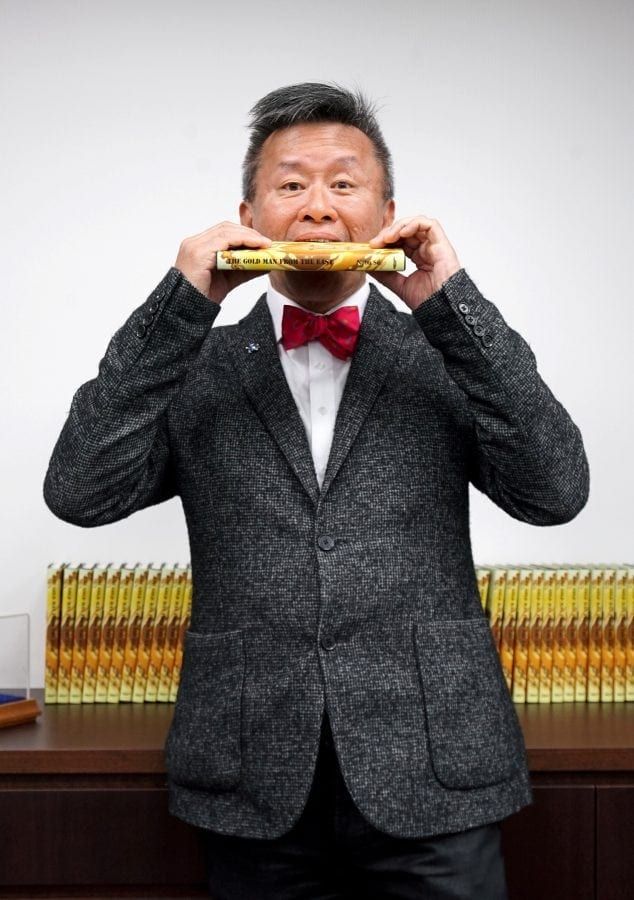 The value of TMT's assets, which included vast fleets of container ships, liquified natural gas (LNG) ships, very large crude (VLCC) tankers and bulk carriers worth up to USD$500million each, were also exploited by RBS at a time when its own future was in crisis, he claims.
Su – one of the wealthiest men in Asia at the time – also accuses Goodwin and former senior colleagues Neena Birdie and Marie Chang of insider trading and of manipulating shares worth almost USD$100million.
Together, they are said to have been "negligent in protecting his business interests" and conspired to "injure Mr Su by unlawful means".
He claims their actions, which almost brought family business TMT to its knees, cost him USD$3.6billion (£2.5billion).
Su, 59, started legal proceedings in 2014 but the case was dropped when a Singaporean court ruled that it would have to be heard in London.
Now the tycoon is preparing a claim against Goodwin, Birdie, Chang, The Royal Bank of Scotland PLC (trading as RBS Greenwich Futures), and The Royal Bank of Scotland PLC (Singapore Branch) in the British courts.
Speaking from his home in Japan, he also described the last 10 years as a "nightmare" and pledged to recover his firm's losses from those involved "in full".
He said: "After what has been an especially difficult decade due to our relationship with RBS, I now fully intend to recover my firm's losses in full.
"I understand that there is no way of doing so in Singapore and as such intend to bring a legal action against those involved in London where, I trust, justice will be served."
Su inherited TMT from his late father and is credited with turning a small marine transportation company into a multi-billion dollar global enterprise that, at its height, shipped an average of 250,000 metric tonnes of goods per day around the world.
But in his new book, 'The Gold Man From the East', released this week, Su claims the fortunes of TMT were "destroyed" after placing his money in the hands of "vultures" at RBS.
The book claims TMT's accounts were systematically "plundered" through a variety of "clever, intricate and stealthy" means to provide the failing bank with liquidity.
TMT was RBS' largest individual private client at the time.
"We came skipping into their yard, full of trust and eager to be accepted, with our pockets full of gold—and they mugged us," writes Su.
According to a statement issued on his website yesterday (Friday 14th September 2018), Su is now planning to take civil action against those allegedly to blame.
He also tweeted: "I will be soon be relaunching legal action against RBS, Fred Goodwin & 2 of his former associates in the High Court, London, in a £3billion claim for negligence."
The exact details of his up-coming claim have not been disclosed but are expected to mirror those of 2016.
At that time, Su said RBS had "fraudulently misled him of his true commercial position and consistently issued inaccurate statements with improper and erroneous margin requirements, resulting in considerable loss and damage to his business interests".
His book, The Gold Man From the East, goes on to reveal a series of sensational allegations about what he claims happened to his company's money.
These variously include claims that RBS, under Goodwin, and its subsidiary offices;
• Made a series of fraudulent remittances and transfers totalling some USD$3.6billion of TMT funds for its own advantage and without Su's consent
• Profited from dozens of needless "margin calls"– demands for multi-million-dollar chunks of capital
• Employed the same secretive tactics used by "money launderers working for drug cartels" to secretly transfer Su's cash into other accounts, including one at JPMorgan Chase against whom he is currently suing for USD$12million
• Used TMT funds without consent and without Su's knowledge to part fund the widely derided acquisition of Dutch rival ABN AMRO in 2007
• Was involved in a form of insider trading known as 'front-running' where confidential information about TMT was shared with and used to make money from its competitors
• Used TMT assets as collateral without consent to raise a loan through America's Primary Dealer Credit Facility
"Today Makes Tomorrow is the perfect victim for Royal Bank of Scotland," Su states in his book.
"We're privately-owned, exist outside Western regulatory oversights and, as an Asian company, we have no 'friends' to protect us from the vultures in the City of London and on Wall Street.
"Manipulating TMT's accounts was like taking candy from a baby."
It is the second time in as many years that Fred 'The Shred' Goodwin, who had his knighthood removed, has faced legal action for his role in RBS' near-collapse.
In 2017 he escaped being summoned to the High Court after thousands of shareholders who complained of being misled into buying the bank's shares accepted an out-of-court deal.
According to his website, Su now intends to seek damages in the British courts.
Su adds: "They used me to fix their system and then they tried to break me.
Unfortunately for RBS, I'm not one to sit still or keep quiet."