Historic Oxford University has come under fire after a department invited alumni to a dinner – saying 'partners and wives' were welcome.
The email was sent from the Department of Materials Alumni Association, asking if graduates would like to attend a dinner event at Oxford's St Edmund Hall.
Graduate Dr Anna Ploszajski tweeted a screenshot of the email using #everydaysexism, which is popularly used to share accusations of sexism on a day-to-day basis.
The award-winning materials scientist and engineer wrote: "In which universe is it acceptable to say 'partners and wives are very welcome' on an invitation?"
Tom Williams, responding to the tweet wrote: "I agree, the fact that husbands were not invited is blatant sexism – shame on them!"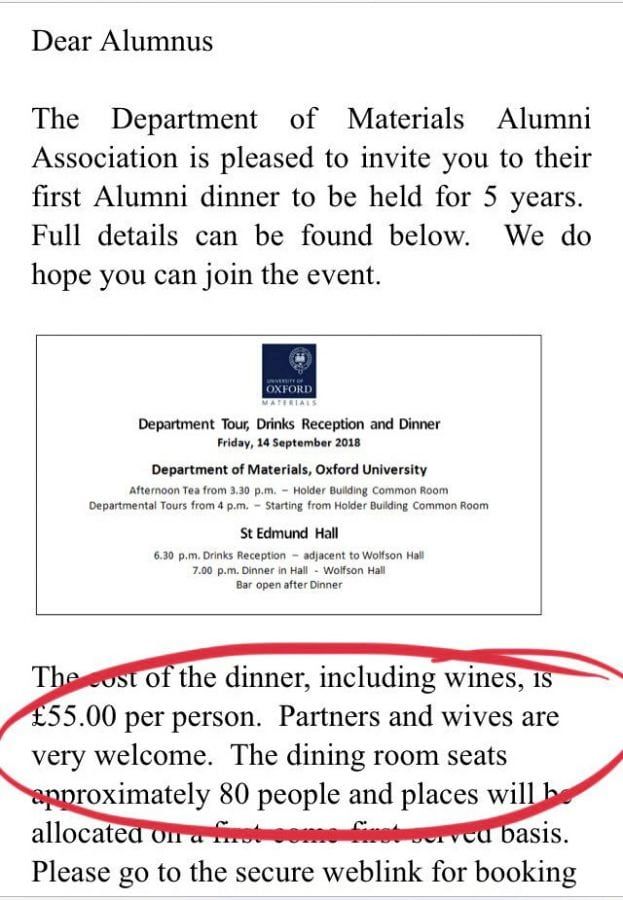 Current Oxford PhD student Sally Le Page pointed out that addressing the invite to 'alumnus' was also incorrect as it used the male singular form of the word.
In support of the criticism of the "non-inclusive language", Johnny Rich started up "#ancientromansexism" on Twitter.
A University of Oxford spokesperson said it was "looking into the matter but it is absolutely committed to gender equality, including the advancement of women in science."
https://www.thelondoneconomic.com/news/oxford-university-dean-brands-students-entitled-smashed-glasses-abused-catering-staff-traditional-college-dinner/16/02/