Colin Hewitt, 72, collapsed at home last Wednesday (28/3) after watching TV and was taken to his local hospital by ambulance after his wife Sue, 70, dialled 999.
Because of a shortage of beds at Horton Hospital, in Banbury, Oxon., he was forced to spend the night on a trolley and managed only 45 minutes sleep.
The next day he was transferred 28 miles away to John Radcliffe Hospital, in Headington, Oxford, for angioplasty surgery and to have a stent fitted.
Staff told Mr Hewitt, a retired director of an engineering company, an ambulance would take him back to Horton Hospital after the procedure where he would spend the night.
But because of delays, Mr Hewitt was forced to take a taxi to the hospital late at night but was stunned to find the reception closed and the cardiac department locked.
Shockingly, the father-of-four was forced to climb two flights of stairs and roam dark corridors before he found the right ward.
He has now written to Health Secretary Jeremy Hunt to complain about his treatment, which he described as a "traumatic experience".
Mr Hewitt, who has since returned home to Banbury, said: "It happened at around 10.30pm. I was on my way to bed after watching TV.
"I felt pains in my chest while I was on the stairs and realised I was having a heart attack and called to my wife for help.
"She is medically trained and dialled 999.
"When the ambulance crew arrived they check on my vitals and gave me an oxygen mask, I was then taken to Horton Hospital.
"After they ran tests on me, they realised they didn't have the equipment to treat me, so I was taken to the John Radcliffe Hospital the next day.
"I was admitted to the cardiac unit and had an angioplasty surgery and a stent put in. I came out at about 2pm.
"I returned to the ward to await my transfer back to the Horton later that afternoon.
"As no transport was forthcoming, at around 6pm we asked if my wife who is a trained first aider could drive me back to the hospital.
"We were told by the nurse in charge that this transport problem often happened because it was a day unit and closed at 9pm.
"She said there were times when had had to stay until gone midnight because transport had been forgotten for patients.
"When we asked if my wife could take me, the nurse told us 'if would be classed as you checking yourself out of the NHS system.'
"She said that there would be no medication available to me and I might not be allowed to be re-admitted if there were complications.
"As my blood pressure was extremely high, and being diabetic, we realised that the consequences of this action was too serious and decided against it.
"My wife left about 7.30pm, leaving me to have a sleep. At around 9.40pm I awoke but there was still no transport, then about 15 minutes later I was told that transport had arrived, so I was shown the entrance and found a taxi waiting for me."
To make matters worse, Mr Hewitt claims there was no medic to accompany him and he was even forced to direct the taxi driver.
He added: "The door of the hospital had closed behind me and was locked so I felt I had no option but to get the taxi.
"The driver did not know the directions to the Horton so I directed him there. When we arrived at the hospital it was pouring with rain.
"I walked into the main entrance but the reception was closed so I followed a sign for Cardiac Rehab but the department was closed and the doors were locked.
"I went out of the building and walked in the rain to the A&E department which I knew would be open.
"The receptionist knew nothing of my intended arrival so asked me to be seated while she made some enquiries.
"She eventually returned to inform me that I was expected on Juniper Ward. I was not offered any escort or wheelchair to help me so I had to find the ward unaccompanied.
"By the time I found it I was very fatigued and cold but still had to climb up two flights of stairs and along another corridor as the lifts had been closed.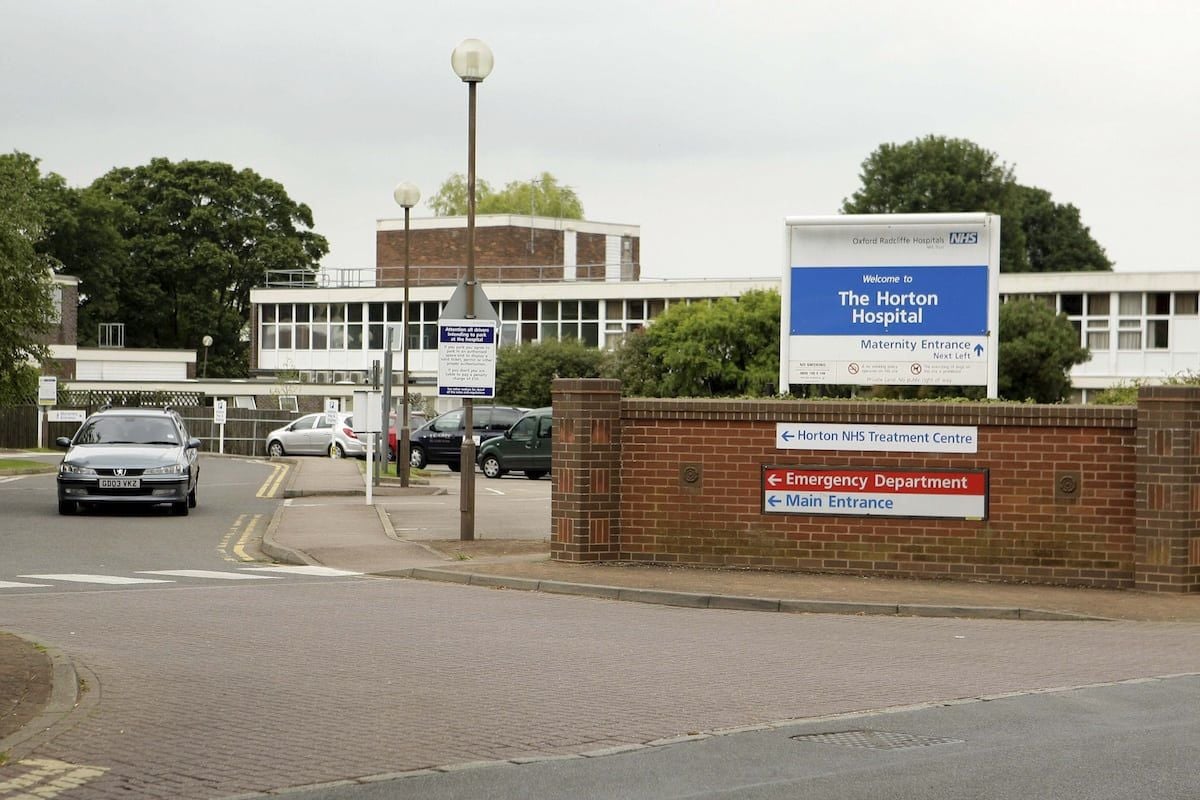 "A porter found me and showed me to a bed and I virtually collapsed onto it. I kept thinking to myself 'I've had a heart attack and I'm walking around a hospital at night'.
"The next morning I told the ward sister what had happened to me and she was horrified.
"I could have quite easily collapsed and died in one of those dark corridors whilst looking for the ward.
"I was not offered any assistance up the ward and I was in a very weak state on arrival.
"This saga is appalling and shows a complete lack of care and consideration, especially after my life-threatening illness."
Oxford University Hospitals NHS Foundation Trust have launched an "urgent investigation" into Mr Hewitt's care.
A spokesman said: "We are very concerned by the complaints raised by Mr Hewitt about other aspects of his experience in our hospitals.
"The issues which he has highlighted are extremely concerning and we are investigating them as a matter of urgency.
"We will share the findings with Mr Hewitt when we have completed our investigation.
"As an organisation we are committed to learning lessons when the care which we provide falls below the high standard which patients and their families should expect."
https://www.thelondoneconomic.com/news/nhs-payrise-the-government-giveth-with-one-hand-and-puncheth-in-the-face-with-the-other/09/03/
https://www.thelondoneconomic.com/news/campaigners-unite-in-bid-to-get-medicinal-cannabis-oil-on-nhs-as-debate-set-for-westminster/04/04/
https://www.thelondoneconomic.com/news/watch-jeremy-hunts-laughable-attempt-re-writing-history/03/10/