Beleagured Theresa May has addressed the nation, insisting: "you want this stage of the Brexit process to be over and done with. I agree. I am on your side," despite a poll showing 90% of Brits think Brexit is a "national humiliation."
The PM proceeded to attack the MPs she is seeking to persuade a third time to vote for her unpopular EU Withdrawal Deal, complaining "MPs have been unable to agree on a way to implement the UK's withdrawal."
Blaming the MPs she now needs more than ever, the PM was attacked from all sides for stubbornly flogging a dead horse, or rather her hopelessly inanimate unicorn.
And for stubbornly not listening to her fellow parliamentarians.
This thread started by Labour MP Andrew Gwynne, which has since been taken up by other MPs who share his experience, illustrates clearly why Brexit is so broken.
It also shows how Theresa May is so far off the mark blaming MPs for being "unable to agree," while claiming to be on the public's side.
The MP for Denton and Reddish in Greater Manchester, 61% of which voted Leave, started sharing a small sample of the daily demands his constituents make for Brexit – some who want Brexit, others who've changed their minds, others who are dead set against it – and literally nobody can agree on what it is they actually want:
For example this constituent who voted Leave and now wants EFTA: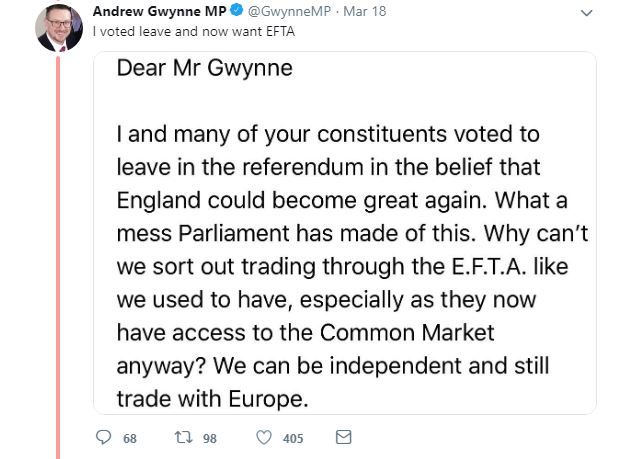 "Vote against May's Deal and let's have something like Norway"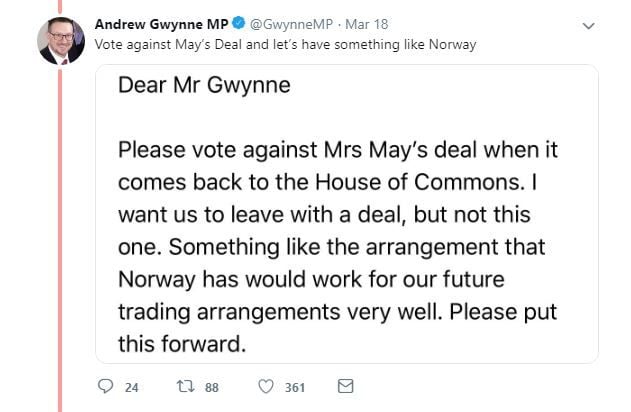 "I voted leave and now regret it"
"Vote against May's Deal as I'm worried about jobs and peace in N Ireland"
"I voted leave, just LEAVE"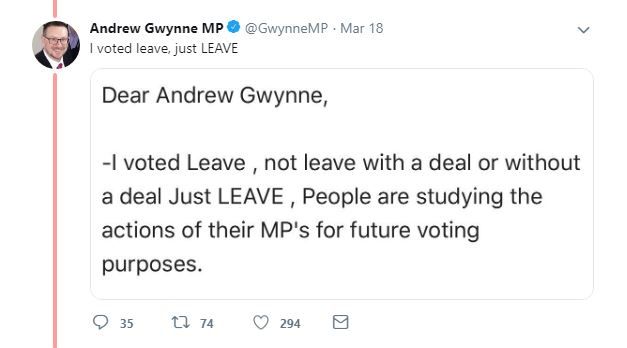 A rare expression of support for the PM's Withdrawal Deal:
All demands from constituents in just one day, showing how divided even people who voted to leave the EU are about what course should be taken now.
Labour colleagues agreed.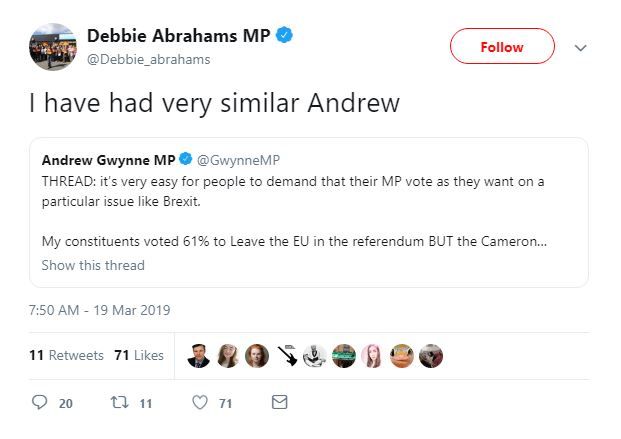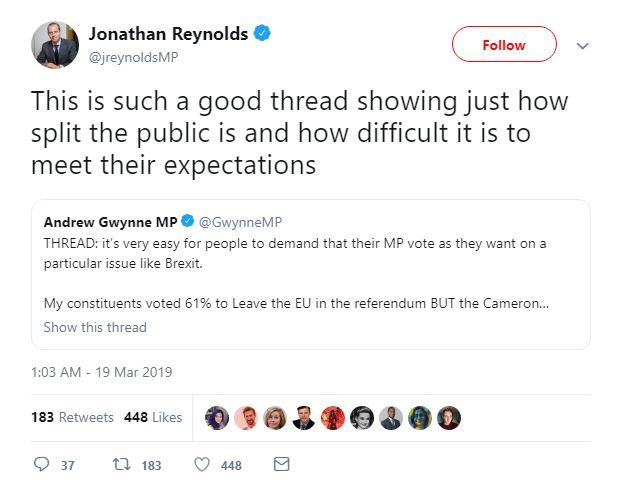 As did MPs from the Conservative benches. South West Devon MP Sir Gary Nicholas Streeter explained how divided the electorate is: "Everyone wants a different outcome and all are convinced their view is TRUTH. Stuff of nightmares."
Which makes a mockery of Theresa May and sections of the press claiming to speak for "the will of the people" when polls expose such nonsense, as do the experiences of parliamentarians trying to reflect the wishes and best interests of their constituents.
Yet meanwhile Theresa May refuses to deviate from an agreement panned from all sides as the worst of all worlds, supported by just 21% of Brits, who are becoming increasingly sceptical of politicians' ability to sort any of this out.
RELATED BREXIT NEWS: