Remain would win a significant majority if the EU referendum were held again, according to a major new poll from Channel 4 and Survation.
Some 54 per cent of people said they would stay in the EU if the 2016 referendum were held tomorrow – when those who refused to vote or answered "don't know" were removed.
Survation interviewed 20,000 people in the biggest ever independent Brexit opinion poll.
Analysis showed that 105 council areas that voted Leave in 2016 would now vote Remain, with support for leaving the EU falling most sharply in local authorities that saw the highest vote shares for leave.
Results of the 2016 referendum by local authority (Remain *yellow, Leave *blue):
Results of the 2018 survey of 20,000 people (Remain *yellow, Leave *blue)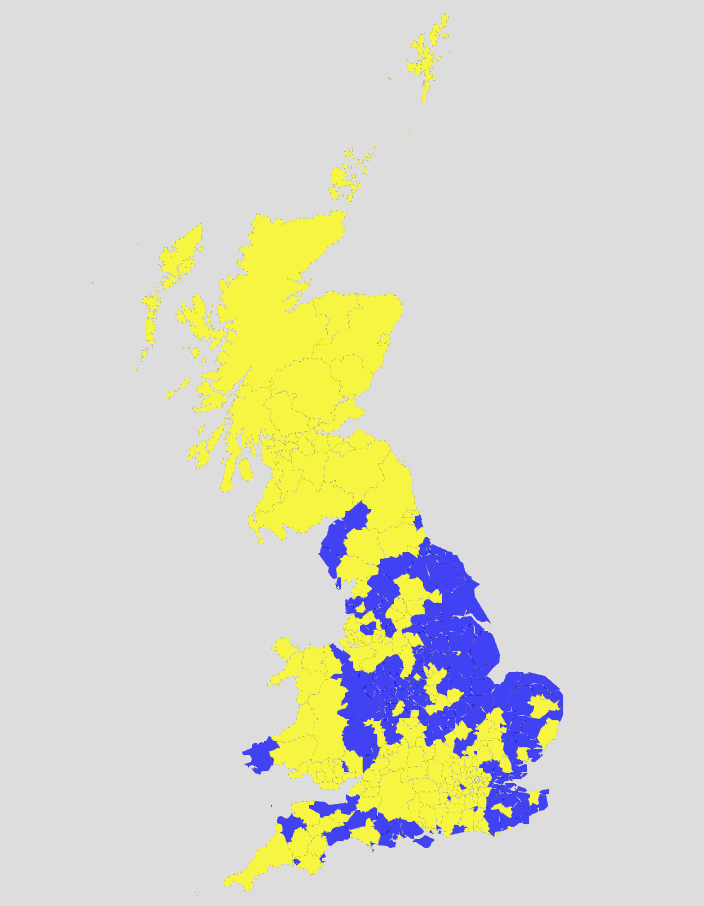 A majority of people asked also said they were open to the idea of a second referendum if the UK and EU agreed a deal on the terms of Brexit, depending on the choices offered on the ballot paper.
More people thought withdrawing from the EU would be bad for the UK economy and the NHS than good.
Some 40 per cent voters thought Brexit would have a good effect on levels of immigration to the UK, versus 21 per cent who thought it would be bad.
RELATED 
Britain's deportation process has been secretly militarised under Hostile Environment policy