A Conservative councillor who posed in front of homeless people's tents tweeting that they should be torn down has been suspended.
Yesterday The London Economic reported the appalling tweet, in which Kathryn Kelloway called on council leader Huw Thomas to "tear down" the tents if he sought a "better image for Cardiff".
The Tory councillor's  tweet provoked outrage with many calling her  "inhuman," "vile" and "disgusting." Many also pointed out that homelessness has increased massively under her party's government and Conservatives should be seeking a solution for the homelessness their policies have caused rather than demonising rough sleepers. 
There were over 2,000 replies to her original tweet including former Wales rugby players Gareth Thomas, who said she made him "sick", and Ian Gough who called her "a disgrace to humanity".
Ms Kelloway said she stood by her comments and was "glad what I said has raised so much awareness".
But the Conservative group in the council said that she was suspended "in light of recent comments on social media".
Kathryn Kelloway, a councillor for the Cyncoed area of Cardiff, tweeted to the city council's leader a picture of herself standing in front of tents pitched on a shopping street.
"Cllr Thomas, if you seek safety in our city centre, if you seek prosperity for local businesses, if you seek a better image for Cardiff, Cllr Thomas come to Queen Street," she wrote. "Cllr Thomas, tear down these tents."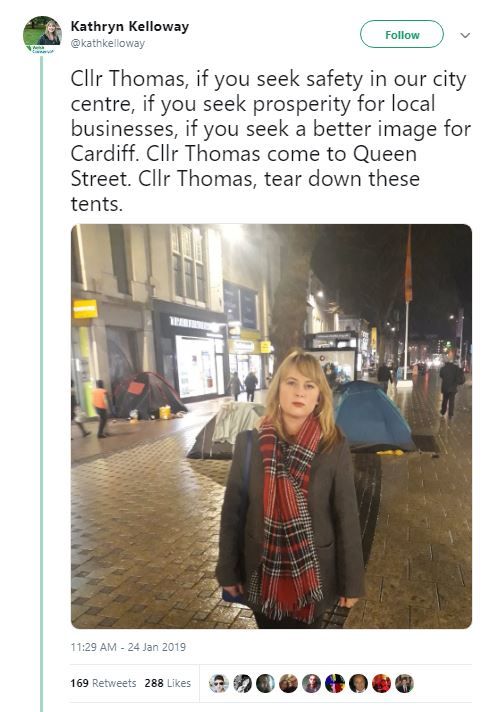 Her Tweet was met with a furious backlash from people on the social media platform, many blaming her party for the homelessness problem in the first place.


Kelloway said she was glad she had managed to raise awareness of the issue and continued to explain her reasoning over a series of further Tweets "If these people had nowhere else to go my comments would be horrible and heartless! But they do have somewhere to go. There are more than enough hostel beds available in Cardiff. I want them in rooms, not in tents."
She said she had previously worked for homelessness charities. "I know there are enough spaces in hostels for these people and it is a failure of policy that they are allowed to live in tents instead of using services."