This is the moment a group of exhausted alleged "illegal immigrants" from Afghanistan – including a 14-year-old boy – were pulled from inside a tanker.
The driver apparently noticed when he pulled into a petrol station and heard "banging" coming from inside the huge tanker.
Police were called and a shocking video shows one officer lift the hatch and shout "it's a full tank – someone call an ambulance".
The eight men and the boy were discovered inside the vehicle, which was carrying polystyrene crystal and had entered the UK from France on Wednesday.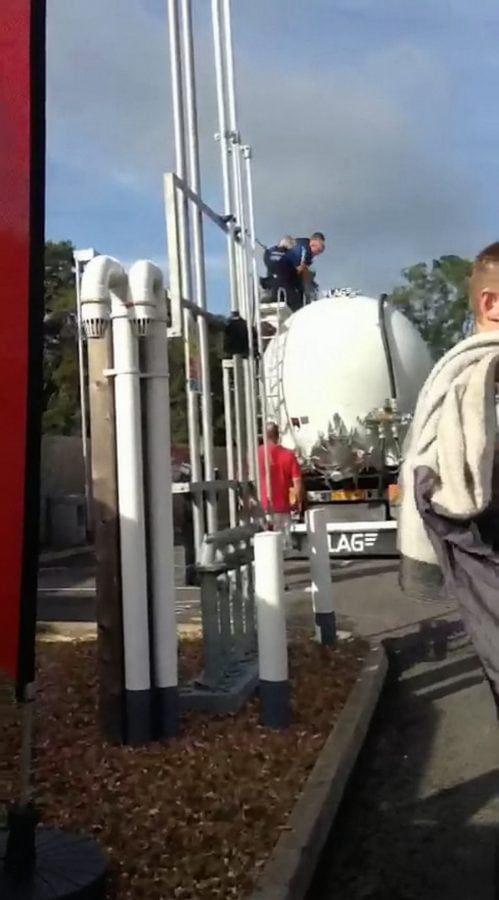 Bewildered customers at the Shell filling station in Bracknell watched as officers clambered onto the white tanker before reaching inside to help them out.
Footage taken by a witness shows the first person pop up from inside the tanker wearing a dark jacket and trousers.
He then slowly climbs down the stepladder as a second man scrambles out carrying a rucksack before two more men emerge seconds later.
A Thames Valley Police spokesperson said they received reports of noise coming from the lorry tanker at 9.26am.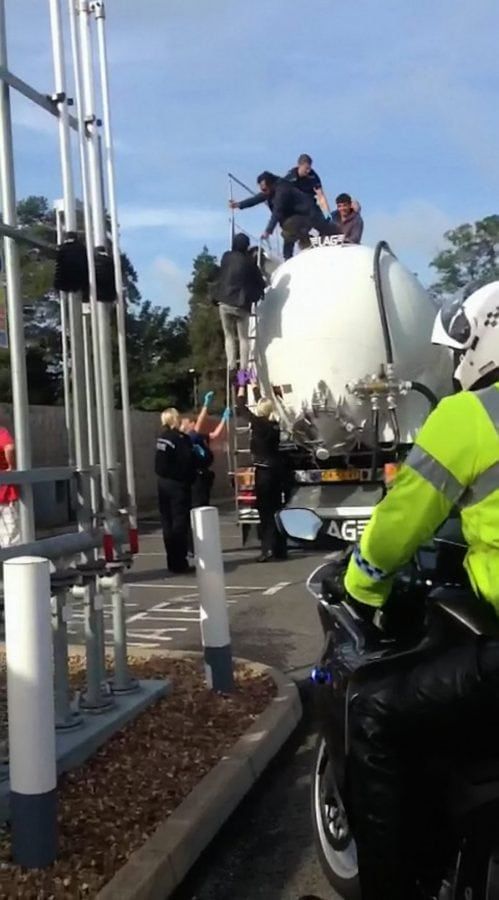 The group, who are suspecting of illegally entering the UK, were arrested and detained.
A 57-year-old man has been arrested on suspicion of facilitating illegal immigration and is in custody awaiting interview by Immigration Enforcement Criminal and Financial Investigation officers.
Eight men remain in police custody and a claimed minor will be referred to social services.
A 26-year-old man, who filmed the incident, said: "I pulled in to get a coffee this morning at about 8.30am or 9am.
"A tanker pulled in and a lot of noise was coming from it.
"Someone called the police because they could hear people in there.
"They were banging and then they went quiet – everyone was getting a bit worried.
"Three police vans and a police car pulled up and I started videoing.
"They looked in and said 'it's a full tank – someone call an ambulance'."
He said he thought the men were from Eastern European and were rescued from the tanker one-by-one.
"They were looking worse for wear," said Sean.
"I don't think there were any children – just men and women who were young-ish.
"They had their backpacks on and hadn't seen daylight for a while so were squinting."
The rescue operation was completed by 10.30am.