Shocking mobile phone footage has emerged of a prisoner being attacked in his own cell by a gang of fellow inmates at scandal-hit HMP Birmingham.
Gang violence with impunity, blatant drugs taking, suicide, self-harm, vulnerable prisoners locked up 23 hours a day and corridors littered with cockroaches, blood and vomit all featured in a shocking prisons inspectorate report that had HMP Birmingham taken off private security firm G4S yesterday as this latest shocking video emerged.
Mohammed Waqas, 24, was left with a broken nose and two black eyes in two separate assaults over the weekend after being accused of being a "a snitch".
Disturbing footage shows the humiliated victim being made to call himself a 'p***y' and say 'Pete you're the man' before being repeatedly slapped and punched.
The video comes just a day after the Government announced it was taking over the running of the jail from G4S after inspectors said it had fallen into a "state of crisis".
Inspectors visting HMP Birmingham reported "appalling violence and squalor" with staff and inmates frequently hospitalized in a prison so out of control that during their unannounced visit this month, their cars were set on fire along with prison staff's in an arson attack on what should have been a secure car park.
The emergency takeover of the prison by a new management team came after Her Majesty's Chief Inspector of Prisons called on Justice Secretary David Gauke to open an independent inquiry into the conditions in which 1,200 prisoners have been held in HMP Birmingham.
Peter Clarke said that the government "must have been asleep at the wheel" as the prison had "slipped into crisis," deteriorating since the last damning inspection just 18 months ago.
The chief prison inspector recently reported that in the year 2017–18 prison inspectors documented some of the most disturbing jail conditions they had ever seen across Britain, insisting that these conditions had no place in the prison system in an advanced nation in the 21st century. "Violence, drugs, suicide and self‑harm, squalor and poor access to education are again prominent themes," Clarke found.
https://www.facebook.com/TheLondonEconomic/videos/2107319112851333/
Mohammed's partner, Aisha Ali, 24, from Alum Rock, Birmingham, said: "My partner was assaulted by six inmates on two separate occasions.
"They recorded the incident on a phone and within 15 minutes of the assault the video went all over the internet.
"We have been trying to contact the prison and the police several times because it is really unsafe.
"He has a broken nose and two black eyes and he's been left in really dangerous conditions, it's difficult for us to speak to prison authorities."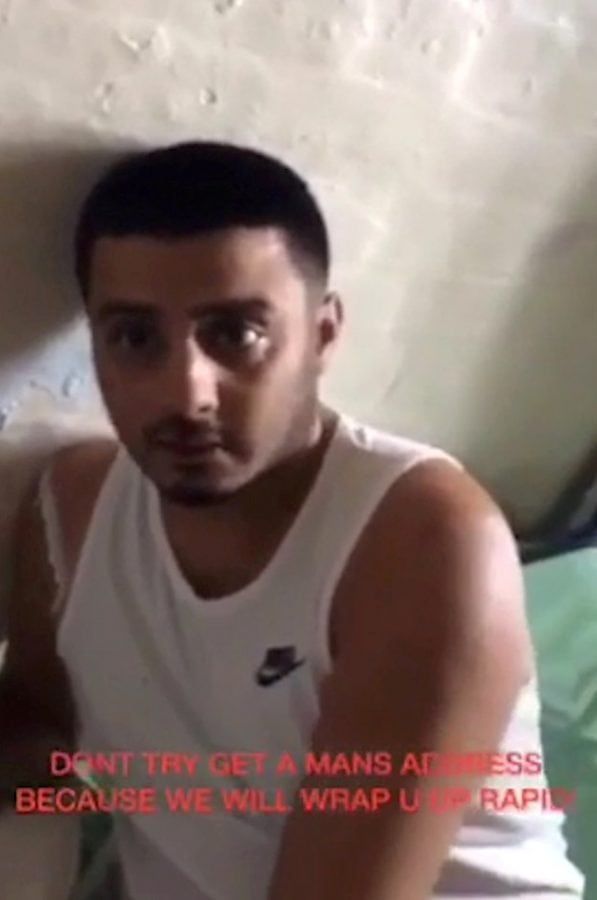 Mohammed's uncle Mushtaq Hussain, 56, a retired garage owner from Alum Rock, said: "My nephew was beaten in his cell twice.
"They are not looking after his welfare. We have contacted the Home Secretary and our MP about this. "What hurts the most is they say they don't know what has happened.
"He has broken his nose, yet they have not said anything.
"We are very concerned about my nephew's welfare and we've asked if we can talk to him but they said we can't, there is drugs inside, there are mobiles inside and there are gangs attacking other prisoners and my nephew could have been killed.
"I want to speak to the Governor, my nephew should be in hospital and his welfare need to be looked after.
"Everyone responsible needs to go, the security needs to be upgraded.
"We wanted to visit him immediately and they said we couldn't – we are going to arrange a massive demonstration outside the prison.
"This prison has a big problem with gangs if they allow if they like these people take videos and post them on the internet.
"Mohammed is the father of a young child and he has a young wife – he has not even yet been charged.
"He is in prison over an allegation of assault, he's on remand."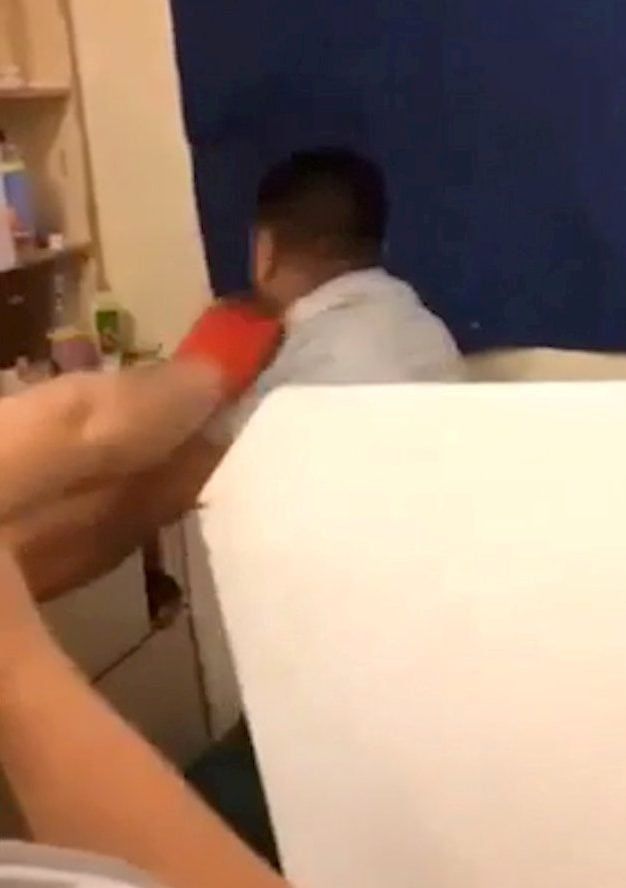 In one video Mohammed is seen being punched and slapped in his cell by a lag wearing orange gloves along with five other gang members.
The attacker says "Say 'I'm a p***y', what else are you? A snitch bro, you're a snitch."
Mohammed replies "Get your hands off me" before being slapped and punched in the head as he is made to recite "I'm a p***y."
In the other video a frightened looking Mohammed can be seen saying: "Pete, you're the man, I'm sorry, I'll come out of here like a changed man."
His attacker says "and what else?" before punching him in the head as Mohammed says again: "You're the man Pete."
The subtitled caption on the video reads: "Don't try and get a man's address because we will wrap you up rapid."
Earlier this week the Ministry of Justice seized control of Birmingham Prison from G4S after a damning report from Peter Clarke, Chief Inspector of Prisons.
It read: "On average, almost a quarter said they felt unsafe at the time of the inspection; this figure was as high as 37 per cent in Birmingham and Wormwood Scrubs.
"Some prisons had begun to take appropriate strategic action, but even then violence remained high and more sustained action was required."
Multinational security giant G4S that was awarded the 15 year contract to run Britain's first privatised prison under then Home Secretary Theresa May has been linked with some of the biggest scandals in outsourcing and privatizing services in Britain, but still manage to land multi-million pound government contracts.
G4S guards were cleared of manslaughter after holding down Jimmy Mubenga, 46, on a deportation flight to Angola until he died.
During the 2012 Olympics, the company charged with security made such a mess of it that Britain's armed forces had to be called in to police the event in appalling conditions, costing at least £70 million.
The multinational managed to land a new contract for tagging people on bail, despite having to pay the taxpayer back £109 million after a Serious Fraud Squad Investigation overcharging for tagging criminals, many of whom were found to still be in prison or even dead. The company escaped fraud charges for their contract awarded by then Home Secretary Theresa May.
G4S lost the contracts for Rainsbrook and Medway secure training centres for young offenders after staff were found on drugs and behaving "extremely inappropriately" at Rainsbrook and Panorama filmed staff at Medway allegedly inappropriately restraining children. The G4S staff were cleared of assault.
And in 2017 nine staff were suspended from Yarl's Wood, a G4S-run immigration detention centre for women and families after claims of abuse and assaults against detainees.
The prisons minister, Rory Stewart, admitted today that the conditions in HMP Birmingham were clearly unacceptable. "It has become clear that drastic action is required to bring about the improvements we require," he said. "This 'step in' means that we can provide additional resources to the prison while insulating the taxpayer from the inevitable cost this entails.
"We have good, privately run prisons across the country and while Birmingham faces its own particular set of challenges, I am absolutely clear that it must start to live up to the standards seen elsewhere."