Scuffles broke out as students protesting about the salary of Britain's best-paid university vice chancellor were bundled out of meeting.
Action group Bath Students Against Fees and Cuts is calling for the resignation of £451,000-a-year boss Professor Dame Glynis Breakwell.
They stormed into the university's annual 'Let's Talk' event and unfurled a banner reading "Resign Now".
Security guards grabbed one student and forcibly ejected them from the building after they were seen handing flyers to staff leaving the talk.
The protestors said they were harassed by the security who seemed nervy and on edge.
The one-hour event was open to students and university employees who were encouraged to "come and listen to the presentations from the senior team, ask questions and stay to chat to the senior managers afterwards".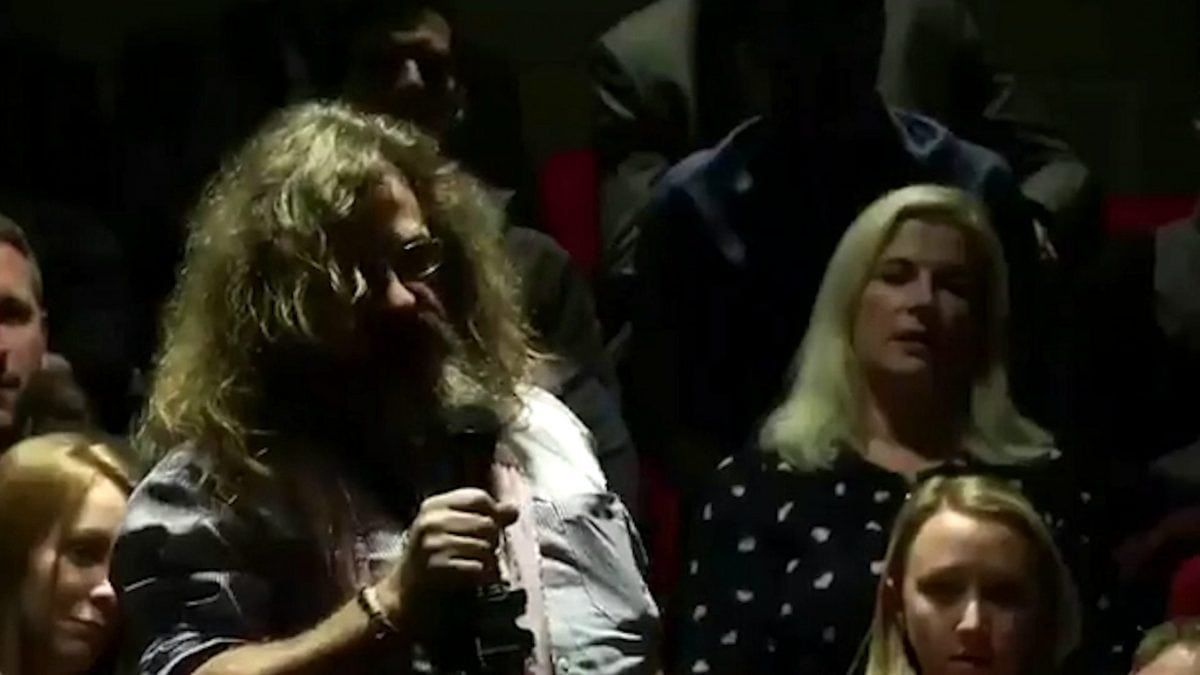 Instead staff and students used the event as a platform to protest the chancellor's sizeable pay packet – which has shot up by more than 77 per cent in the last decade.
A representative of Bath Students Against Fees and Cuts said that the "seven or eight" security guards, including some in plain clothing, were "quite on edge" during the event – and "harassed" students handing out leaflets.
They added: "What we did was entirely lawful, they had no reason to kick us out.
"Since the scandals began to unfold the university has been much more keen to control what happens at their public events and silence any form of criticism.
Most staff can't speak out because their jobs could be put on the line.
"To be honest, the whole push-out seemed quite inappropriate. I'm not sure security knew what they were doing."
Malcolm Holley, director of faculty technical services, took the university boss to task for her inflated pay cheque.
"When I started out as a baby scientist, a zoologist, I became very adept at spotting elephants," he said.
"I think there are 451,000 elephants in this room that we're not actually addressing.
"At the moment I don't think the university can move on until you move on. When people become the story, they need to move on.
"I would like to suggest that it is time to move on, so the rest of the university can get on with being a university."
Speaking after the event Clementine Boucher, who runs the Bath Cut The Rent campaign, said: "It's unacceptable that the work we students and staff have put in to build the reputation of this university has been invalidated by the greed of our senior management team.
"They should be ashamed of themselves for exploiting the work of others, but the truth is that they seem to not feel just how unethically they're running this university.
"They have been repeatedly asked to resign and reform, but have ignored these demands. If they have no shame in treating students and staff in this way, then we should have no shame in calling them out."
The furore was filmed by architecture student Zeid Truscott. He said: "Many of our teaching and support staff haven't had a decent pay rise in years, and they have also reacted to the recent pay scandals with outrage.
"We disrupted an event for staff members because we believe our demands are the same. Both students and staff suffer from the senior management's greed.
"In the end, a more democratically-run university means better conditions for both students and staff. A university run like a business only profits an extremely small minority."
A spokesman for the university responded: "Our regular staff meeting is an important opportunity for our workforce to talk with senior management about the university's strategy and achievements.
"Whilst we did not want that event to be disrupted, the small group of students were enabled to make their point outside the venue."
RELATED 
https://www.thelondoneconomic.com/lifestyle/university-invents-new-version-rock-paper-scissors/15/11/
https://www.thelondoneconomic.com/news/education/popular-subjects-oxford-university/06/11/