A "clever and cunning" would-be suicide bomber who plotted to attack Downing Street and assassinate Theresa May has been jailed for a minimum of 30 years.
Naa'imur Zakariyah Rahman, 21, was "religiously driven to mass carnage" and planned to "take the head off" the Prime Minister.
But he was foiled by MI5 spies who posed online as ISIS fighters.
Rahman was today jailed for life and will serve at least three decades in jail after a judge branded him a "very dangerous individual".
His plans also included to murder the Prime Minister with a suicide vest and a drone strike at the Houses of Parliament.
Sentencing at the Old Bailey Mr Justice Haddon-Cave said: "Rahman is a very dangerous individual and it's difficult to predict when, or if, he will become deradicalised."
"I firmly conclude Rahman is 'dangerous' within the meaning of the 2003 Act, in particular because of his long-standing and entrenched extremist mindset."
The judge added: "You will have plenty of time to study the Koran in prison in the years to come.
"You should understand that the Koran is a book of peace. Islam is a religion of peace.
"The Koran upholds the sanctity of life, the Koran and Islam forbid anything extreme, including extremism in religion.
"Islam forbids breaking the law of the land where one is living or a guest.
"You have violated the Koran and Islam by your actions as well as the laws of all civilised people.
"It is hoped you will come to realise this one day."
The judge also read a pre-sentence report which found: "Rahman was serious in his mindset and was fully willing to surrender his life in the hope and expectation of going to his maker, in pursuit of jihad.
"He is a clever and cunning young man who possesses the patience, capacity and where with all to operate under the radar to dreadful effect.
"He gave me no indication of remorse. He said he would have carried out the attack if he had been able."
The report also described Rahman as "religiously driven to mass carnage".
Wearing a skull cap over his long hair, Rahman of Finchley, north London, could be seen mumbling under his breath in parts of the sentencing as he sat flanked by two security officers, but showed little emotion.
His representative, Ali Bajwa QC, said several of the terrorist's family members who were in the packed public gallery still "support" him.
He said: "His mother, sister and mum's partner are in court today. They continue to support him."
Rahman, originally from Birmingham, was caught after he began to message undercover terror detectives who posed as ISIS fighters.
The sting took shape when Rahman contacted an FBI agent which he thought was an ISIS member.
He was then introduced to an MI5 operative also posing as a terrorist.
Rahman made contact with IS recruiters via social media – but unbeknown to him the contact was actually an FBI agent.
That agent referred Rahman to an MI5 team of online role players who convinced him that they were genuine IS figures.
"I want to do a suicide bomb on Parliament," Rahman told the MI5 role players.
"I want to attempt to kill Theresa May. All I need now is a sleeper cell to lay low for now."
Rahman carried out research on potential targets, undertaking reconnaissance of Whitehall on November 18.
He then bought a Carbrini back from Argos two days later, before he met an undercover cop so it could be packed with explosives.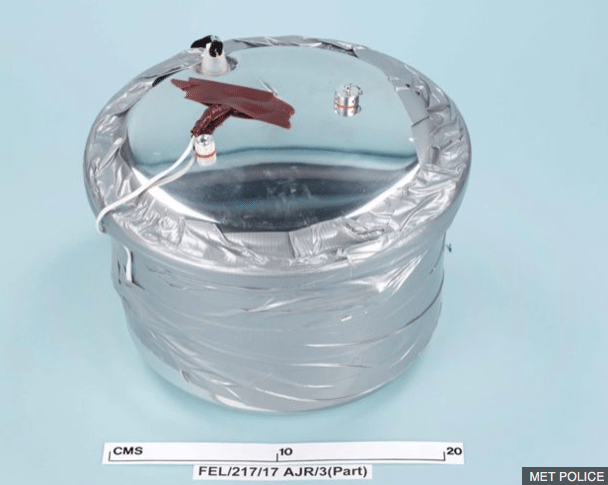 But he was arrested on November 28 just moments after police handed him the fake pressure cooker bomb, replica pepper spray and a fake bomb-filled puffa jacket.
The trial heard Rahman had sent messages in an app called Telegram, asking a user called Amir: "Can you put me in a sleeper cell ASAP?
"I want to do a suicide bomb on parliament.
"I want to attempt to kill Theresa May."
He also wrote: "My objective is to take out my target. Nothing less than the death of the leaders of parliament."
Rahman was first flagged to police in July last year after he made blackmail allegations but failed to attend an appointment with officers.
He was then arrested in August 2017 on suspicion of sending indecent images to underage girls, but was never charged.
A jury convicted him of preparing acts of terrorism despite his claim he was set up by security services.
Rahman admitted recording an ISIS sponsorship video to help a friend join the group midway through his trial.
By Ben Gelblum and Lewis Pennock