"It happened as quickly as it began," says Mbira, percussionist, vocalist and marimba Zimbabwean musician John Falsetto. 
He's commenting on a musical journey that has so far lasted two years for himself and his fellow artists who have helped create the album Sounds of Refuge.
Mohamed Sarrar, a Sudanese musician, actor and poet smiles in agreement, perhaps quietly ruminating on meeting John for the first time in workshops for The Jungle, a show currently running in London's West End.He might even be remembering the jamming sessions in the dressing rooms and get rounds of the Young Vic, where the play originally premiered.Before they met both were successful musicians in their own countries-John was mentored by the late Chiwoniso Maraire and Mohamed specialises in darbuka, djembe and traditional Sudanese music and cites uncle Sayed Khalifa, a prominent Sudanese singer, as one of his biggest influences.Here in London through Good Chance, who build theatres of hope in areas struggling to assimilate communities and ethnic groups and who are co-producers of The Jungle, they have found each other along with Ammar Haj Ahmad, a Syrian actor, filmmaker and poet.Now they are producing musical work which has become one of the flagship projects for Good Chance Ensemble.Their album, recorded at Abbey Studios and released today and which premiered at Victorious Festival in their first live gig, is a medley of disparate musical influences and cultures. It's a vibrant mix of new haunting sounds and lyrical poetry.No wonder, Ammar has a serious reputation as a poet in Syria and he is quick to explain the differences between classical pre-Islam poetry and a more modern tradition which has influenced his contribution to the album.To create it fully the trio were joined in the recording studios by British musician Duncan Webb and by Iranian political cartoonist, animator and recent Rocket Man video winner Majid Adin who designed the album cover.  Listening to the album it feels like it has come about as naturally as one breathes air. No matter where the group are they seem to make music and poetry.For Mohamed, spontaneous jamming sessions became a creative necessity during his time spent in the Jungle in Calais as he waited for a chance to come to Britain.For John, it seems integral to his very existence. Ammar-a gentle person given to explosions of emotion and joy-can't stop the poetry spilling out of him in reams.The group seems so together and in harmony in spite of or because of their different traditions and beliefs and languages. This difference is deliberately reflected in the album-some of the tracks are in Shona (a Bantu language native to the Shona people of Zimbabwe) and/or Arabic with some words in English."Language is a barrier" proclaims John as he sips water in the bar at Hotel Corinthia where the trio have come to meet me pre-album release, pre Victorious and pre a stage stint as actors in The Jungle across the road. "Love does not need words, care does not need words, language means nothing" John continues.Of the eight extremely vocal and emotionally complex tracks "Amai" (meaning mother) is a mix of Shona, Arabic and English where just by listening to the words alone is not enough-one must search for the emotional meaning by hearing the sounds and opening one's heart. The track's genesis is also complex. John sent his original idea as a sound file to Ammar at 1 am in the morning desiring his opinion. Instead, Ammar, who was so entranced and wanted to know what John's words meant, ended up contributing. This is an illustration of how John and Mohamed believe they should work-with artistic generosity-even though John himself cannot "understand a speck of dust of Arabic" and even though both John and Ammar are talking about mothers in a slightly different way.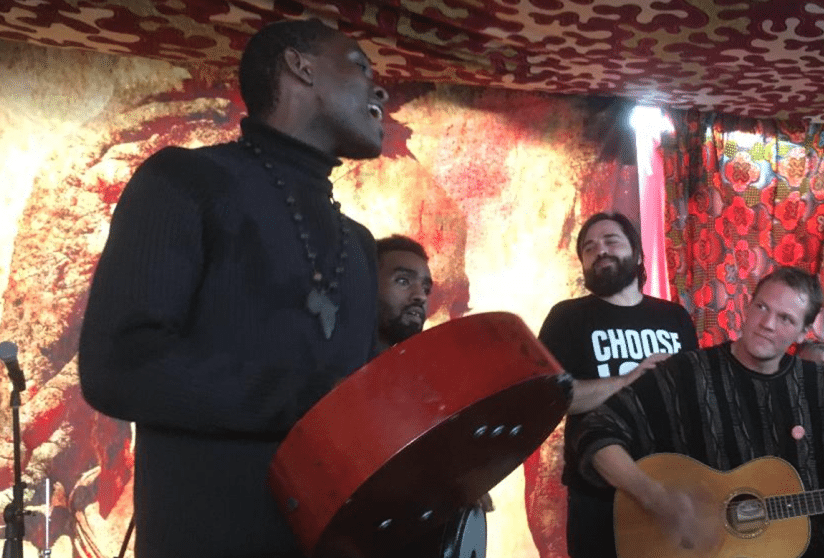 "We don't need a specific language to express feelings, in music we can express anything," says Mohamed. In "Longing" of which he is the writer and a soloist, it feels as if time is being spun back to a sacred place until John's voice calls above the melody in Shona from a different time and universe in counterpoint."We don't know what each other is saying," Mohamed says not as a guilty admittance but as an assertion of Sounds of Refuge's musical philosophy.  It's evident the artists don't believe the audience needs to know where they have come from or their language as a prerequisite for understanding their music."Knowledge hinders so many things," says John. "We're all immigrants and wish to share the harmony we share as immigrants so that it can spill into the harmony we wish to have with this land we are beginning to call our own."Majid's design for the album cover is a reflection of this wish. After listening to a few of the tracks and talking a little with the others he used "a mash of their cultures and colour to give a visual atmosphere" which complements the sounds. His palettes are reminiscent of North African colours but stop short of mimicking the designs of protest albums-according to the group music is not political."It's not the music that is political but the circumstances," says John still talking in Northall Bar. "People come to The Jungle knowing exactly what is to be talked about. Victorious is a chance to remove inhibitions, to not give people the chance to say Oh I'm not going to like this or I am going to like this. It's a chance to be present because it's a festival. It's being in a space in the UK and celebrating life. This is political but not the music."
Watching them at Victorious, the trio seem to embody exactly this philosophy of celebration and involvement. On the day Portsmouth, which hosts the festival every year, is battered by sea driven winds and rain which tears at the festival's tent flaps. In the press tent, fellow writers and photographers clutch lukewarm coffees and wipe the steam away from their camera's lenses waiting for it to clear.
It doesn't. Instead many acts, including Sounds of Refuge, are moved from outside venues to smaller, less technically able tents. This does nothing to dampen the musicians' spirits though. Assisted by Panashe and Pip Carr on guitar and with an audience jammed in up against each other for warmth as the wind sucks at the tent's canvas, they implore and encourage their listeners to join in their most jubilant and celebratory tracks. Akadela, a wonderfully joyous song by John inspired by watching his nephew at play has everyone taking part.
Perhaps the most poignant track is Refuge itself (acoustic version). It's a simple song-avoiding cliche-Mohamed's voice announces itself confidently and seems to soar. It's a lyrical exploration of refuge and what it means and after Mohamed's vocal dexterity Ammar fades in, reciting his poetry as if he is praying until he too, drifts away into the ether. It's incredibly meditative, soothing and yet painful.
"The world has a history of people seeking refuge and seeking refuge here is hyped because the world has made it the most political," says John. Perspective is everything then as Majid is at pains to point out to me with his album design. Hold a picture of something that is visually representative too close and you can only see detail, hold it far away, change your perspective and you can see the bigger picture.
The Sounds of Refuge album is trying to push its listeners to hear and see a bigger picture that is able to see and feel from the perspectives and worlds of others and not just their own and that the act of doing so is not something that is abnormal.
John says "The fact that a black person or a Syrian person ever needs to be the first to do this is what's absurd about this world. The fact that I can still be the first to play the Mbira in Shakespeare's Globe is absurd. The things I am achieving are the things I shouldn't be thinking I need to achieve right now." His words meet a chorus of agreement and laughter from Mohamed and Ammar.
"We are all humans, we aren't too different," says Majid simply. His statement perhaps sums up the experience of listening to both the album and watching the group perform. It's the sheer humanity and compassion in the music, an extra layer on top of the talent and skill which stands out.
As quick as it has begun the gig ends at Victorious. Time spent enjoying the music makes the minutes pass all the more quickly. The wind still howls. "Give me a beer" shouts John punching the air as people crowd round to congratulate him, an exultant Mohamed and passionate Ammar. The Jungle moves across the pond to St Annes' Warehouse in NYC in December-what sounds could be coming from the dressing rooms and get rounds over there? It might be interesting to hear.
Sounds of Refuge can be ordered on iTunes, Amazon Music and Google Play and at http://www.goodchance.org.uk/shop or bought at the London Playhouse during The Jungle's run.