Climate protestors have glued themselves to the fence outside the Labour Party leader's Islington home.
Jeremy Corbyn has not appeared to talk to the four protestors who say they want the Labour Party to go further than declaring a "climate emergency".
48 hours into the international protests calling for emergency measures to bring climate change under control, key central London thoroughfares are still at a standstill and protestors are starting to target public transport in a controversial move.
London Mayor Sadiq Khan said that while he appreciated their cause and the urgent need to tackle climate change, he was "extremely concerned" about their plan to disrupt the London Underground.
Wifi was turned off to disrupt attempts to coordinate activism on the tube.
"It is absolutely crucial to get more people using public transport, as well as walking and cycling, if we are to tackle this climate emergency – and millions of Londoners depend on the Underground network to get about their daily lives in our city," said Khan.
"Targeting public transport in this way would only damage the cause of all of us who want to tackle climate change, as well as risking Londoners' safety and I'd implore anyone considering doing so to think again."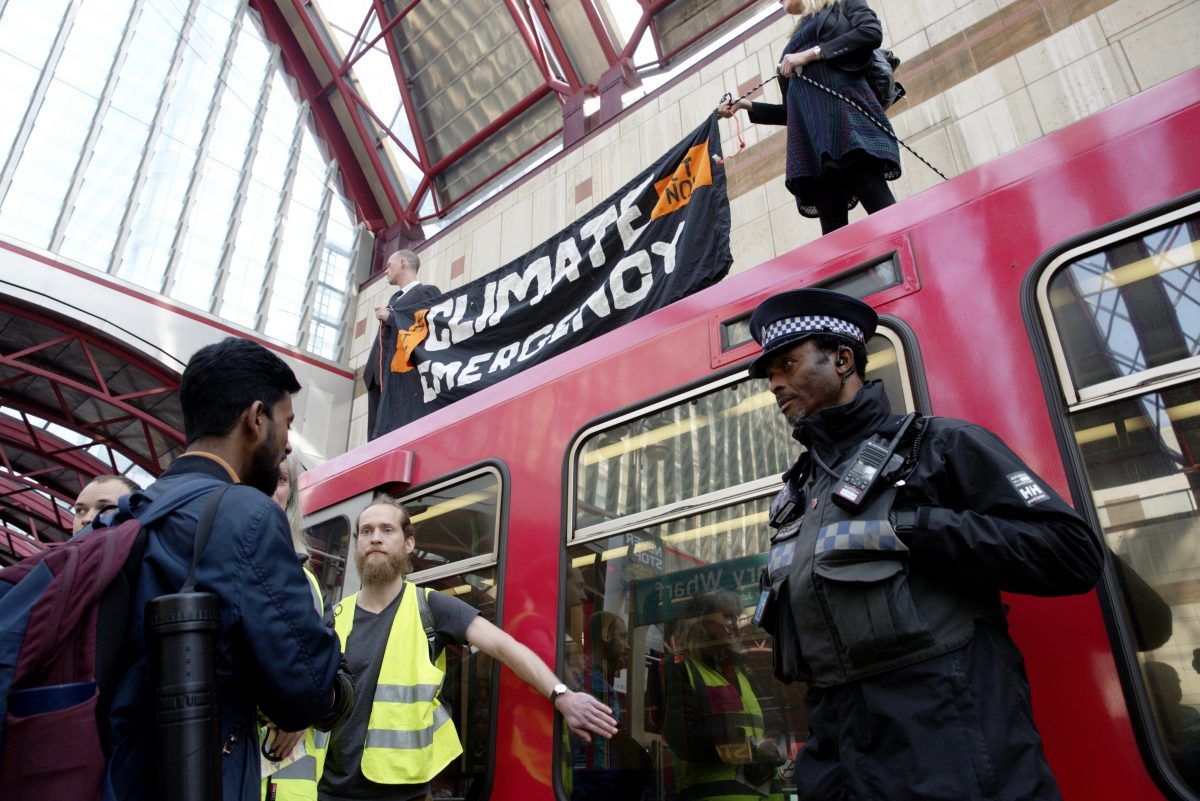 55 different bus routes and the travel of an estimated half a million people in the capital have been affected so far.
A pink boat playing party music was part of the disruption at Oxford Circus, a DIY garden party with guerilla gardening kept Waterloo Bridge and there is a festival atmosphere buoyted by the warm weather at the traffic stopping activities at Marble Arch and outside parliament.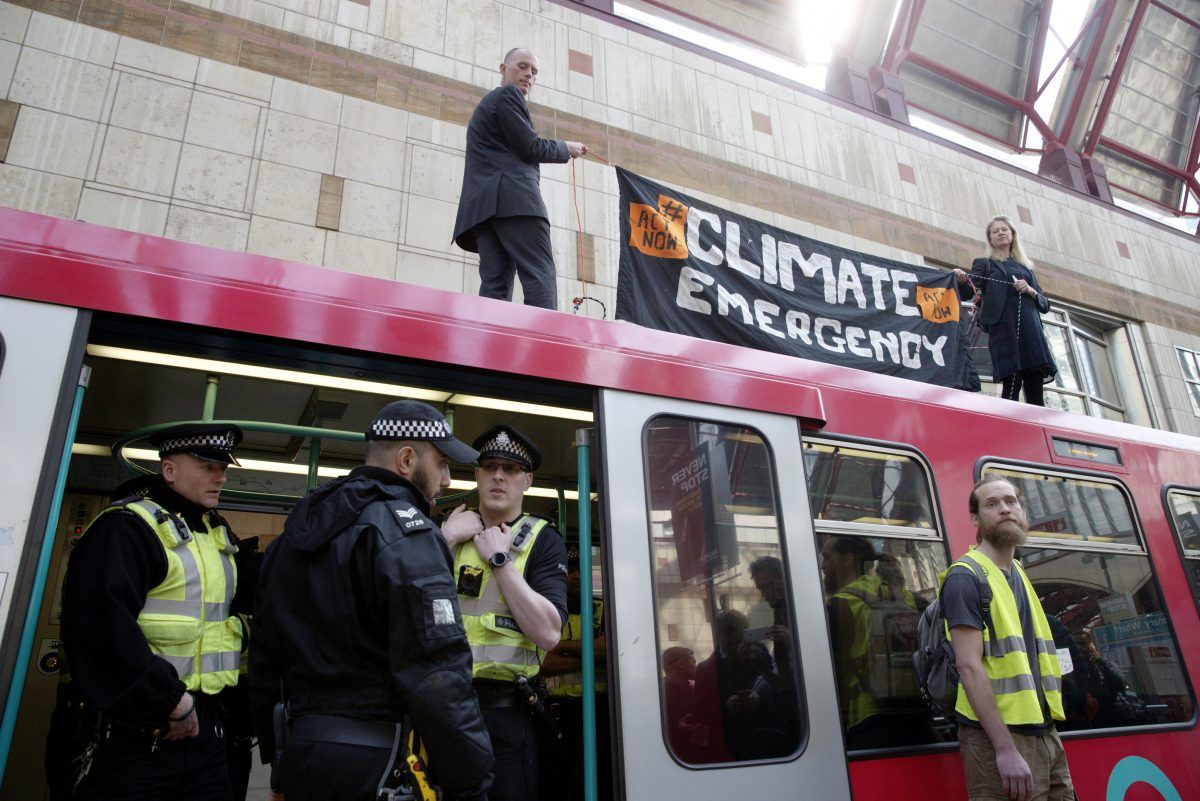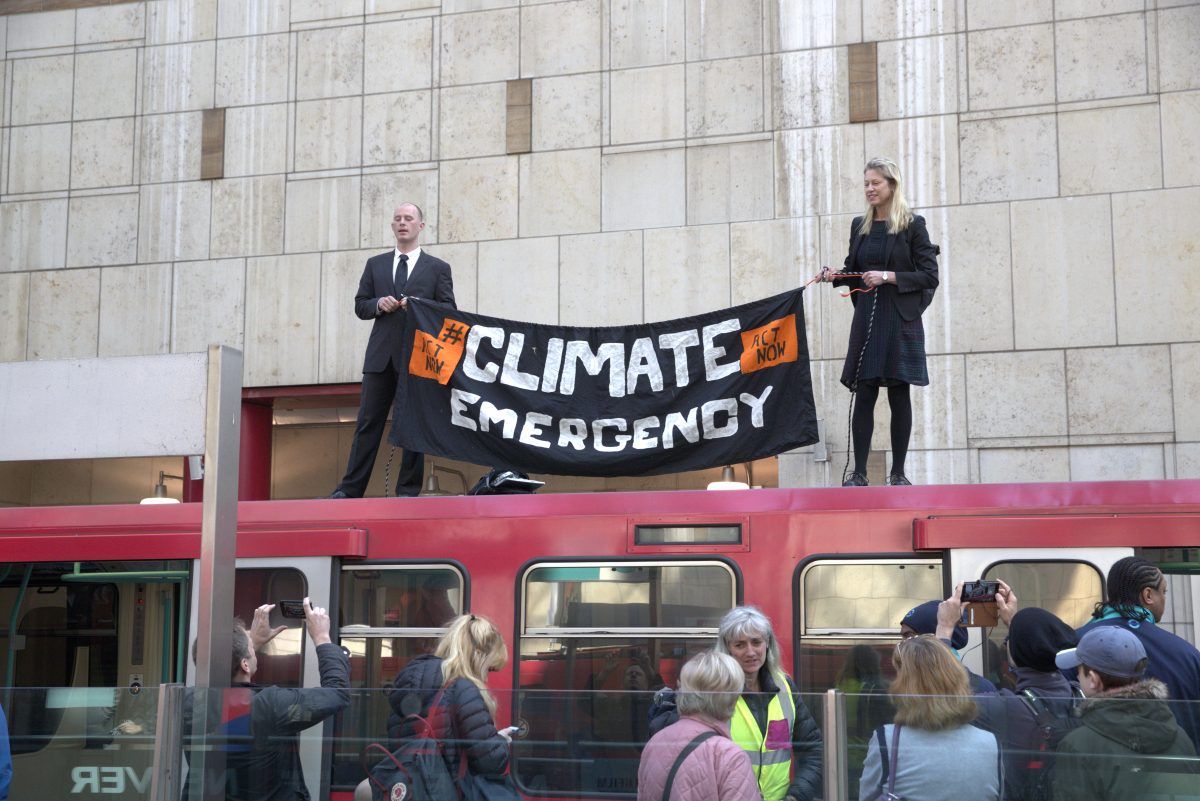 There have been around 300 arrests so far in London. In dozens of other cities around the world activists have been campaigning for urgent climate change action to stop an extinction level death of biodiversity.
In Scotland, Extinction Rebellion protestors have taken a bridge in Edinburgh; Dutch rebels have occupied the International Criminal Court in The Hague; and a slew of further actions spans across America, from San Francisco to Chicago down to Mexico; from Australia to India.
It comes as the climate change activists continue their week of 'International Rebellion' which has seen them shut down Waterloo Bridge and Oxford Circus and glue themselves to a train at Canary Wharf today.
The capital occupations are part of a wider series of actions to demand urgent policy changes on climate change taking place across the UK and around the world, with 331 groups in 49 different countries.
Scientist and Co-founder of Extinction Rebellion, Dr Gail Bradbrook told Good Morning Britain: "We're here to get people to have a conversation about climate change, I don't want to wind people up, I apologise for the inconvenience caused, but you can hear the emotion in my voice, I have two boys, 10 and 13, and they won't have enough food to eat in a few years time. Do you understand that?…The UN Secretary General called an emergency meeting and said Human extinction in my children's life time is a possibility. "
The group declare:
"The science is clear:- we are in the sixth mass extinction event and we will face catastrophe if we do not act swiftly and robustly.
"Biodiversity is being annihilated around the world. Our seas are poisoned, acidic and rising. Flooding and desertification will render vast tracts of land uninhabitable and lead to mass migration.
"Our air is so toxic that the United Kingdom is breaking the law. It harms the unborn whilst causing tens of thousands to die. The breakdown of our climate has begun. There will be more wildfires, unpredictable super storms, increasing famine and untold drought as food supplies and fresh water disappear.