With beleaguered Transport Secretary Chris Grayling trying to defend awarding a ferry company with no ferries a £14m contract to stop Britain's ports clogging up in a no deal Brexit emergency, he must have been praying that the scandal would get forgotten about.
But more irregularities in how a contract was awarded to a freight company with no means of moving freight keep being unearthed.
Seaborne Freight has been given one of three contracts worth a total of £107.7m signed by the government to stop Dover coming to a standstill if there is a No Deal Brexit. The other two bigger contracts are with French and Dutch ferry companies. – So much for taking back control!
Grayling defended paying £14m taxpayers' money to a company with no ships, no crew and no ferry route, by saying he was supporting a British "start-up." But buying even one ferry would cost several times more, and the company, only incorporated in April 2017 appears to have liabilities in its latest accounts (30 April 2018) of almost £375,000 after discounting just £35,169 in tangible assets.
Seaborne Freight, yet to operate a scheduled ferry service, is seeking to reopen Ramsgate-Ostend service. The firm is indeed so small it qualifies as a small enterprise so the £14m contract was awarded uncontested without an open tender being announced.
And today it's emerged that (now deleted) terms and conditions on the ferry-less ferry company's website appear to have been cut and pasted off a takeaway delivery.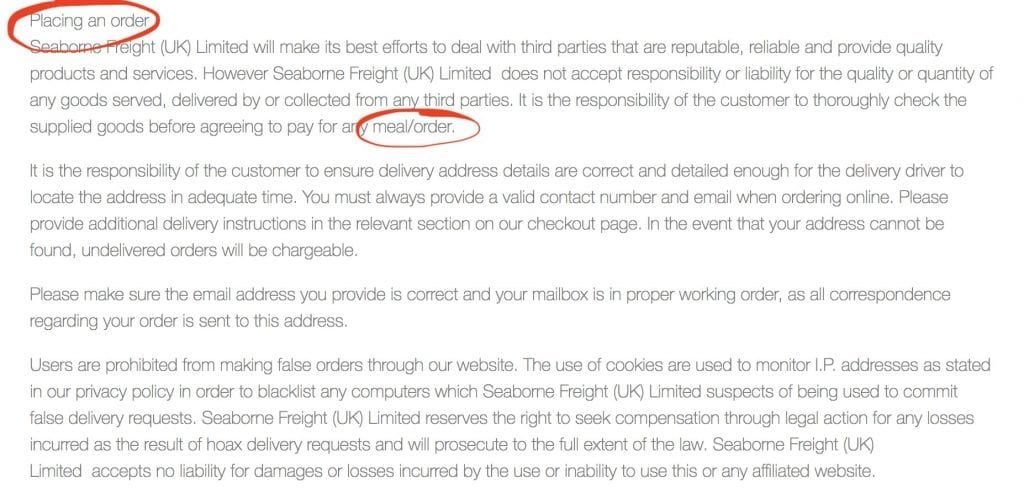 The terms refer to "placing an order" and "meal/order."
"It is the responsibility of the customer to thoroughly check the supplied goods before agreeing to pay for any meal/order," was one of the now deleted terms.
And another term which may have been originally intended to stop prank pizza deliveries said:
"Seaborne Freight (UK) Limited reserves the right to seek compensation through legal action for any losses incurred as the result of hoax delivery requests and will prosecute to the full extent of the law."
The Department for Transport admitted that some of the terms and conditions on the website had been put up in error.
The now deleted T&C's can bee seen here: https://archive.fo/NGbCz
Labour Deputy Leader Tom Watson, mocked what has become asymbol of No Deal unpreparedness: "Seaborne Freight. No ships, no trading history and website T&Cs copied and pasted from a takeaway delivery site."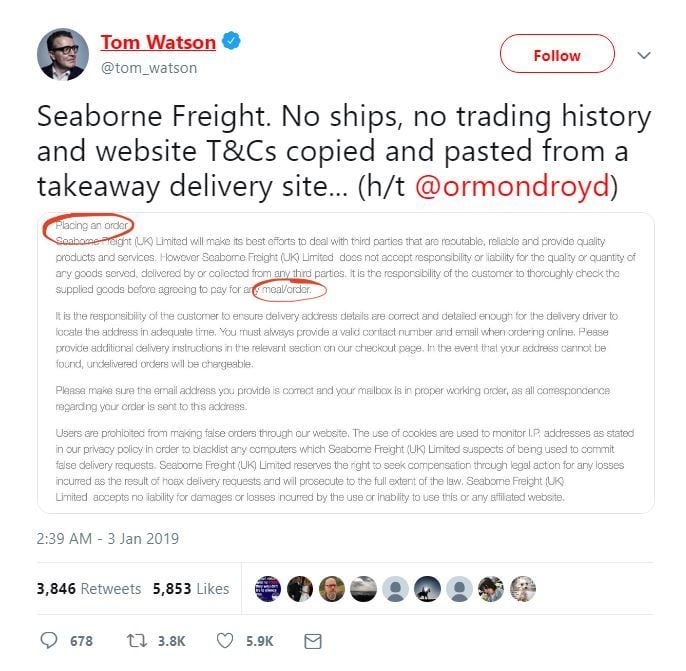 Andy McDonald, the shadow transport secretary, said: "Awarding a contract to a ferry company with no ships is yet another disgraceful misuse of public money by the transport secretary.
"The idea that Chris Grayling is backing a new business and has looked at this 'very carefully' is utterly risible. It's yet another example of his incompetence and mismanagement of the UK's transport system."
Ramsgate is very limited in the type of Roll On Roll Off ferries it can accomodate.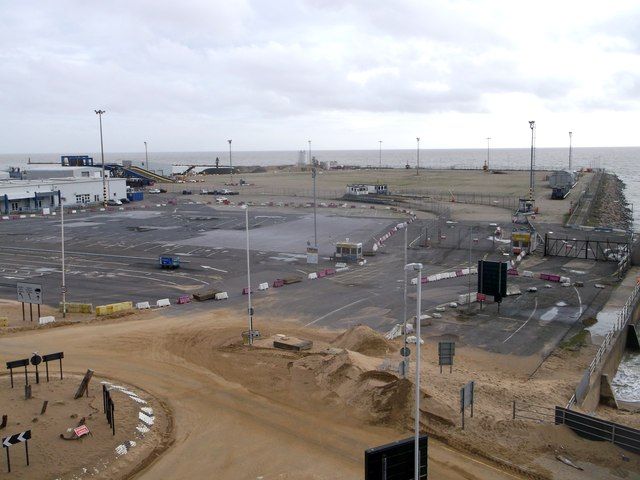 Paul Messenger, a Conservative county councillor for Ramsgate, questioned whether the government had done due diligence, indeed any checks on the firm, telling the BBC: "It has no ships and no trading history so how can due diligence be done? Why choose a company that never moved a single truck in their entire history and give them £14m? I don't understand the logic of that.'"
A spokesperson for the Department of Transport insisted: "Before any contract was signed, due diligence on Seaborne Freight was carried out both by senior officials at the Department for Transport, and highly reputable independent third-party organisations with significant experience and expertise into Seaborne's financial, technical and legal underpinning."