Britain's busiest road was closed for hours after two sinkholes to open in the middle of the carriageway – on the M25.
The M25 was shut in both directions between junctions 4 and 5 after officers investigating a single vehicle accident discovered the two sinkholes in the central reservation.
Highways England inspectors were sent to the scene and decided to close the road in both directions – causing traffic that backed up for miles.
It is not yet known whether the sink holes caused the accident, but it is suspected torrential rain might be to blame.
The motorway was closed just before midnight on Monday, and was reopened this morning (Tues), but the road is blocked again after another crash.
A police spokesman said: "The M25 near Swanley is closed in both directions between junctions 3 and 4 while emergency services are dealing with an incident.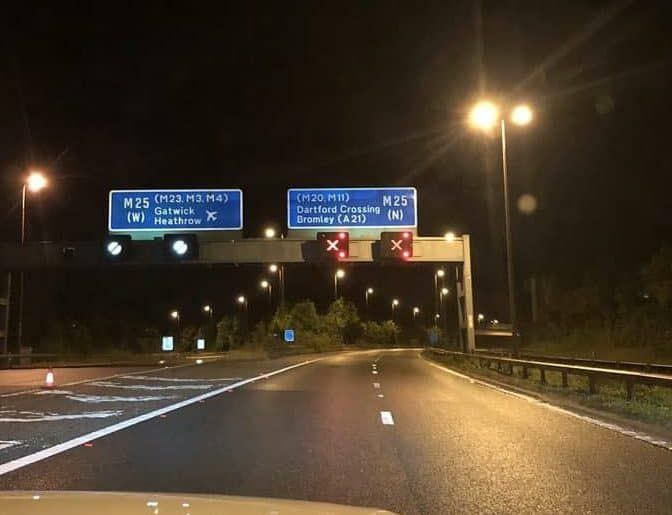 "There is considerable congestion in the area and drivers may wish to consider alternative routes."
Hundreds complained on Twitter about how long it had taken them to get to work – including celebrities.
Beloved Children's TV presenter Dave Benson Phillips, famed for Get Your Own Back, ended up helping direct traffic away from a flooded road, he claimed.
The star, 54, tweeted: "If you were directed off the south part of the M25 to a flooded road on the way into Kent, and there was a black bloke in a Toyota warning all drivers the road was flooded, I hope I helped.
"I wish those involved a safe journey. I drove in and reversed in waist-high water!"
Elsewhere on the vital ring road, other sections were closed thanks to a number of other crashes, including a lorry that ended up on its side in the middle of the road.
The Highways Agency have not yet released pictures of the sinkholes.