Awe-inspiring footage shows the incredibly rare Super Blue Blood Moon rising over an historic windmill in front of stunned stargazers.
David Clarke, 62, was able to capture the dramatic 43-second footage from the top of a hill around half-a-mile away from the Chesterton Windmill in Warwickshire.
The dad-of-two, of Wellesbourne, Warks., had to wait an hour before capturing the rare lunar event at around 5.10pm on Wednesday (31/1) on his Olympus E-M1 Mark II.
In the video, a passerby can be seen walking underneath the mill in real time, but the grandfather-of-eight sped up the rest of the footage by 500 per cent to get the full effect of the moon rising.
David, a commercial photographer, said: "I'm really happy with the end result, because I had pre-planned where I was going to stand and where the moon was rising.
"There was a lot of planning that went into it, because I was trying to capture the moon whilst it was coming just above the horizon, with the sun still fairly low.
"Through the internet I was able to find out where the moon would be at that time, and drew a map on Google Earth to get the best possible position.
"I was half-a-mile away from the windmill itself, because I wanted to get the windmill in the foreground, and had I been close up it wouldn't have been as powerful a shot.
"I was there for about an hour in all, setting up and trying to stand in the perfect place.
"When I first got there, it was a bit cloudy, but thankfully in the end it was clear enough for me to get a good shot.
"I was aware of how rare that particular moon is, and always thought that the windmill would be a good foreground from which to capture it.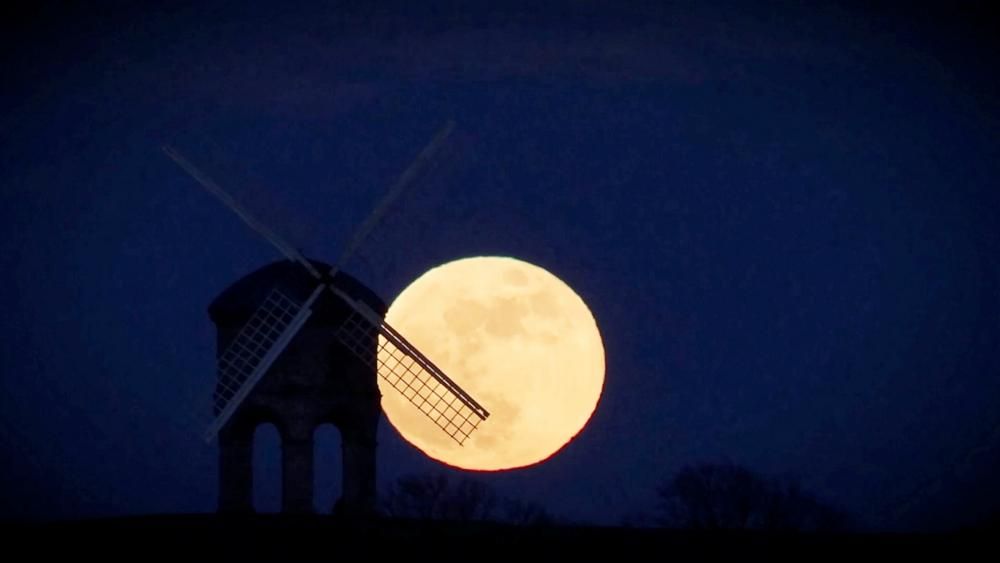 "I'm not particularly experienced in that sort of photography, as I'm more used to shooting for commercial purposes.
"Impactful landscapes are not the sort of thing that I usually capture, but it's always good to try something different and I think I'll be doing this more often now."
The Super Blue Blood Moon occurs when a total lunar eclipse, a blood moon and a supermoon coincide.
Viewers were able to see a blue moon – which had a copper red look to it – orbiting closer to the Earth than usual, making it seem up to 14 per cent larger in the sky.
It is the first time that it has been seen hanging over the sky since 1866.