A jobless mum who was fined for putting an abusive note on an ambulance outside her house has been EVICTED after neighbours made 150 complaints against her.
Kirsty Sharman, 26, scrawled the foul-mouthed message on a scrap of paper and tucked it under the back windscreen wiper as paramedics attended a 999 call.
She wrote: "If this van is for anyone but No. 14 then you have no right to park here.
"I couldn't give a s*** if the whole street collapses. Now move your van from outside my house."
Last month a judge branded her "absolutely despicable" and ordered her to pay a total of £285 in fines and costs for using threatening and abusive words.
On Thursday (22/3) Stoke-on-Trent City Council stuck an eviction notice on the front door of her terraced home in Parsonage Lane, Stoke-on-Trent.
Today (Fri) her neighbours Brian and Christine Heath, who called the ambulance, were celebrating after she was finally given the boot.
Retired soldier Brian, 66, said: "It's great news to hear that she's been evicted – I just hope that it actually results in her leaving.
"She is the ultimate neighbour from hell. We've been living in misery ever since she arrived.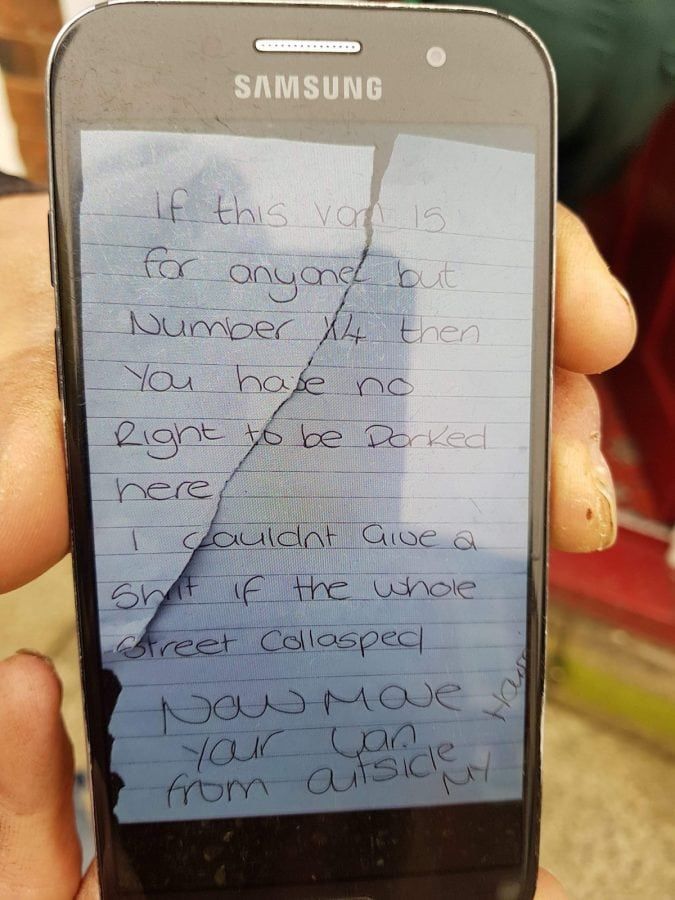 "Over the last 16 months, there have been problems with her at least once a week. It's been horrible.
"She's been abusive to us as we've walked down the street, and has even thrown food at us.
"The police must have been up and down here over 150 times in the 16 months that she's been here.
"She's been arrested four times, and we were at our wit's end.
"We are called 'grasses' any time the police came.
"It's doesn't matter if other people in the street phone them, it's us, we were always the grasses.
"We have had food thrown up our door, she has kicked the door, she spat all down the door.
"She said, 'if you don't keep your f***ing mouth shut it will be more than spit on your door.'
"People like that have no place living here, and I'm glad that justice has been done after what she did while Christine was being treated."
Sharman was evicted from her home at North Staffordshire Justice Centre after a judge heard Mr and Mrs Heath had made 150 complaints against her in just 16 months.
Mr and Mrs Heath, who have three grown-up children and three grandchildren, had previously taken out a restraining order banning Sharman from contacting them.
Sergeant Karl Breen, of Staffordshire Police, said: "We have tried civil remedies to try to correct Miss Sharman's behaviour and we have tried to engage some support for her, which she has disengaged from.
"Several residents in Parsonage Street have been complaining about her and, in order to give them some respite from her behaviour, we applied for the closure order.
"We are then looking to gain a civil injunction that will look to correct her behaviour wherever she is."
The order means that Sharman's former home will be boarded up until June 21, but she is eligible to apply for emergency accommodation.
Sharman became a national hate figure after she slapped the note on the ambulance which was called to help Mrs Heath who was struggling to breathe on February 18.
West Midlands Ambulance paramedic Katie Tudor tweeted the image of the note with the caption: "So upset to be sent this by one of our crews this morning!
"Along with this note left on their ambulance, they received a load of verbal abuse!
She added: "They weren't blocking the road, they were in a parking space…just obviously annoying someone that an ambo was outside their property.
"Is there anything that can be done about this? It's becoming a regular occurrence."
Just three days after being hauled into court for abusing the ambulance crew, Sharman wrote on Twitter: "Got to admit though, the NHS service is w**k."
Paedophile with sick library of almost 25,000 indecent images and movies of children is spared jail so he can keep his JOB hiring boats out to families