In a nerve-wracking video, the confused OAP is seen driving a red Citroen Berlingo on a roundabout close to the M5 against oncoming traffic. The pensioner, believed to be aged between 80 and 90 years old, was driving near Junction 23, where the road meets the A39 at Bridgwater, Somerset.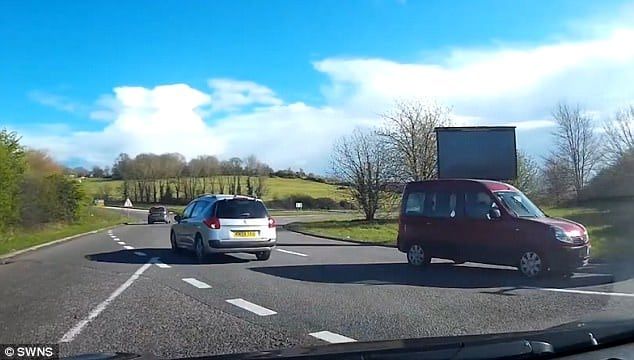 Tragedy was narrowly avoided by a quick-thinking teenager, who put his own life at risk to stop the geriatric, who ignored beeping horns trying to get his attention. Stephen Howe,18, who passed his driving test less than a year ago, captured the footage on his dash-cam.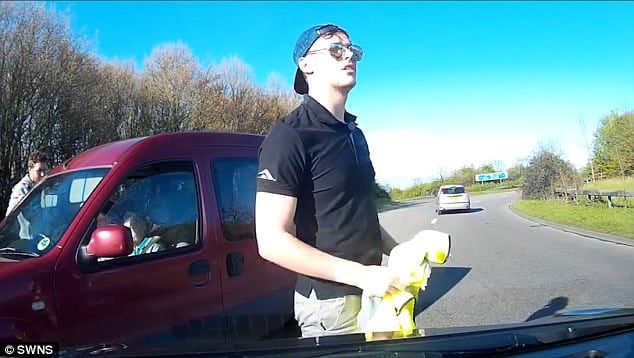 Stephen said: 'There were two vehicles on the bridge that had to mount the pavement and into the barrier, which stopped them going off the bridge.
'It was then that I saw the worst, and decided he shouldn't be going on the motorway in the wrong direction.
'I beeped at him to get him to stop, and he looked at me and raised a hand up and then carried on.
'As he was trying to go against the oncoming traffic that was trying to join the roundabout, he couldn't go anywhere.
'I was trying to get him to stop by giving him hand signals, but he tried to move on. I took my seat belt off and put the handbrake on, as another driver who was head on to him got out to speak to him.'
Read "Watch – Chimp at Zoo Throws Poo in Grandma's Face" Click Here
Watch Video here