A woman who wwas filmed racially abusing and spitting at a bouncer outside a Wetherspoons in Broad Street, Birmingham has apologised after the clip went viral.
However she claims that using that language was her right due to 'freedom of speech', in an Instagram post.
The incident occured when the doorman Tristan Price, refused to let her in.
In response to that, she then went on an abusive rant, throwing racist insults at him, calling him the n-word and other sickening racial slurs. She then spat in his direction.
He wrote on social media: "I haven't been doing security for years like some, but in the short time I've been doing it I've seen and been through pretty much anything there is to see and go through whilst doing the job.
"This however, is something I, or anyone who looks like me shouldn't have to go through. There was a time I'd go through things like this and brush it under the carpet but them times are over. Share and find out who this is."
Vile
One social media user replied: "my jaw dropped wtf." Another showed their support for the doorman, writing: "Disgusting behaviour from her absolutely vile. You didn't deserve that mate."
Price told the Birmingham Mail: "I don't want to bring trouble to her door but this behaviour needs to be called out. It is completely unacceptable.
"People have killed themselves because of the racial abuse they suffer, and we can't be silent about it. I have had a knife pulled on me while at work, which was pretty shocking. But this was worse, it affected me more because it was so vicious."
The clip has been viewed almost 3 million times on his Instagram account and shared widely on other social media sites, including twitter.
In a statement about the incident, in an Instagram post, she blamed her behaviour on alcohol and insisted that we are all entitled to "free speech".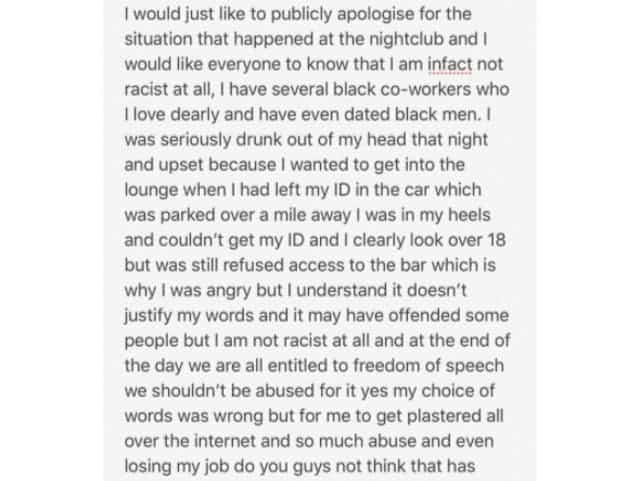 A woman has been arrested on suspicion of racial abuse in connection with the incident. West Midlands Police said a 24-year-old woman from Worcester, Worcestershire, was detained on Monday, after attending a police station at the force's request. Police said the woman was also being questioned in connection with the racial abuse of another man, also standing near the JD Wetherspoon-run pub at the time, and criminal damage of the premises' furniture.
Watch Video Here – Caution explicit words
Last night on Broad Street – woman was kicked out of Wetherspoons for being too drunk then proceeded to shout multiple racist slurs at the bouncer, disgusting behaviour and appalling that this shit still happens in 2021. pic.twitter.com/OVMODpPhUu

— Sted. (@Stedwinn) May 23, 2021
Related: Anti-Muslim sentiment 'remains a problem' in Tory party and PM's burka comment specifically called out