Heartbreaking footage shows the carcasses of more than 15 deer which were gunned down by poachers.
The slaughtered animals, including a heavily pregnant doe, were discovered on
Saturday (4/8) morning at a beauty spot.
The poachers fled before they could retrieve the bodies after a worker disturbed them.
Among the dead were male and female deer as well as their offspring, who died from bullet wounds on farmland near Kinlet, Bewdley, Worcs.
Ed Brown, chairman of the Wyre Forest Deer Management Society, and his colleagues shot the footage as they prepared for post-mortem examinations.
He said: "One of my colleagues discovered one or two carcasses and rang me. Shortly after he rang me back to say he had got up to nine carcasses.
"We went up there on site and found 15 deer on a reasonably large area of land – it was stubble.
"They were various sexes and ages and they were one species – fallow deer.
"We found four male deer – prickets – who were all around 13 months old.
"There were eight mother does and three newly-born fawns who were two to four weeks of age.
"While we were looking at the high end of the field we saw fawns coming back out of the forest, distressed, sniffing the air, coming across the bodies. It wasn't nice.
"We collected all the carcasses together and myself and a colleague did a dissection of the animals.
"We inspected all the animals and we were looking for bullets or fragments of bullets.
"We found four different parts of bullets in four separate carcasses. We have kept this as evidence.
"We will hand this to police and hopefully forensics can examine it.
"Initially they had been shot in the back end or in the stomach which doesn't kill them straight away.
"But then there were follow up shots to the neck and the head.
"They used high-powered rifles. Looking at the wounds I wouldn't have said they were particularly close, but they wouldn't have been particularly far away.
"They could have shot them at 100 to 200 yards away.
"We found in one of the does a fully-grown foetus which was in the right position to be delivered. She would have given birth very shortly. It was very unpleasant.
"I don't know how to explain this. We are 99 per cent sure it was local people who did this but we can't say too much as there is a police investigation.
"This is the largest poaching incident we have come across in the 25 years I have been involved.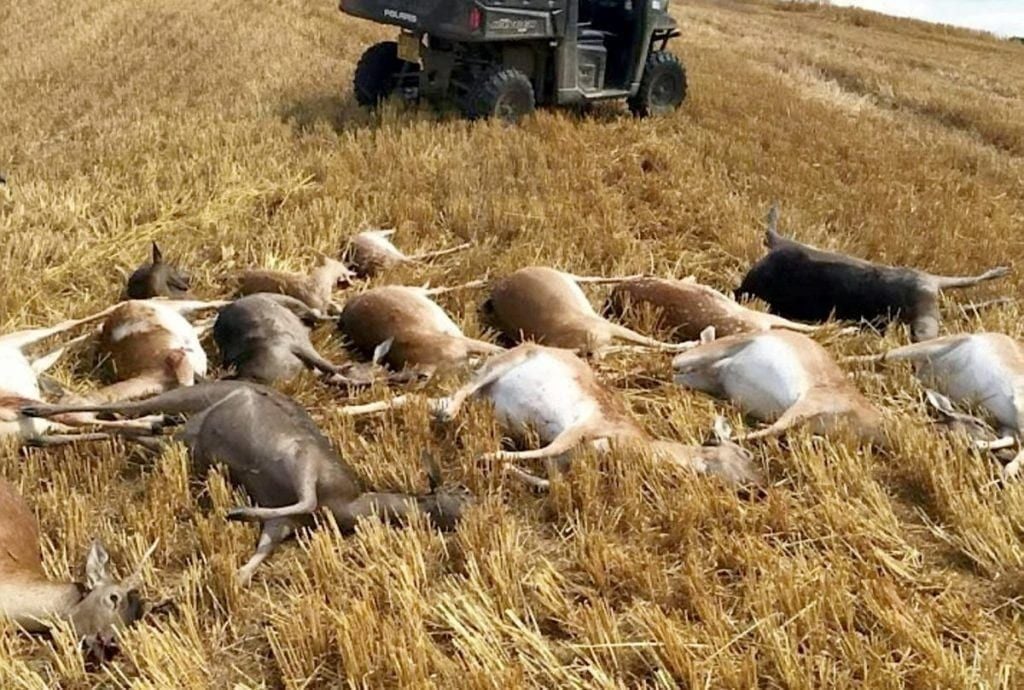 "I just can't believe these people would be so barbaric, to shoot the does and fawns who are so young. It's just disgusting behaviour, sick."
The Wyre Forest has a deer population of around 250.
PC Su Goddard, wildlife officer for West Mercia Police, said: "We have launched a thorough enquiry into this incident and would appeal for anyone with information to contact us.
"At this time, we believe there is no wider risk to the public."
Video here (caution extreme footage)