Armed police shot a man in the arm after a chase in a quiet seaside town.
A blacked out Mercedes was left with bullet holes in the windows and doors after armed officers wearing balaclavas opened fire on the vehicle.
Officers rammed the car to stop it the shot at the two men and one woman in the car as it sped through Bournemouth in Dorset at around 8.26pm yesterday (Tues) evening.
Only one of the passengers of the vehicle was injured, police said.
Police were investigating an assault which happened last Thursday around 1.7 miles away when they tried to stop a suspect.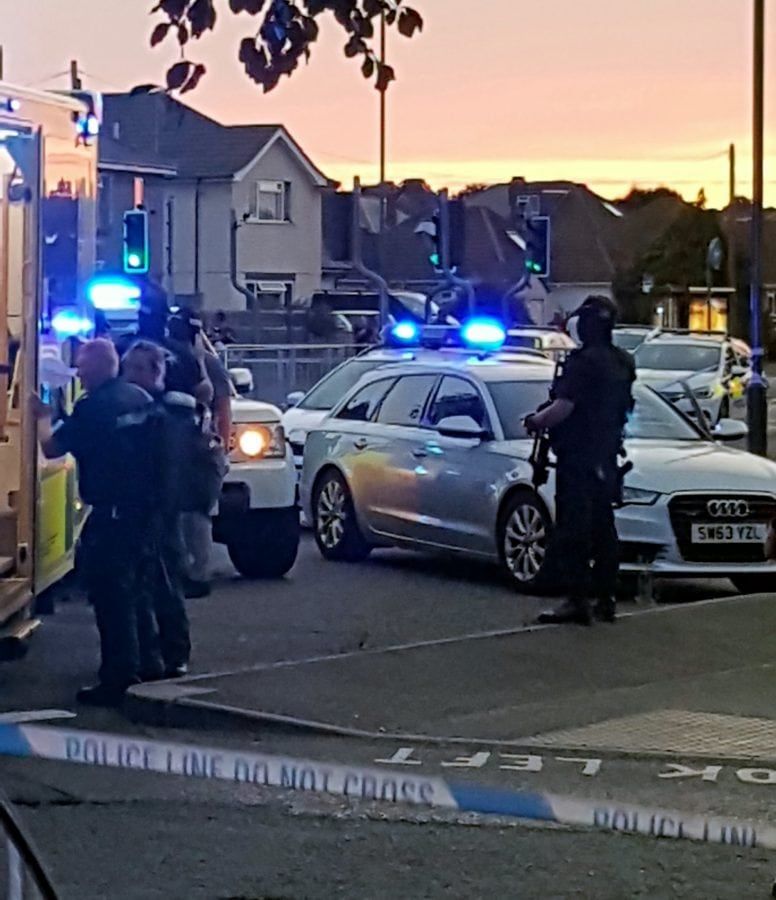 The blacked out vehicle was finally stopped in Castle Lane West and surrounded the car outside a pub and sealed off a street.
During the incident, police fired at one of the passengers who sustained a non-life threatening gunshot wound to his arm.
Videos posted on social media show an abandoned black Mercedes with smashed glass on the driver's side window and a blown out rear tyre.
One photo appeared to show a paramedic equipment lying across the road.
Marked and unmarked police vehicles plus an ambulance were at the scene, with armed and regular uniform police officers.
A resident who arrived just after the shots were fired said: "I turned up as the guy was getting loaded into the ambulance and saw lots of people around.
"He was being treated on the ground by paramedics whilst in handcuffs, then he was loaded in the back of the ambulance and the blue lights were turned on.
"I don't know if that was because he was alive or dead.
"It appears he had done something elsewhere in town and the police chase took him to that point and he was shot through the shoulder or neck.
"There was probably about 50 or 60 police officers, quite a lot had balaclavas and guns.
"A friend of mine who lives near the incident said he heard two gun shots.
"There's a pub next door so people piled out of there and there was a lot of people around.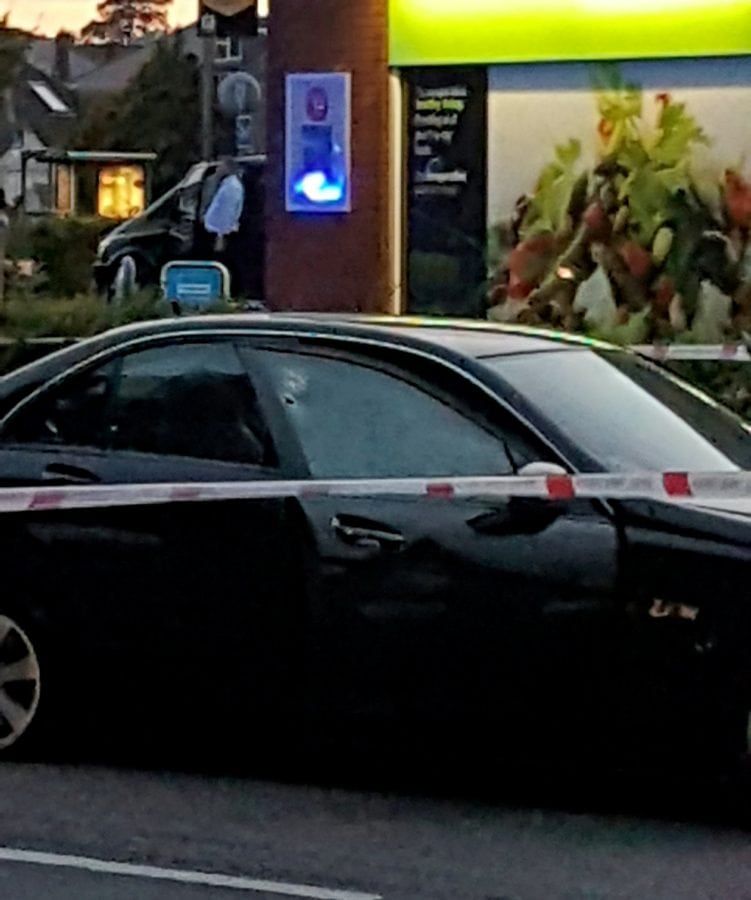 "This is a very quiet area, nothing like this happens, there might be the odd thing like kids smashing a bus stop, but I don't remember police ramming a car then shooting someone before."
A Dorset Police spokesman the incident had been referred to the Independent Office for Police Conduct which is responsible for investigating police shootings.
He said: "At 8.26pm on Tuesday 7 August 2018, armed officers stopped a vehicle containing three people along Castle Lane West in Bournemouth.
"This was in relation to an ongoing investigation into a reported serious assault in Wimborne Road on Thursday 2 August.
"During the incident, police discharged a firearm.
"One man from the vehicle sustained a gunshot wound to the arm and was taken to hospital for treatment.
"His condition is not believed to be life-threatening.
"A second man from the vehicle – a 36-year-old – was arrested by officers at the scene.
"A woman was also in the vehicle. Neither suffered any injuries.
"A cordon has been put in place.
"As is normal in such circumstances the matter has been referred to the Independent Office for Police Conduct which is responsible for investigating the circumstances.
"For operational reasons we cannot go into any further details at this time."