A "sex obsessed" cop used a hi-tech camera on board a police chopper to record seedy footage of his 'swinging friends' having SEX, a court heard.
Adrian Pogmore, 51, used his position as an air observer to film his swinging pals having an eight minute romp on their patio.
He also used the powerful lens to focus on a nude mum-of-three and her teenage daughters sun bathing in their garden – as his crew mates allegedly watched.
Sheffield Crown Court, South Yorks., heard today (Mon) Pogmore had already pleaded guilty to the charges after he admitted to pre-planned his swinging buddies to have sex while the chopper was hovering over – so he could film them.
Serving South Yorkshire officers Matthew Lucas, 42, and Lee Walls, 47, retired South Yorkshire Police pilot Malcolm Reeves, 64, and former South Yorkshire pilot Matthew Loosemore, 45, are currently on trial for being a part of Pogmore's set ups.
Prosecutor Richard Wright, QC, told the jury: "On three separate occasions they filmed a couple having sexual intercourse in their own garden.
"They recorded what they saw using the recording facilities that the helicopter was equipped with."
The court heard there was "no legitimate reason" for the cops to filming them and "no basis" for flying over people's homes, selecting them as targets and filming them.
The expensive police helicopter, usually used for capturing fleeing criminals and helping to patrol large groups after football matches, was even flown over a naturists campsite called 'Candy Farm'.
Pogmore decided to zoom in on a naked couple sat outside their caravan.
Mr Wright said: "Although naturists expect to be seen naked by other naturists they do not expect to be monitored by the crew of the police helicopter, less still that they should be recorded by them.
"Not only is their an invasion of privacy, but there are wider issues at stake, both in terms of the waste of a valuable police resources and also in terms of confidence that the public expects the police helicopter to be used appropriately and for good reason.
"Not to be used for filming citizens in a state of nakedness for the amusement of the crew."
A jury were shown footage of a woman being spied on by the same chopper who was sunbathing fully-naked in her private garden with her three daughters, aged 18, 15 and eight, all wearing bikinis.
All four females were sat in a line on reclined sun loungers and bright pink and orange towels laid on the grass.
The middle-aged mum-of-three was sat with her legs arched together with her hands on her head.
He added: "The camera has a powerful zoom function and the operator used that to zoom in on the naked body of the woman and in particular her genitalia."
Graphic content was also played to the jury when the same crew spotted a couple having sexual intercourse in their garden in South Yorkshire.
A brunette, who is fully naked, starts touching a man in a '98 Manchester United home football shirt as she then performs a sex act on the man as a poodle dog sits just a metre away.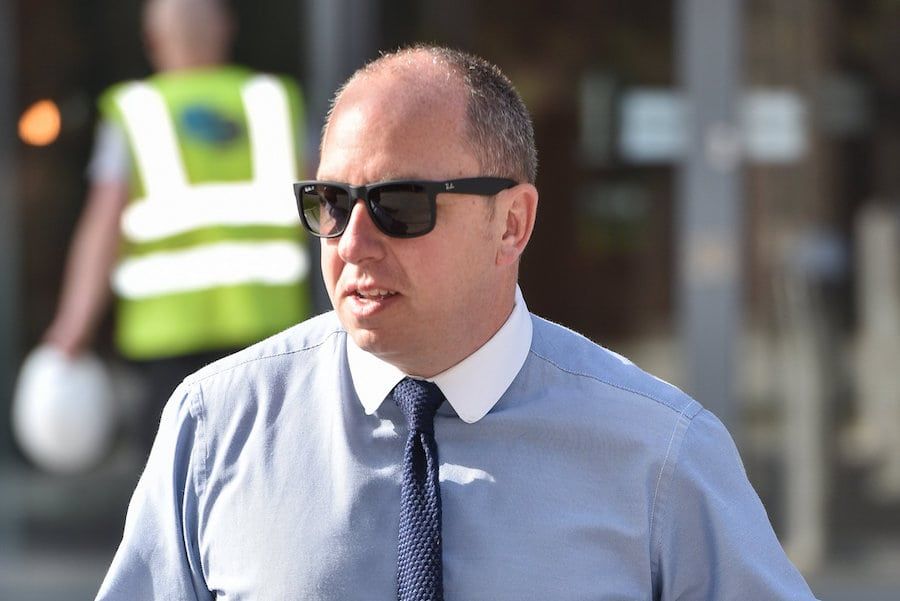 The court were told the presence of the chopper spurred the couple on and they "brazenly put on a show" – by performing sexual intercourse in a variety of positions.
As the chopper circles overhead a voice on the radio blurts out: "Looks like we need a four by six inch rolling block" – relating to a stolen motorcycle.
The footage used as evidence in the trial was later found in a draw belonging to Adrian Pogmore in his desk at a police station.
Mr Wright said the recordings were "not simply the product of one swinging and sexual obsessed air observer Adrian Pogmore but were made with the connivance of the other members of the crew".
He said Pogmore, who did not appear in court, had pre-planned the meeting with his "swinging friends" to be hovering over their home at the same moment the couple appeared.
Malcom Reeves arrives at Sheffield Crown Court for his hearing into the case of him and four others using a police helicopter to film people who were naked or having sex, in South Yorks., July 17 2017.
Pogmore pleaded guilty to the charges and does not stand trial alongside his former colleagues.
Walls, of Sheffield, denies one count, Loosemore, of Doncaster, South Yorks., denies one count, Reeves denies one count and Lucas, of Sheffield, denies three counts of misconduct relating to watching and filming naked people without their consent and observing and recording people performing sexual acts.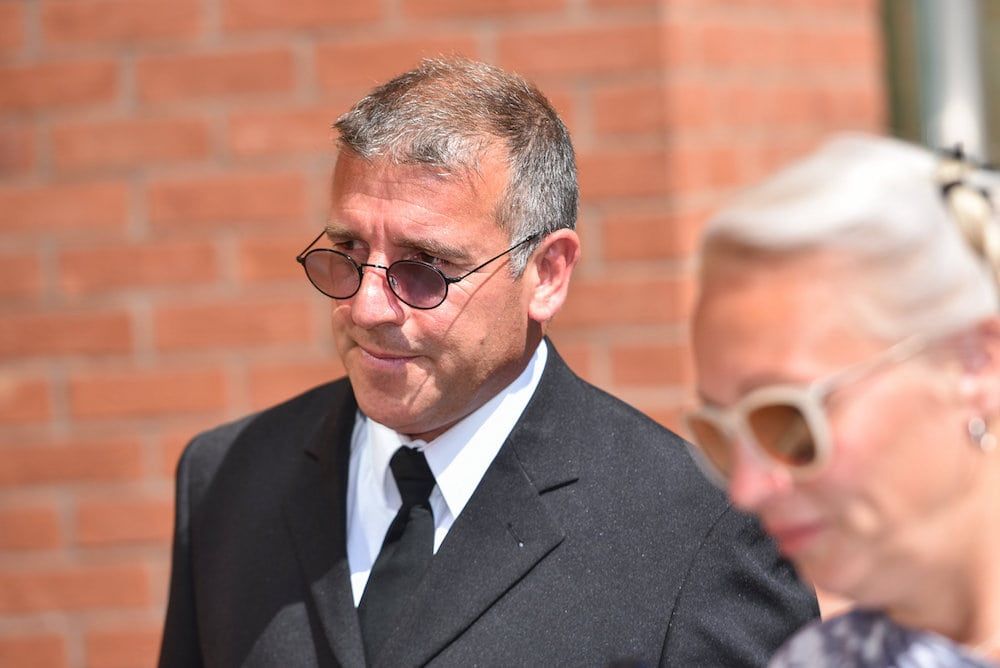 The charges relate to four alleged incidents between 2007 & 2012 – one on August 2007, two incidents on July 28 2008 and one incident on July 22 2012.
The trial, which is expected to last three weeks, continues.