A thrifty bride stunned her guests and passengers when she travelled to her wedding – onboard a regular bus.
Yvonne Gorman, 34, opted to take public transport after deciding it would be too difficult for guests to find parking spaces near her city-centre wedding venue.
She stunned passengers – and her groom Jim Lease – when she and 13 guests arrived for her big day on board the i4 Trentbarton bus service in Derby.
Stunned passengers watched on as the group all paid the gobsmacked driver £2 each for the 10-minute trip from her home in Chaddesden, Derby.
Other wedding guests then had a shock as Yvonne stepped off the bus outside Derby's Council House chambers where she married Jim, 31.
The bride's face is now plastered over the back of the i4 bus as part of their campaign to show how passengers use the service for any occasion.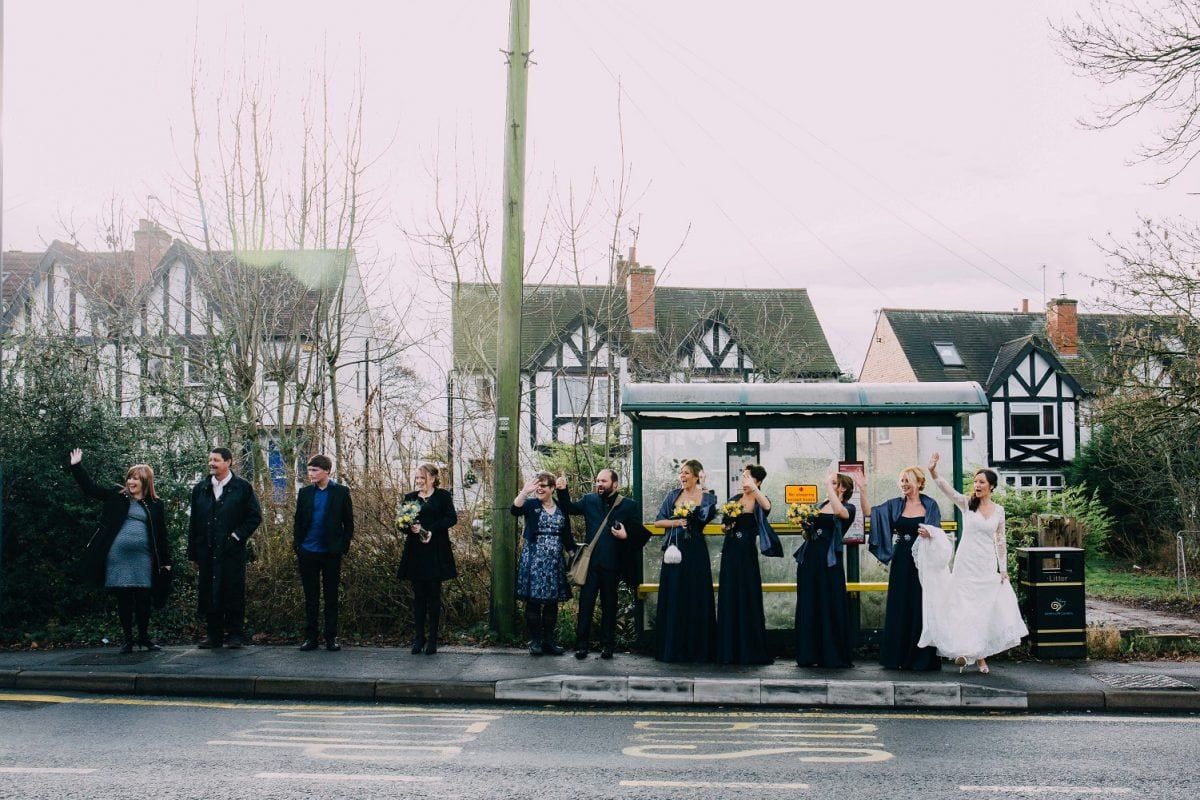 Today, Yvonne, who owns runs her own printing business in Derby, said she kept the bus journey a secret from everyone.
She said: "I like to do things differently and am quite quirky and I thought the traditional cars or horse and cart would be what people expected.
"I thought there is a bus stop right outside my house that drops us off right outside the wedding venue.
"The journey takes ten minutes and no one has to worry about finding a parking space so it was a win-win.
"I kept it a secret from everyone.
"I just told my guests that we had to be outside my house for a certain time and everybody kept asking whether it was a limousine or something picking us all up.
"But when we walked down my drive and turned left to the bus stop, my bridesmaids couldn't believe it.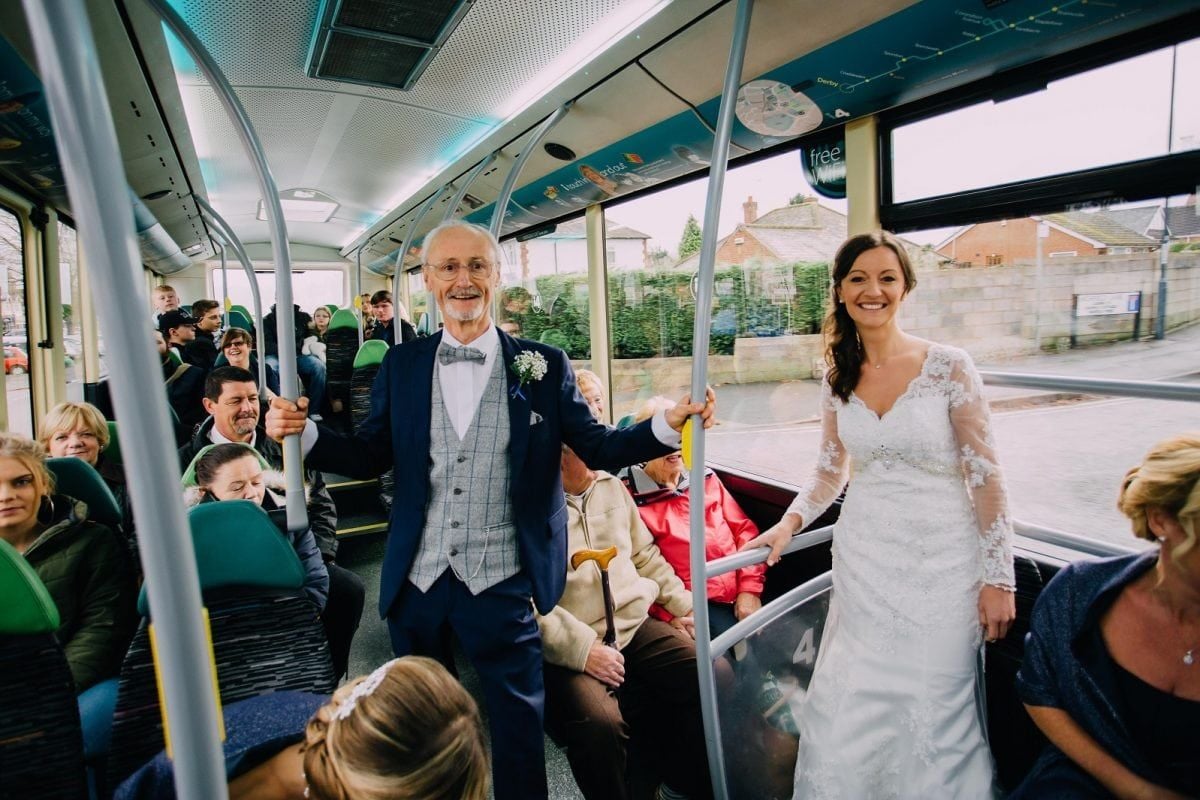 "There was about 14 of us including my dad and my four bridesmaids and some family who had come over from South Africa.
"The bus driver's face when we got on with a picture, I can still see it now.
"He must have thought 'what on earth is going on here'.
"And my dad trying to negotiate the bus fare was just hilarious.
"In the end he paid £2 each for us all but said he wasn't paying for himself because he has a bus pass.
"We sang songs on the way and people were giving me wedding advice. One elderly couple said that it was the best bus ride they had ever had."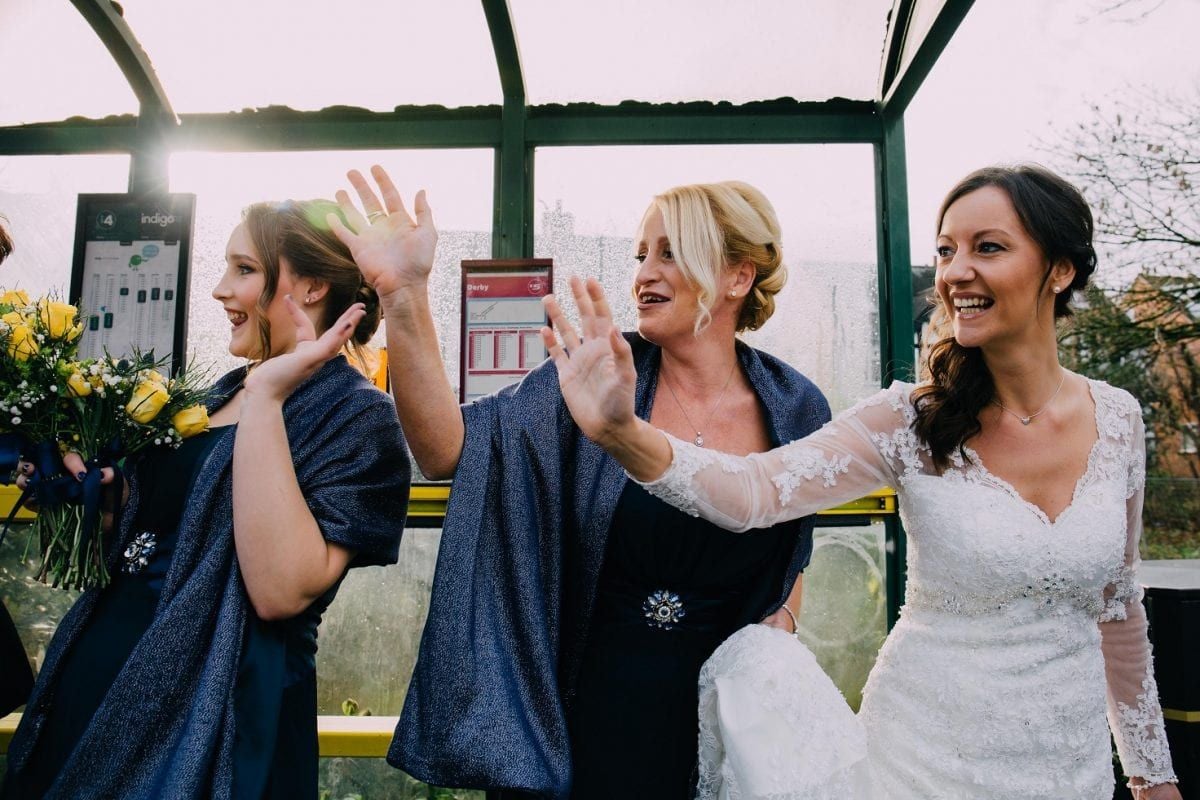 Yvonne, who tied the knot with digital marketing manager Jim on December 10, now has her face plastered over the back of the bus which goes past her home.
Yvonne added: "The day happened and it was a fantastic day but when the wedding was over all you've got are the photographs and memories.
"On the back of the buses they have models and passengers saying how they use the bus to get to work or other things.
"I thought my journey was unique so told them about it and they started using my photo on the back of buses too.
"It has stirred it all back up again and people are talking about it. It makes me smile and every time I see the bus go past my house I have a look to see if it's me on there.
"There are three different routes from the bus stop outside our house and I regularly use the i4.
"People have vehicles for their wedding but then they never sit in them again.
"But I can sit on the vehicle I used for my wedding whenever I want and have all the great memories."