A group of three men who drank alcohol while completing a community order were only caught out after they posted the pictures on FACEBOOK, a court heard.
Lee Snowden, 30, posted the snaps of himself, Christopher Bader, 34, and Matthew Fisher, 29, to his Facebook page smirking and raising their cans of Carling to the camera.
The photograph was captioned "Might as well have a few on unpaid work."
However, the men were hauled before the courts after the pictures were spotted on social media and newspapers by West Yorkshire Police, the court heard.
One picture, posted on Facebook by one of the gang, said: "Want ur rooms decorating by seven criminals cheap labour just hide ur valuables" with two thumbs up icons.
And in another shot one of the men is snapped looking at his phone while dangling a pair of garden shears.
Another caption on one of the photographs seemed to suggest the trio are enjoying their punishment, with one man posting: "Unpaid work time with the lads let the good times roll."
The group posing up for pictures were part of a team gardening at a nursing home in Bingley, West Yorks on May 19.
The three men today pleaded guilty to breaching the community order through unacceptable behaviour as they appeared at Bradford Magistrates' Court.
Snowden, dressed in a blue polo shirt and jeans, was sentenced to the community order on February 19 for a charge of driving while unfit through drink.
Bader, dressed in a tracksuit, and Fisher, dressed in a polo shirt and jeans, were both sentenced to community orders earlier this year for assault charges.
Probation officer Quaiser Khan said: "These three defendants were in possession of alcohol on unpaid work.
"The consumption of alcohol contravenes health and safety requirements.
"The particular work placement was gardening.
"If either had been caught [by a supervisor] they would have been dismissed.
"This only came to light as a result of the defendants taking pictures and putting them on Facebook.
"These photographs were seen to appear in newspapers."
Defending the trio, Amjid Khan said they had only consumed one can which had been given by the "generosity" of a passerby who knew one of the defendants.
He said: "They accept the behaviour was unacceptable.
"This matter was first detected from photographs in national newspapers.
"The defendants had worked for seven hours and it was 28 degrees that day.
"Someone they knew passed by.
"They took it and realised it was alcohol.
"The person meant to be supervising them was sat in a van.
"In the good old day there would have been a hands on approach by the supervisor.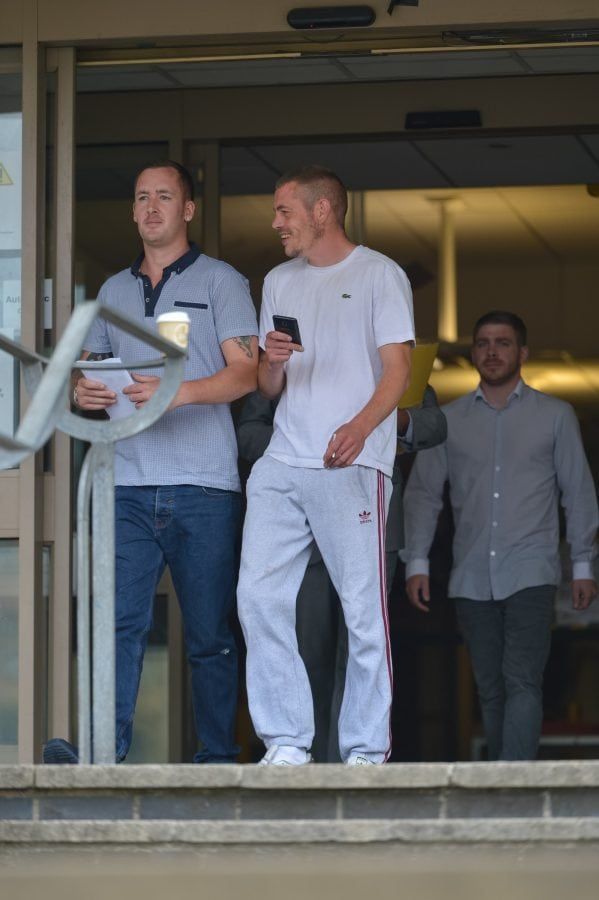 "The day was drawing to a close.
"They took the photo and that was that.
"It was one can towards the end of the day after a hard days work."
Sentencing the trio to an additional 20 hours unpaid work, magistrate Mr Vigous said: "I have been asked to look at the sentence for your behaviour.
"I have taken on board everything I heard from probation.
"I take a very dim view of people that are treating a community order in the manner you have shown.
"The time of day is irrelevant.
"You would have known you were in breach of the order.
"We will allow the order to continue.
"This sort of behaviour is not acceptable."
Community Payback, which is run by the West Yorkshire Community Rehabilitation Company, is handed out as a punishment by the courts and offenders can carry out anything from 40 to 300 hours unpaid work.