Three evil thugs who forced a 14-year-old girl into prostitution and made her have sex with 30 'clients' after plying her with drugs and booze have been jailed for 18 years.
Monsters Jake Cairns, 21, Jack McNally, 21 and Brandon Sharples, 20, exploited the vulnerable victim after holding her captive and forced her to have sex with strangers.
A court heard the trio advertised her services online after making her pose naked for photos and pretended she was 18-years-old on adult escort site Viva Street.
Cairns had earlier struck up a a friendship with the girl while he supplied her with drugs and offered her a place to stay when she ran away from home in June 2015.
He then encouraged her to work as a prostitute as "repayment" for staying at the property in Radford, Coventry and made her have unprotected sex with "20 to 30" men over a four day period.
She was forced to welcome clients at the front door naked apart from just a dressing gown and was told to bang on the floor if she needed help.
The teenager was regularly taken out of the property for food and showers and on one occasion was made to go shopping to buy lingerie with the twisted trio.
She was found by police dressed only in her underwear and bra as officers rescued her on June 13, 2015 following a missing person appeal.
The court heard how the victim, who cannot be named, had to be treated for an Sexual Transmitted Infection and money received was split between her and Cairns.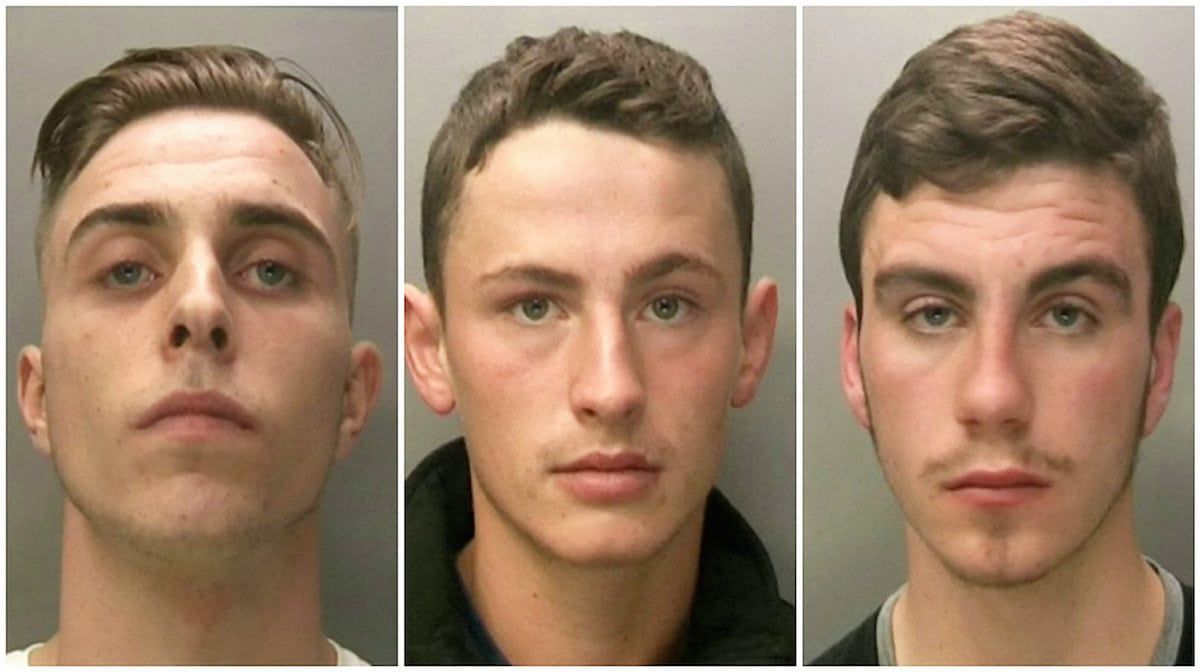 The defendants were all found guilty of facilitating the sexual exploitation of a child at Warwick Crown Court in November following a two-week trial.
Cairns, of Coventry, was additionally found guilty of arranging child sexual exploitation and distributing indecent images of a child.
Today he was handed an eight year prison sentence at Birmingham Crown Court.
Sharples, of Coventry, and McInally, of no fixed address, were jailed for five years each.
They were all given ten year sexual harm prevention orders and told to sign the sex offender's register for life.
Cairns was seen breaking down in tears in the dock, whilst the other defendants looked on emotionless with McInally waving to his family as he was led to the cells.
Sentencing, Judge Murray Creed, said: "The circumstances that give rise to these offences are that late on the night of 13 June 2015, police officers went to a property in Coventry.
"There they found the complainant, aged 14, who five days earlier ran away from home.
"They found her in her bra and underwear.
"They found her in that state because you three had sexually exploited her and she made to work as a prostitute.
"You were all friends. She had a drug dealer who was not able to supply her with drugs, and she was put in touch with you, Jake Cairns.
"A a result, she met you, Brandon Sharples and Jack McInally.
"Jake Cairns, you supplied her with your telephone number. You were friendly towards her, and paid her compliments.
"She was invited to the property. Whether that was her own request or you proposed it is not known, but nonetheless she went.
"She was advertised by you Jake Cairns online as a prostitute and thereafter while she stayed at that property a number of strangers came to have with her.
"On June 8 2015, she ran away from her grandmothers home. It's likely that she did not have anywhere to go and she did not want to return to her mother.
"Police were anxious to find her.
"She told you that she was 16 when in fact she was 14. These offences took places when she under the influence of drink and drugs, and she was exploited.
"She was there for two days when she was told that she would have to repay you, Jake Cairns.
"The upshot is that you took photos of you were uploaded online and she was made to work as a prostitute.
"She was frightened that she might be hurt, and with regard to her family she complied.
"She posed for some of the photos to be uploaded to Viva Street. The suggestion was that she was 18-years-old and was available for escort services.
"Although the complainants face was not shown, her body parts were and she could be identified by a necklace she was wearing.
"Between 20 and 30 men visited the property who were strangers.
"She would meet the client at the front door of the property naked other than a dressing gown.
"She would invite upstairs. What would happen there was already agreed and Cairns would discuss prices.
"They [she and the client] would then go upstairs and she would have to say goodbye to them afterwards.
"The arrangement for her protection was that she would knock on the floor to alert you if there any issues.
"Sharples and McInally, you were there to ensure that she remained at the house for the protection of the exercise.
"At one point, she was taken shopping to buy underwear. She was also taken to the YMCA to shower as there were no facilities for doing so at the property.
"She claims that she took drugs to numb the feeling.
"She described on one occasion not being ready to see a client, and being hit by you, Jake Cairns.
"She was kept at the property and was always escorted by one of you when she left to buy food or other items.
"This was undertaken for significant financial gain, with the money being split between Cairns and the girl.
"It was organised and it was only stopped because the complainant was found so quickly after she went missing that it ended."
The court heard DNA discovered on a duvet in a room, where she was forced to entertain visitors, was traced to five separate people, including Cairns.
Andrew Smith QC, prosecuting, said the victim had been left with immediate and long lasting effects following her ordeal.
He said: "She claims that her trust in others has been extinguished.
"She claims that the incident has effected 'every area of my life and myself'.
"Although her work as a prostitute was just a matter of days, that was because of the police efforts to rescue her, rather than a decision from the defendants that the prostitution would cease."
Claire Davies, defending Cairns, of previous good character, said: "There is no evidence that he had sex with the complainant.
"He was 18 at the time of the offending, and one looks at his background – the death of his father, the care of his mother for her mental health and physical health difficulties.
"There was significant financial gain, with money being shared with her."
Graeme Simpson, defending Sharples, who has a has a previous conviction for burglary, said: "He is still only 20 years of age – he is still a young offender.
"He has a shown a degree of remorse."
Simon Hunka, defending McInally, who has past convictions for robbery, said: "There is no suggestion that he received any money for what happened.
"His life was something of a sorry one. He was often intoxicated and at the time of the offending was homeless."
Alex Warren, Senior Crown Prosecutor with the West Midlands Crown Prosecution Service's Complex Casework Unit, said: "This case involved the most horrendous exploitation of a vulnerable young girl by the defendants.
"She was treated as little more than a commodity to be utilised for their financial gain.
"The prosecution was able to outline the role that each defendant played in her abuse and they must now face the consequences of their actions.
"I would like to pay tribute to the victim's courage and her support in helping to bring these three men to justice."
https://www.thelondoneconomic.com/must-reads/i-slave-13-years-cambridge-london-help-save-girls-like-i/18/10/