A disgruntled fish and chip shop boss has renamed his business 'GREEDY LANDLORD' following a rent dispute with the owner of his takeaway premises.
Mark Nicol, 48, repainted his shop front sign Grandad Nicol's Fish and Chips to Greedy Landlord in blue paint in a 'last hooray' before moving out of the premises.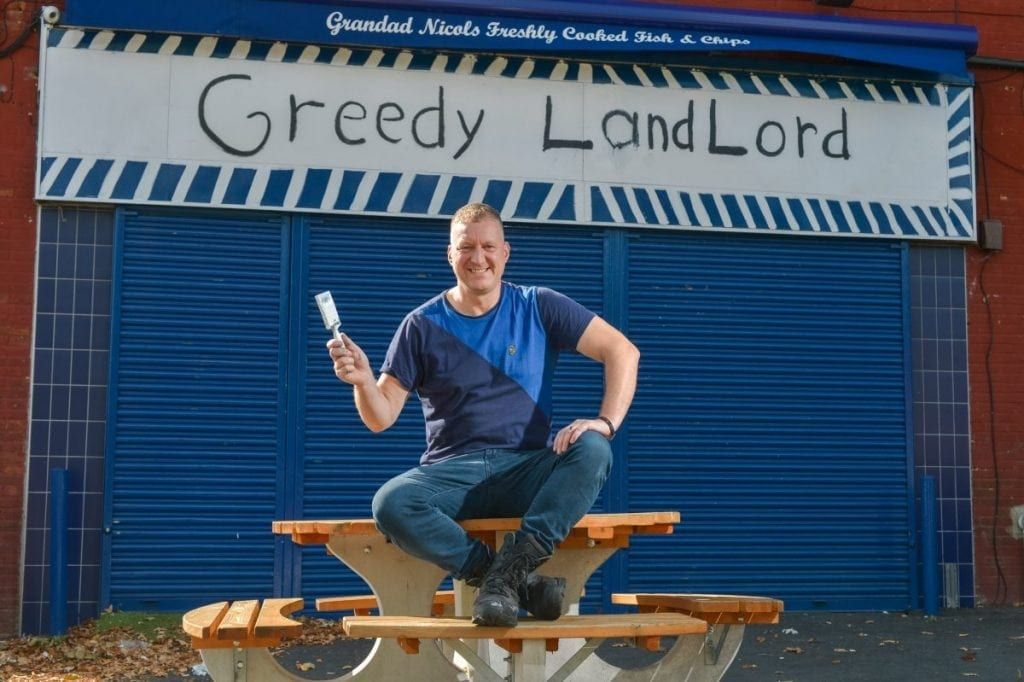 He branded landlord Harpal Singh 'heartless' and claimed the millionaire property owner had refused him rent amnesty when he found himself in financial difficulties following his divorce
Mr Singh however denies the claim and insists he gave him two months rent free on the £400-a-week property for the usage of the shop unit.
Dad-of-four Mark claims Mr Singh attempted to get him evicted in April this year and in protest decided not pay his rent.
Mark, who still occupies the terraced unit on a three-year-long lease which began in May 2017, says he wanted to 'go out with a bang' by re-naming the shop.
He decided he wanted to "humiliate" the millionaire landlord in a last hooray and expose the so-called "unfair" landlord system.
Mark, of Bradford, West Yorks., said: "Once I've put up the sign, my landlord will repossess it – but then I'm just going to move next door anyway.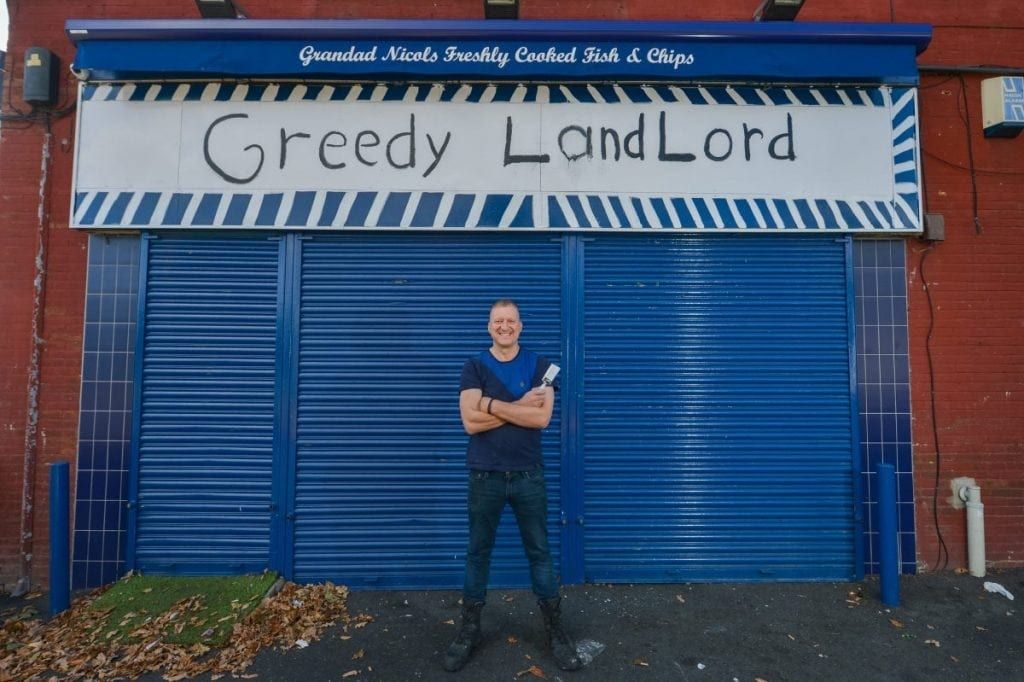 "To me, this landlord preyed on my poor situation and took large amounts of money from me after I took out this lease with a £3,000 deposit.
"As soon as he saw I was in financial difficulty – he wanted to get me evicted – and was heartless about the situation."
Mark had rented the same premises in Gipton area of Leeds, West Yorks., from the Mr Singh on two previous occasions in 2009 and 2013.
But he claims Mr Singh ripped him off when it came to the end of the lease terms – saying he was only left with half of his deposit each time he vacated the premises.
So, on the third time of renting out the same property, Mark made sure he added three specific agreements.
The three points were that he could name the shop and paint the shop whatever he wanted – and the landlord would have to also appear in a video.
Fish and chip shop franchise manager Mark then planned to get to work on his new-found shop name.
But despite his landlord able to pull down the sign down when he gets access to the premises through the courts, which could be a matter of weeks, Mark is only moving next door to run a fast food business.
Mark added: "The shop was doing £4,500 a week – and that's a £100,000 business at the end of the day.
"I decided to paint the front with new name Greedy Landlord because I believe that this landlord is greedy and has ripped me off in the past."
Mark, who has been running shop franchises for Grandad Nicols Fish and Chip Franchise over 15 years, makes his money from several businesses across West Yorkshire.
He also runs franchises in Ilkley, two in Pudsey and one in Bradford.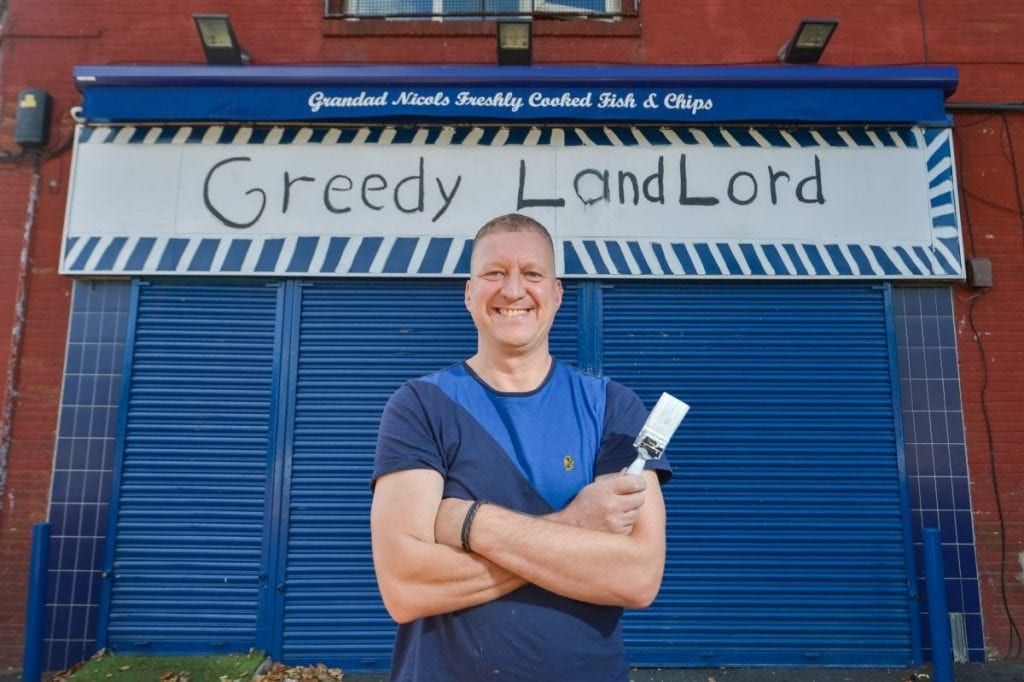 However, his empire came unstuck when business owner Mark, who suffers from 'high achievers' Asperger, split from his wife.
Mark says his condition makes him like 'Rain Man', but alleges his wife blew his capital which led to his dire situation.
Speaking of the incident, Mark said: "Because I have Aspergers, I'm not very good with technology or phones so my wife dealt with everything.
"We're going through divorce proceedings as I speak so it means I can't use any of the money otherwise it counts as money laundering."
Mark was tasked with trying to keep his business afloat so he decided to open a fast food takeaway outlet next door instead.
After spending some time homeless, he has also vowed to feed the homeless every night of the week for free at his new business venture 'Jihadis and Jidaddys'.
After being told his premises now was called 'greedy landlord', Mr Singh said: "I don't see how I am greedy – or a greedy landlord.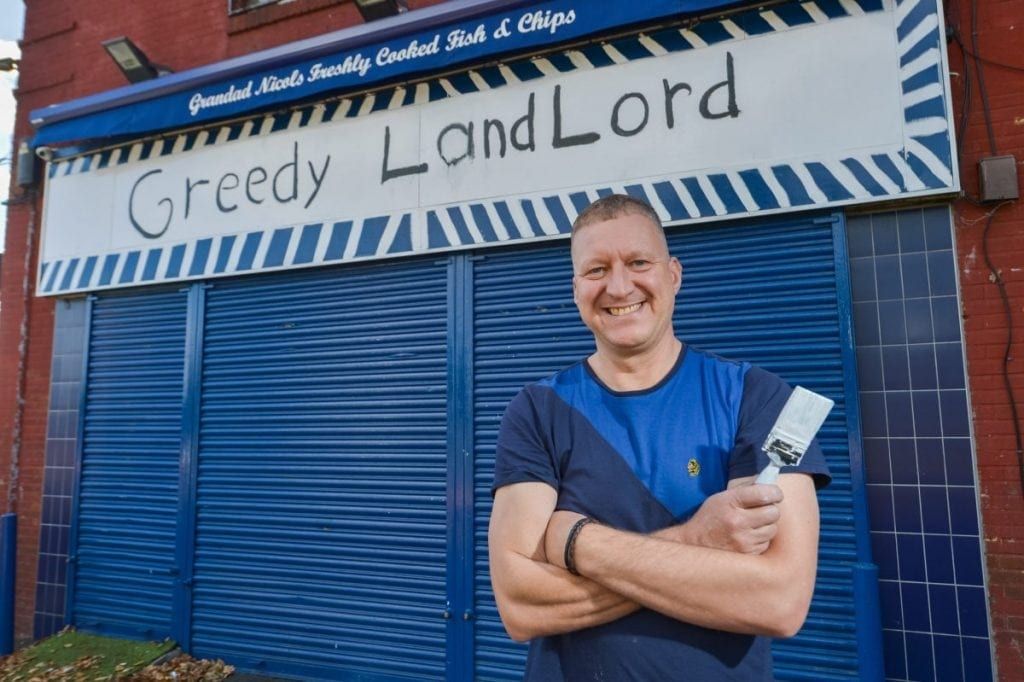 "I haven't seen the sign or been to the shop in months – I don't go down there.
"I've given Mark enough chances and given him loads of opportunities to pay the rent.
"I either want the rent money and he can stay – or he can give me back the key.
"I've not got my solicitor involved yet, but I will if we cannot come to a conclusion."