A mum put up a Reddit post that many will find shocking. It has already had thousands of comments on the post.
The mother was watching her neighbours seven year old son as a favour.
The woman, of South Asian origin, gave the boy some of her lunch which was a roti and brinjal sabzi (a type of aubergine curry), after he asked to try it.
"He ended up loving it and ate two rotis," she wrote.
Mad
The neighbour picked up her offspring, but returned soon after in a distressed and angry state.
The lady writes that the neighbour said she had "no right to feed her son ethnic food, adding: "God knows what's in it."
"She said that she was trying to transition her son into the vegan lifestyle and I just sabotaged it from giving him food she has never even heard off," the Redditor said.
"I tried explaining to her that what he ate is completely vegan-friendly and is very healthy and, needless to say, yummy or else Ben wouldn't have (eaten) it all by himself.
"But she was in no mood to listen."
She continued: "(Linda) was saying something about how my food would have been so spicy that it could cause her son to fall sick.
"I am worried now. I felt that Ben enjoyed his lunch and he never complained about it being spicy and all but could he really fall sick?"
She ended with: "Linda called me an a**hole for feeding other kids without the parents' permission and I kind of feel like one."
She then asked fellow users of the platform: "Am I though?"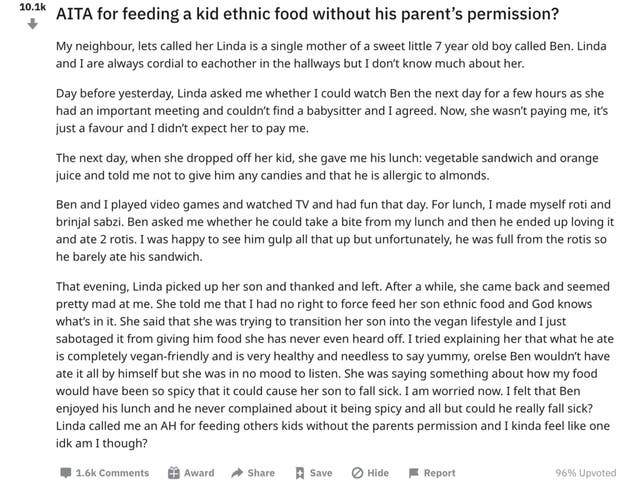 Reactions
"This could've been educational for the kid but his mom ruined it by being bigoted."
'Not just FOREIGN food but gasp it wasn't white people food!"
"She's the first vegan I've ever heard of who doesn't appreciate Indian cuisine. If I had to be vegan most of my food would be Indian. The spices they use on vegetables is just fantastic- I'd argue it tastes better than a lot of other vegan options. Definitely better than most of the "I can't believe it's not hot dogs!" Fake meats and cheeses.'
"Linda is just a racist asshole; Caucasian or not doesn't really matter to the story but the fact remains that obviously Linda is a non south Asian who thinks all south Asians eat is extremely spicy food whereas the SA diaspora is pretty diverse with diverse tastes and foods."
"Jesus, Indian food is actually quite vegetarian friendly and easy to make vegan. Linda's just a fucking racist."
"I am sick of the stupid 'Indian food is spicy' thing that everyone seems to think."
"Nta, he asked to try it and he liked it just fine. There's nothing wrong with kids trying new things and its not like you intentionally gave him anything that could hurt him."
Related: 'Anarchy rules in the UK': Mail readers aren't happy about the Glasgow protests