Precious medals belonging to a highly-decorated WW2 veteran have been discovered in a SKIP – sparking a search for the soldier's family.
Christopher Low, 31, found the precious relics including photos, uniform stripes and service records belonging to Cpl Arthur Glew while searching for hazardous waste.
The precious haul includes the 1939-45 Star, the War Medal 1939-45, Africa Star and Defence Medal – all of which were earned during 12 years of service.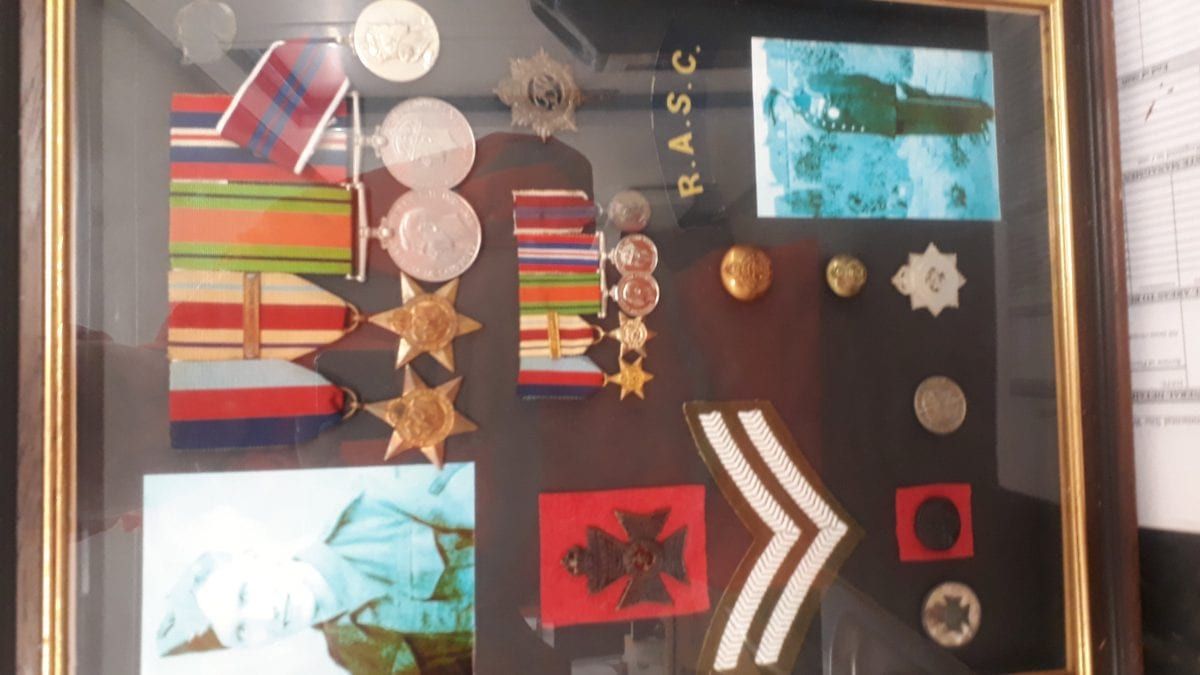 It was found in a display frame brought to the waste management company where Christopher works in a skip full of debris from a house in Hexham, Northumberland.
Corporal Glew served in the Royal Army Service Corps from 1940 and was posted in the middle east before being discharged as "medically unit" for service in 1952.
Speaking about the startling find, Christopher, of Newcastle, Tyne and Wear, said: "I just thought it was sad that someone had chucked it out.
"It's ironic that this has turned up in a skip so close to the centenary of the end of WW1.
"When you think how much this man must have gone through to see our freedom protected – he has done so much for his country.
"But this guy has served in Africa and has a Desert Rat medal – this is quite a little find and there's a lot of history here.
"If this was someone in my family I would want those medals on my wall."
A service record in the back of the display shows after enlisting in the Kings Royal Rifle Corps in June 1940 he was promoted to Lance Corporal in December.
However he requested to revert back to rifleman seven months later.
The service record described his military conduct as "very good" – however he was discharged in 1952 as "medically unfit" for further service.
Christopher, whose father served in Northern Ireland and the Falklands for the Royal Fusiliers, said: "Who knows why he was discharged.
"Maybe he was just knackered after the war – he stayed in for seven years after the war ended.
"This was one tough cookie – they don't make them like that anymore.
"All we really know is that the medals have come from a house in Hexham – maybe the house was sold at auction after the owner died.
"We think he was born on Durham but married into a family down to the north west of England.
"He had six children but they may not all be living now – we're trying to find his grandchildren."
A Facebook appeal created by Christopher for information about Cpl Glew's family has been shared 40,000 times and he has received more than £3,000 messages.
If you have information which could help reunite the medals with Cpl Glew's family send Christopher a Facebook message at facebook.com/profile.php?id=100011744080515.