A pair of pranksters have erected a giant five-foot tall snow penis in the heart of a historic market town.
Mark Harris, 25, and Connall Beith, 26, spent an hour building the impressive structure and placed a sign next it reading "no dick pics please".
Dozens of grinning passers-by took pictures of the life-long friends' "masterpiece" on Sunday in Chatteris, Cambs.
Dad-of-two Mark from Biggleswade, Beds., said: "We just decided to be a bit immature and to spread a little bit of joy in the community.
"It's not for everyone and it was childish but we were quite surprised a lot of people were on side with it.
"We definitely would call it a masterpiece. You can't really compare it to anything."
But the duo admitted some were left looking "unimpressed" with the sight of their frozen phallus they spent an hour erecting the morning after celebrating Connall's 26th birthday.
They found the sculpture they dubbed Mason destroyed just an hour later.
Connall, from Chatteris, said between 30 and 50 Christmas shoppers took photos of Mason before it was destroyed.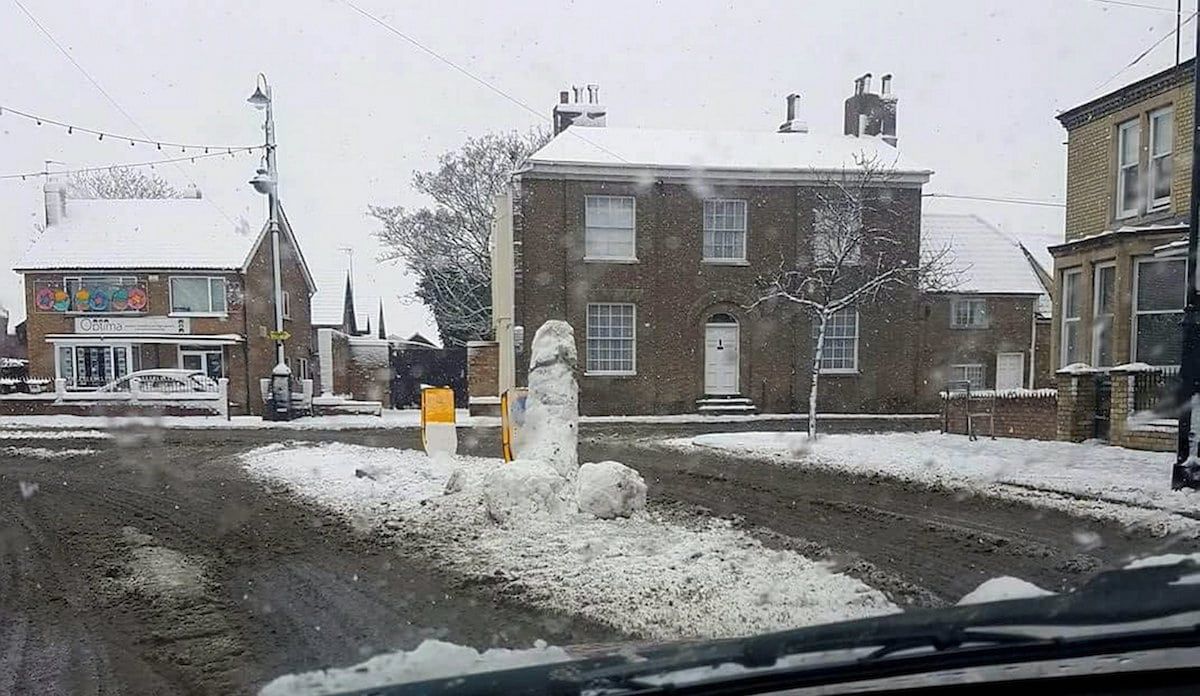 "It's good that it's got people thinking but there's not really much to think about – it's a giant snow penis," he said.
"It really did get the community involved in the fun. There were some teenagers but most of the people who saw it were drivers.
"There were only a couple of people that didn't look overly impressed – the majority stopped to take pictures.
"We were a little bit disappointed that it got destroyed so quickly but we weren't surprised.
"We've been friends for 20 years so we are both very much on the same wavelength."
Pictures of the snow penis caused a stir on Facebook after they were posted on Chatteris Cambs Discussion community page.
Local Alan Gowler said: "I just saw some kids carting it away with what looked like a shopping trolley."
Around 20cm fell over Cambridgeshire on Sunday.
https://www.thelondoneconomic.com/must-reads/perfectly-timed-picture-captures-falling-snowflake-form-angel-wings-girls-back/12/12/
https://www.thelondoneconomic.com/must-reads/paramedics-dashed-help-woman-seen-sitting-frozen-park-bench-turned-statue/12/12/