Police have been blasted for parking a marked van on a narrow street for more than a hour – blocking the path of a fire engine.
Coffee shop assistant Bruno Ferreira has accused cops of putting lives in danger by leaving the vehicle unmanned in the middle of the road for more than an hour.
Officers claimed they had parked up and went in search of a suspected shoplifter when they abandoned the van in Wisbech, Cambs.
But Bruno, 35, says there were plenty of other places they could have parked.
He said: "The fire engine couldn't get past, it's inconsiderate and risks people's lives.
"I got there just before 2pm and it was there until about 3.15pm or so.
"If the police officer gone there only to look at CCTV and take notes, he could have parked somewhere else."
A Cambridgeshire police spokesman denied the van was blocking the path of the fire engine, but a picture taken by Bruno shows the truck unable to get past.
He said: "Officers were responding to an emergency incident where suspects of a theft in the town centre were still in the area.
"The fire crew was not responding to an emergency situation."
Cafe owner Mararclone Silva has previously had issues with police parking on the same road.
Mararclone, 55, said: "We are not allowed to park here but for the police it seems like a different story.
"If I park outside my shop for five minutes I will get somebody coming to me, telling me I can't park there and putting a ticket on my car.
"I pay lots of penalty fees. If I park there for five minutes the police or a ticket warden will charge me.
"We used to have a permit to stay in front of the shop but the council cut that off us, so we are not allowed to park there anymore.
"But if the police come they think they can just park here and block the firemen in.
"If they wanted to pass the street they would've had to wait for the police to come back to the car."
A fire service spokesman said: "On Friday (February 28) our Wisbech crew was delivering community safety activity in the town centre.
"The fire engine was temporarily halted in a tight part of Hill Street due to a combination of a police vehicle and building work taking place.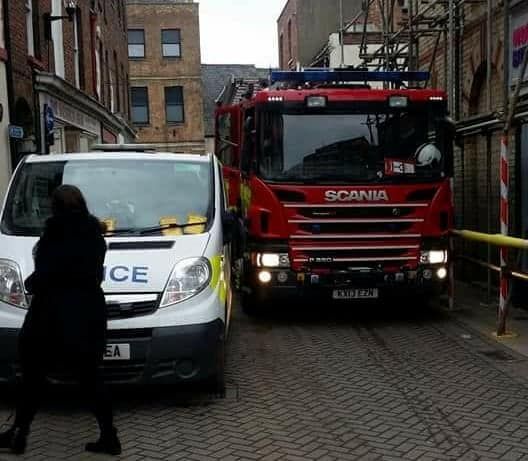 "The crew was not responding to an emergency."
Last January the fire service took to Facebook to warn drivers of the seriousness of poor parking after one of their fire engines struggled to make it down a street.
PCSO Lisa Mann, who was on patrol at the time, said: "Inconsiderate and at times illegal parking is becoming an increasing issue in Wisbech.
"Parking in an inappropriate way could cause a delay in emergency services reaching an incident and therefore put lives at risk.
"We urge people to think carefully about where they choose to leave their vehicle; ensuring it is parked legally and in a way that does not prevent larger vehicles from accessing the road."
Retired builder who turned into a pothole 'vigilante' has fixed his 200th – at a rate of one a week for four years