This is the wreckage of a car which "somersaulted three times" – after it hit a deer.
Rob Tyzack, 71, said he woke in the night to the sound of three louds bangs and "screaming" to see the wreckage of a car on the cricket pitch near his house.
The retired policeman ran out to find a young man lying unconscious on the ground and a woman crying by the upturned vehicle surrounded by debris.
The trained medic said he was shocked the hospitalised pair "got out of the car alive" and police later found "a bit of the deer's face" near the crash scene.
Mr Tyzack said he remembered first hearing the sounds at 3am yesterday (sat) outside his home in the small hamlet of Navestock Side, Essex.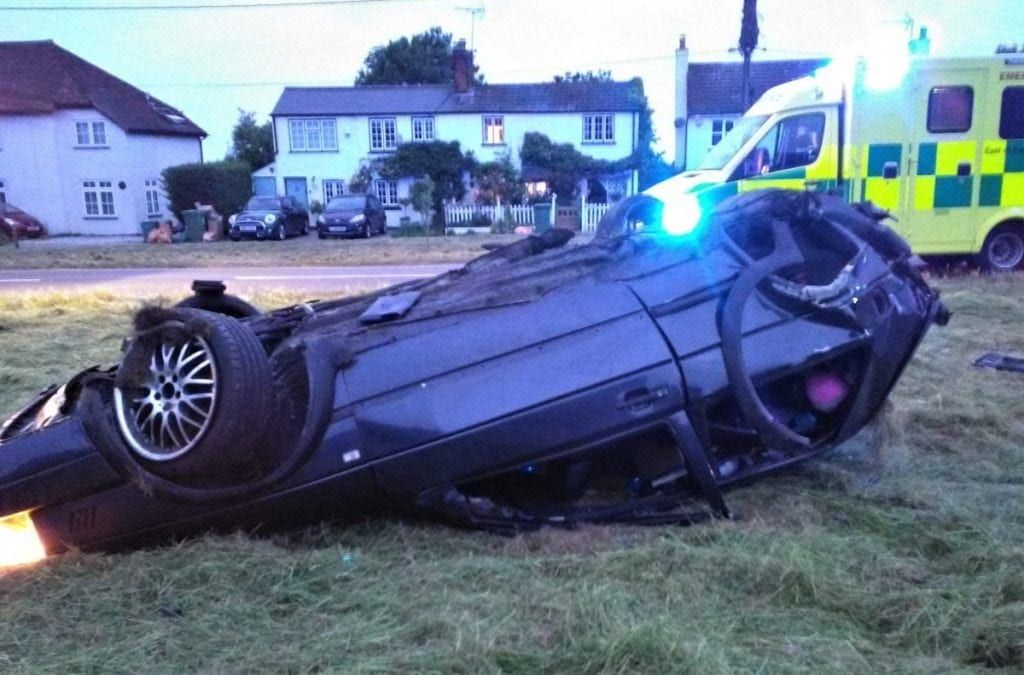 He said: "I looked out of the window and could see there was a car upside down on the village green.
"There was smoke already coming from it and I could hear screaming."
After calling 999, Mr Tyzack dressed quickly and ran outside to find a woman in her early 20s "screaming and crying by the edge of the road".
He said: "There was a man of the same age. He appeared to be unconscious and was lying in the grass between the road where the girl was and the car."
Mr Tyzack said he checked the woman was okay before attending to the man, making sure he was breathing.
"There was debris spread all over round everywhere," he said.
At first, he said the man didn't respond at all, but then jumped up and pushed him away and tried to get back in the car.
He said: "It was a bit of a battle to keep him still."
About 10 minutes after arriving at the scene, Mr Tyzack said the fire service arrived, shortly followed by police, two ambulances and a paramedic car.
The road was closed at either side of the crash site.
According to Mr Tyzack, the man and woman told police they had hit something in the road, such as a "deer or a fox".
He added: "The police searched the area and about 150m away they found the remains of a deer.
"There was a bit of the deer's face where the car was at the accident scene.
"How they got out of the car alive was a mystery really."
Mr Tyzack described a ditch at the side of the road, which he said the car seemed to have hit.
"It looked like the car has somersaulted at least three times. It was quite a shocking site."
He said the man had blood running down his face, a fractured eye socket and a possible spinal injury, while the woman possibly broken her right leg.
Mr Tyzack added: "They were treated at the side of the road about half an hour before being taken to Queen Hospital in Romford."
https://www.thelondoneconomic.com/must-reads/heart-wrenching/police-release-man-and-woman-under-investigation-after-van-ploughs-into-house-killing-pensioner-aged-90/20/04/