A top judge has blasted magistrates who repeatedly bailed a violent serial rapist allowing him to sexually assault a mother in her own home.
Carl Hartley, 26, was arrested and bailed an extraordinary five times on suspicion of committing separate rapes.
Incredibly, when he was eventually charged with the offences after a package was put together by senior police detectives, he was bailed again.
Just three days later, Hartley sexually assaulted the victim as she held her three year old daughter.
Today (Thurs) judge Christopher Batty at Leeds Crown Court condemned the decision by the Magistrates to allow the rapist out to commit a further offence.
The court heard Hartley was repeatedly granted bail after denying the rape offences.
Judge Batty said: "I cannot for the life of me understand what on earth anyone was thinking of at any stage until he was finally remanded in to custody.
"How he wasn't charged is beyond me. How he wasn't remanded in custody is beyond me."
Hartley carried out two rapes on "vulnerable women" in the city centre of Wakefield, West Yorks., in 2014 while they were on nights out, the court was told.
The court heard Hartley raped a woman in February 2014 after following her from a pub following a row with her boyfriend.
He forced the victim to the ground and removed her clothing in the attack near to Wakefield city centre.
Hartley, from Leeds, West Yorks., then raped a 20-year-old woman in May 2014 in an alleyway behind Wakefield Prison in an attack that was caught on a security camera.
The defendant called the victim, who had recently miscarried, a "dirty s**g" and pulled her hair during the rape, the court was heard.
The victim lashed out in retaliation at the defendant following the attack as he cowered – seen in harrowing CCTV evidence shown in court.
Despite the horrific footage, Hartley wasn't charged with the offences until late June 2017.
In spite of the fact he was arrested and charged with the rapes, he was bailed by magistrates again.
Just days later on July 1, Hartley approached the door of an innocent victim at around 6.30pm and offered his services to trim her garden hedges for £20.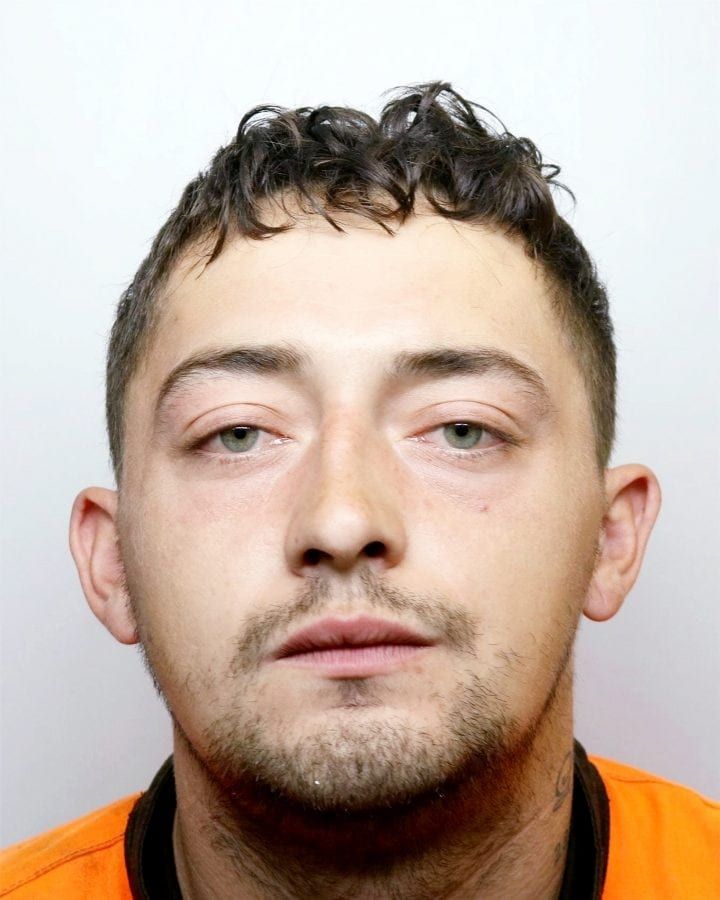 Unaware of Hartley's ulterior motive, the victim allowed him to enter her home to plug in a piece of his electrical equipment.
When the victim walked through to her kitchen, Hartley followed her and sexually assaulted her in front of her three year old daughter.
Prosecutor, Philip Standfast told the court the young child said Hartley was "not to kiss her mummy" and "only her daddy was to do that".
Mr Standfast read out distressing victim impact statements to the court from Hartley's victims.
The first victim of Hartley said she was left with anxiety, struggled to leave her own home and had become a "recluse".
She had also been forced to move house due to the incident, the court heard.
The next victim said she had developed anxiety and the thought of having to give evidence at a potential trial had caused her distress.
The third victim said she was left "struggling to sleep", required counselling and constantly reminded of the incident.
She said the victim told her the sexual assault was her own fault.
Sentencing Hartley, Judge Christopher Batty QC said: "You are 26 years old.
"You pleaded guilty to two offences of rape and one of sexual assault over a three and a half year period.
"In my view you have no control over your sexual urges.
"You have no respect for the wishes of woman.
"You are a sexual predator and a dangerous man who poses a serious risk of further offending.
"I am satisfied these offences carry a life imprisonment."
Hartley was jailed for life with a minimum term of six years and 117 days.
He was warned by the judge it was likely he could be locked up for much longer and will be on licence for the rest of his life.
He sat dressed in a black suit with his head bowed throughout the proceedings.
Two police detectives who sat in the public gallery, DS Phil Davis and DC Paul Gough, were commended by the judge for their work in securing his eventual conviction.