A 'Jason Bourne-like' fugitive wanted for the fatal stabbing of a young clubber is still on the run THREE YEARS after the murder.
Shane O'Brien is believed to have fled Britain in a private jet after 21-year-old Josh Hanson was brutally knifed to death in an unprovoked attack in front of horrified partygoers at a bar in north west London in 2015.
Murder Squad detectives said the behaviour of the heavily tattooed fugitive 'is like Jason Bourne' – after he was spotted around the world with cash and in disguises.
O'Brien – on Europol's 'Most Wanted' list – is described as 'dangerous' and an 'incredibly capable man' whose behaviour matches that of the fictional rogue assassin.
Murder Squad detectives joined Josh's grieving mother Tracey Hanson on the third anniversary of his death today (THURS) to renew appeals for information on O'Brien's whereabouts.
Mrs Hanson has spent the last week outside major railway stations with a picture of her son's suspected killer on her chest.
Since the murder, O'Brien has been spotted in Dubai, Gibraltar and France – landing him a place on a global most wanted list.
A worldwide investigation is under way, with O'Brien changing his name and appearance to avoid authorities in half-a-dozen countries.
He was even arrested in the Czech Republic for assault and criminal damage in 2017 – but used the fake name 'Enzo Mellonceli' to escape a jail sentence.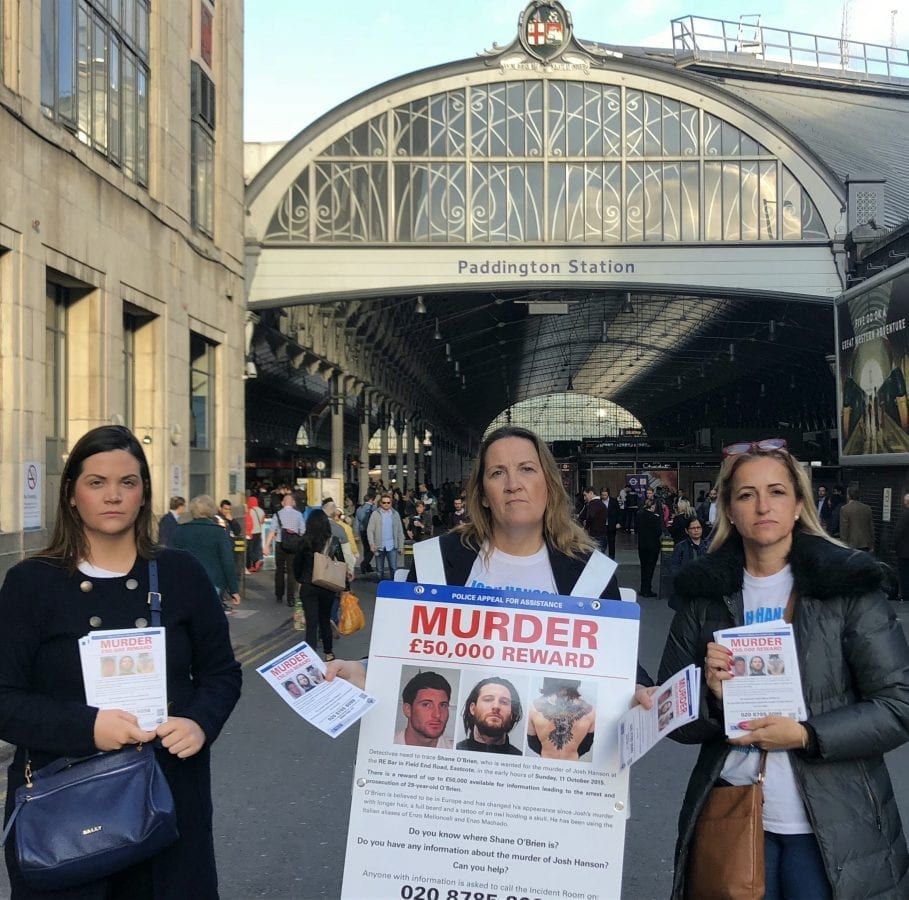 DCI Noel McHugh, of Scotland Yard's Murder Squad, said: "He is dangerous and capable – it's a bit like Jason Bourne.
"I believe O'Brien is being given a hand by criminal associates who are providing him with money, identities and the means to travel across borders.
"There is a tremendous award of £50,000 out there – this has risen incrementally in our investigation."
Mrs Hanson, 53, said she spends every waking moment campaigning to lock up suspected killer O'Brien.
And she refuses to give up hope until her son's killer is arrested.
The campaigner stood outside Paddington railway station in west London during morning rush hour today and will remain there long into the evening.
She said: "I will not rest until this man is caught – only then can I begin to fully grieve.
"My son was brutally stabbed to death by this man and he laid on the floor of the club dying.
"The man that did this is running free – do you think I enjoy standing here with his face on my chest.
"It is heartbreaking, I wait for the call of his arrest constantly and Josh is on my mind twenty-four hours a day."
Tracey has amassed 30,000 followers on Facebook – with her campaign to catch the killer going worldwide.
She said: "Josh was the hardest working man in the room, he was kind, loving and was forever excited about life.
"He was a family man, he was up at 5am and would send lovely messages throughout the day in our group chat."
Before her son's death, Tracey owned companies that specialised in beauty and jewellery – but closed them to devote her time to campaigning.
More than 8,000 posters have been given out this week alone – and Tracey reckons years worth of printing has cost her thousands.
She said: "I have nobody to support me, I do all of this off my back with my daughter Brooke.
"We need more help and support – this man could be anywhere in the world.
"Our posters have made it to some of the most remote locations in Cambodia.
"The Met Police are doing everything they can too – they have been so helpful."
In the past week Tracey and Brooke have stood tirelessly at stations including Victoria and Waterloo.
Brooke Hanson, 28, said: "The pain won't be able to stop if we have to look at this man's face every day.
"We have worked so hard this week, we have been really smashing it from 5 am onwards.
"Josh was my best friend, we did everything together – I could talk to him about anything."
The women were helped with their mission by friend Ruth Crinnion, 49.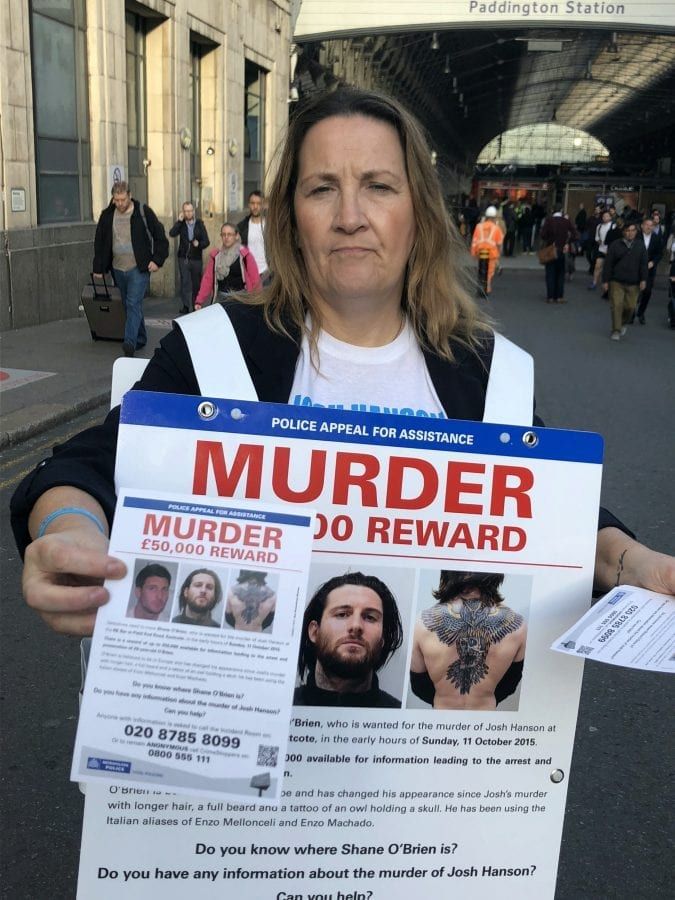 She said: "I'm here to support Tracey and back her up – her son was a friend of my daughter.
"We want to start conversations and make sure this man doesn't go on to harm others."
Tracey said: "The hope is that somebody who travels a lot will remember this man and lead to a report.
"To whoever is helping this man, how can you carry on, knowing you are tormenting his loved ones.
"One call is all you need, help us put this nightmare to rest."
A charity called Justice for Josh was set up by the Hanson family to help guide young people away from violence.
Tracey added: "Knife crime is not just gang related – we have an epidemic.
"Hospitals are full of knife and slash attacks that go unreported.
"It's a choice that young people have to make – they trust in the knife for protection rather than police.
"There are no bobbies on the street to turn to now and sentences for knife crime are so flaky."
Detectives stressed the need to share the image of O'Brian online – after he has escpaed capture for years.
DCI McHugh said: "At first the sight of the sandwich board can make you feel uncomfortable.
"But once you realise the energy that's behind it – you understand the effect that Tracey can have.
"The determination shown by Josh's family when they raise awareness is inspiring and I am so proud of Tracey.
"She is putting herself out there among busy stations with commuters so people can see first-hand what she is going through."
DCI McHugh appealed for the public to spread the poster and inform police whenever possible.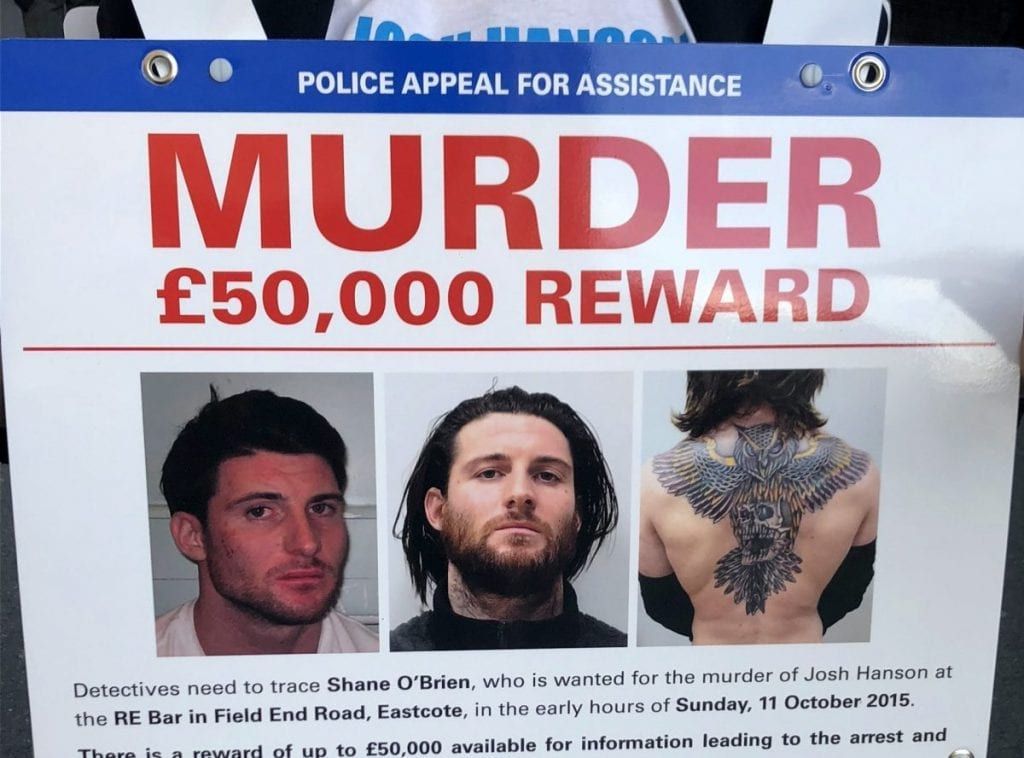 He said: "We have had many, many sightings of O'Brien around the world.
"The man has a clear presence and this is easily identifiable, he also lives a lavish kind of life.
"Ultimately he is going to become a liability to someone.
"Keep an eye out in bars, clubs and inside boxing gyms – this man has tattoos that are unmistakable.
"I urge people to contact us immediately and we are ready to deal with this man – don't leave it too late."