A kind-hearted seven-year-old girl has filled a police force with admiration after she left a heart-warming note and chocolate on a cop car windscreen.
North Yorkshire Police officers quickly took to social media to highlight the 'lovely' good will gesture from the youngster called 'Florence' over the festive period.
Two PCs were on duty in Scarborough, North Yorks., when they returned to their vehicle to see a note on the windscreen alongside a bar of Toblerone and some chocolate coins.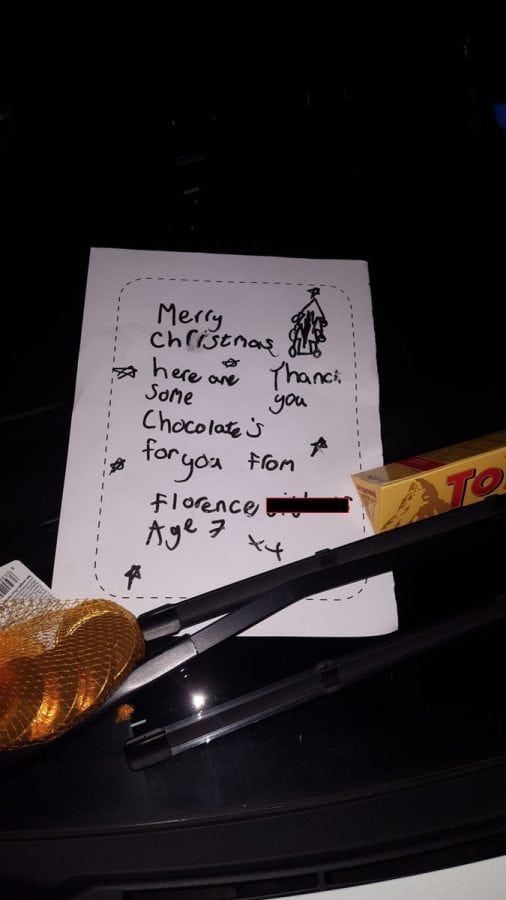 They had been parked up on the sleepy seaside town harbour when seven-year-old Florence had placed the gift on the cop car on Christmas Day.
The note read: 'Merry Xmas, here are some chocolates for you. Thank you, from Florence, aged 7 xxx' (sic.)
North Yorkshire Police later tweeted: 'How lovely is this? While some of our #Scarborough officers were on duty on Christmas Day, seven-year-old Florence left some chocolates and a thank you note on the windscreen of their vehicle parked on the seafront. Thank you Florence, it made their day!'
https://www.thelondoneconomic.com/must-reads/good-news/kind-hearted-mum-posted-tongue-cheek-complaint-aldi-given-free-food-shop-handed-whole-lot-local-foodbank/19/12/
https://www.thelondoneconomic.com/must-reads/three-generous-workers-enjoying-xmas-interrupted-party-help-71-year-old-homeless-woman-paid-145-stay-hotel/20/12/