Locals have fundraised to get a double amputee a powered wheelchair after he was denied one by the NHS because he "wasn't handicapped enough".
Andrew Walsh had both his legs amputated due to blood circulation issues as a result of his diabetes.
But after receiving his operation in August last year, the 51-year-old applied for an electric wheelchair from WestMARC rehabilitation centre at the Queen Elizabeth University Hospital.
However, Andrew, from Helensburgh, Argyll and Bute, was devastated to hear his application was declined.
This was because he did not meet the criteria to be provided with an electric wheelchair.
After hearing Andrew's cry for help, June McMurdo and Margaret MacInnes set up an online fundraiser and organised an event at the town's Ashton Bar.
The event was backed by several other local businesses who also wanted to help Andrew get his independence back.
Recently Andrew went to visit June and Margaret to thank them for their support by presenting them with bouquets of flowers.
He said: "I just wanted to show my appreciation.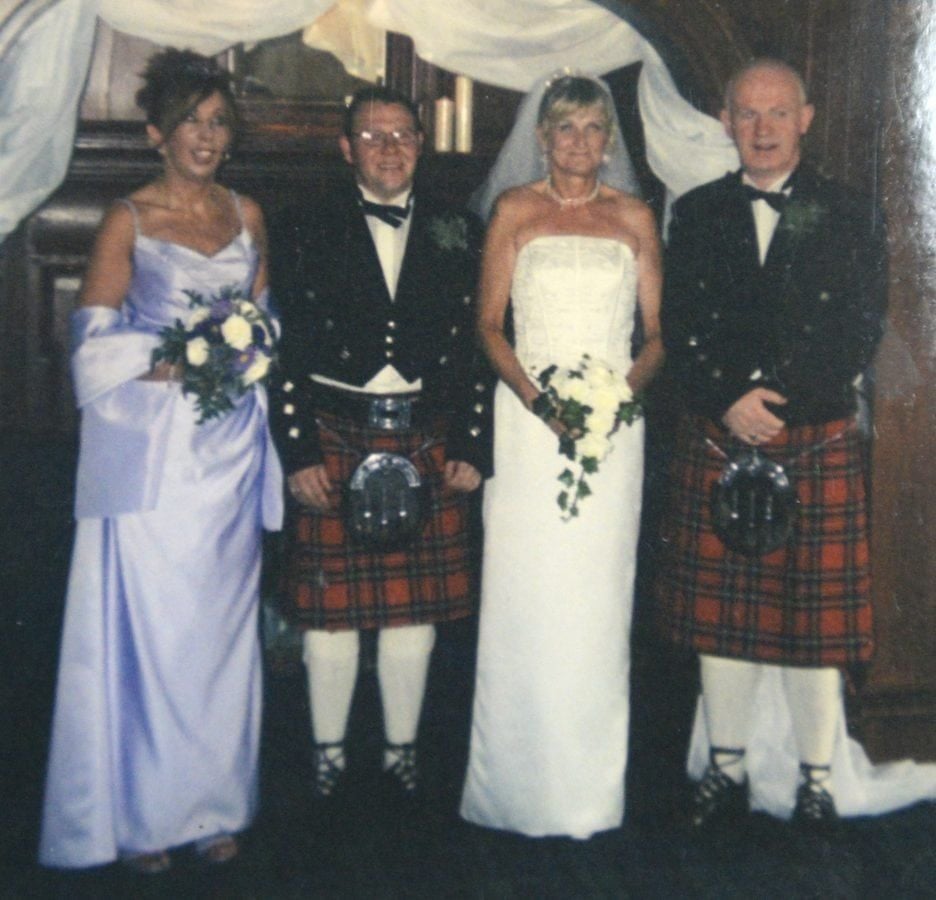 "I would never have got it any other way apart from it being in the paper and local people donating money."
A further appeal to another wheelchair service, the SMART Centre in Edinburgh, was also unsuccessful.
But although the story was previously reported in May, Andrew has now received a kidney transplant and is currently recovering from the operation.
However, his still waiting for a pancreas transplant.
Andrew says his quality of life is significantly better than it was just a few weeks ago.
He added: "My whole life is changing now. the chair is the final bit of the jigsaw.
"I'm on steroids after the operation but I'm feeling a lot better.
"Getting the wheelchair now is perfect timing."
June and Margaret set themselves a target of raising £2,000 for Andrew, but they comfortably exceeded their goal and managed to raise £2,765 meaning Andrew can also buy accessories for his chair including a waterproof rain cover.
Andrew and sister Esther Jones will be going shopping for the chair next week.
Andrew explained: "They sent me a catalogue so I've been having a look. But you need to get sized and weighed.
"I have seen a few that would be suitable. My family are all happy for me.
"They would do anything I asked them to do, but this is going to make a big, big difference."
Owner of Ashton Bar, June, hosted a night of live music to raise money.
Local musicians Hazel Simpson and Alistair Crichton performed at the event and guests were treated to delicious food from the Buffet shop.
June said: "I couldn't thank the local businesses enough – they all chipped in.
"The Buffet Shop really did us proud. Everyone commented on how good the food was and there was plenty for everyone.
"I would like to say thanks to RS McColl's for putting out a tin because they raised £200. It was great.
"And the performers, Hazel Simpson and Alistair Crichton, gave up their own time. Everyone pulled together."