The uncle of the Duchess of Cambridge was branded "a nasty drunk" for knocking his wife out in a row over his drug use after calling her a "nothing and a whore."
Gary Goldsmith, 52, punched Julie-Ann Goldsmith, 47, after returning from a charity do in the early hours of October 13.
But since the attack the pair are trying to reconcile with each other.
Goldsmith, who has been in a relationship with his wife for seven years, has been staying in a hotel since moving out of the family home.
They had been arguing in the back of a black cab over his drug use and he was slapped as they got out outside their multi-million pound home in Marylebone, central London Goldsmith.
Millionaire Goldsmith, the younger brother of Kate's mother Carole Middleton, then punched her hard with a left hook.
Mrs Goldsmith fell to the floor, smacking her head on the pavement, and was unconscious for about 15 seconds before coming to.
Crying she asked cabbie Daniel Shepherd to call police and Goldsmith was arrested shortly before 1.30am.
Goldsmith, who has been to the weddings of both his nieces Kate and Pippa Middleton, pleaded guilty to assault by beating earlier this month.
He had tried to persuade prosecutors to give him a caution, but this was rejected.
Today at Westminster Magistrates' Court he was handed a 12 month community order with 20 rehab sessions to ensure "this sort of loutish behaviour does not reoccur."
He was also ordered to pay a £5,000 fine, a £170 surcharge and £85 in prosecution costs but was not ordered to pay compensation "as any payment to your wife would come from you."
Sentencing Chief Magistrate Emma Arbuthnot said: "In the early hours of the morning you and your wife were making your way by taxi.
"Both had been drinking. The taxi driver listened as you argued. Your wife accused you of taking drugs and leaving her alone for most of the evening.
"You called her a nothing and a whore."
"At that point your wife slapped you. She must have hit her head. She was knocked out, according to the taxi driver anyway, for a few seconds.
"She had to pull herself up using the railings. And you weren't immediately remorseful about what you had done, despite your wife's distress. She was crying.
"You were acting like a nasty drunk – not the happy drunk you or your friends have described.
"You appear to have no accurate recollection of the latter part of the evening."
Ms Arbuthnot said: "I find that in the context of a common assault, a blow causing unconsciousness, even for a very brief period, is an injury that is very serious.
"You also should have known that your wife was more vulnerable, and unable to avoid your blow because she was drunk.
"I was struck by your lack of control and your aggression, not just to your wife, but also to Mr Shepherd."
Weighing up how to proceed she added: "On the one hand you were drunk and it would appear that you were trying in some way to hush what had happened up by trying to take your wife inside the house.
"This happened on more than one occasion and Mr Shepherd had to keep stepping between you.
"On the other hand, this is your first conviction at the age of 52, this was a single blow although a hard one and you very much regret the offence and the hullabaloo in the press which has followed your appearance in court for this matter. "
She added: "A number of people consider what happened to be totally out of character. You work for charities.
"Your relationship with your wife has been a close one and she is very close to your 15 year old daughter.
"The prosecution has not asked for a restraining order. You work with your wife. You are going to reconcile. This is your first conviction.
"You work with your wife and it would not be practical to impose one.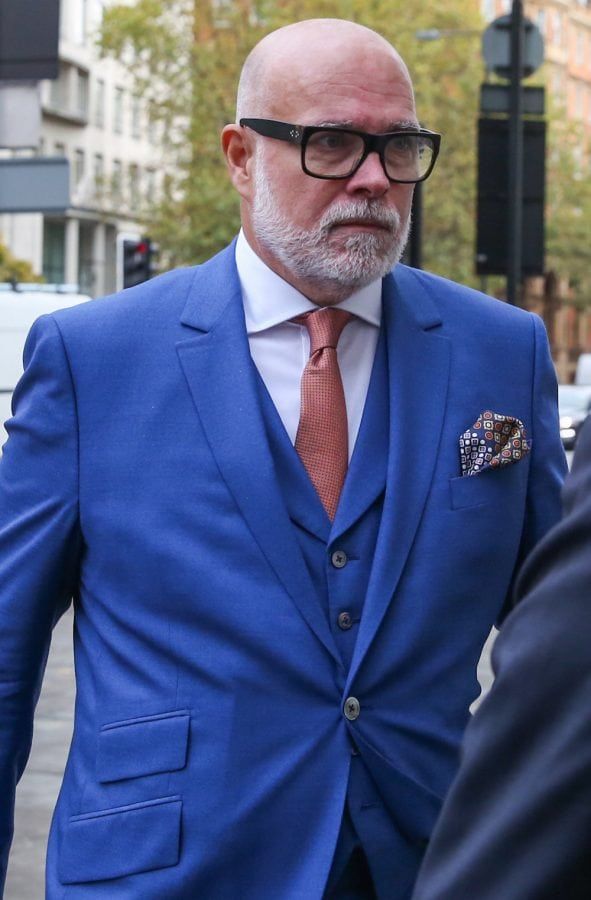 "You will be getting back together, I have no doubt."
After the attack Mrs Goldsmith was taken to hospital having suffered bruising to her cheek, a graze on her right elbow and some scratches on two of her fingers, but did not suffer a head injury.
In a victim impact statement, Mrs Goldsmith said: "I am extremely anxious and very stressed. I am suffering with panic attacks and have lost all of my confidence.
"I am not going out, only to work, food shopping and to walk my dogs.
"I find it hard to face people.
"I am a prisoner in my own home. I haven't been able to talk to or see my step-daughter which has been very difficult, and very upsetting as we are very close.
"My employer has been amazing, very supportive. Going to work has been a great help to me, and has got me out of my home.
"This whole incident has caused me a lot of stress and anxiety, and has made me feel very unwell.
"I don't know how much more upset and hurt I can take."
In mitigation Jane Humphryes QC, defending, said: "The defendant himself had been on a six week charity diet with limited food and no alcohol.
"And he accepts that, on reflection, the alcohol had more effect on him than would have been ordinarily the case."
She argued the case would normally have been dealt with by a caution and said: "Had it not been for his high profile, it would have been dealt with in that way.
"Had he been almost any other person in the police station, out after a charity event, this would not have come – not just to the attention of the Crown Prosecution Service – but to the courts and, in his case, the media.
"He momentarily lost his self control when he struck out, much to his great shame.
"He is exceedingly remorseful. He is devastated by the events of the events. And all the more because it involved his wife, to who he is devoted."
She said he has undergone counselling, adding: "It is hoped by Mr Goldsmith that joint counselling can take place.
"The defendant and the complainant are usually a very happily married couple.
"There are no indications that either of them wish the marriage to come to an end."
Goldsmith did not intend to "simply move back home" at the end of the court proceedings and Ms Humphryes added: "But rather to take things step by step, and if, and only when his wife is comfortable, to fully reconcile with her.
"Both would want it to be a positive and loving reconciliation."
https://www.thelondoneconomic.com/must-reads/kate-middletons-uncle-admits-drunken-brawl-wife/14/11/