A dad who flew back to Britain to die after being diagnosed with an incurable illness was told his baby's visa might not be ready in time for him to ever see him again.
Newlywed Chris Le Port was suffering 'more seizures than he could handle' when he flew back from China, where he had been working as a teacher, for urgent medical treatment.
The 38-year-old English teacher, originally from Hertfordshire, emigrated to China three years ago and had to leave behind his wife Sharon and seven-month-old son Michael.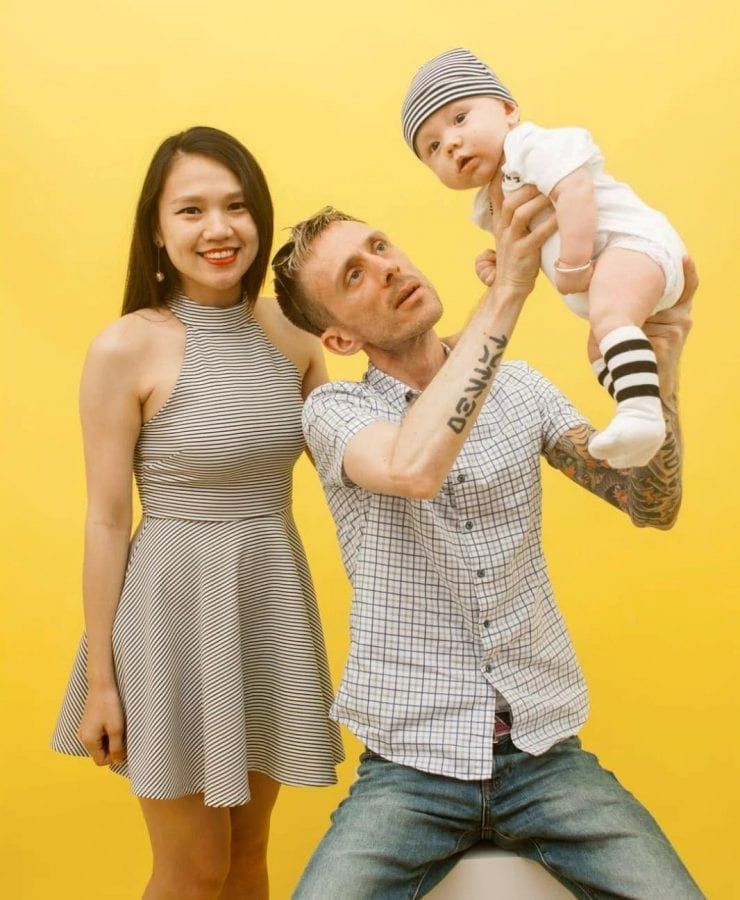 Four months after becoming a dad, Chris was diagnosed with Adrenoleukodystrophy (ALD), a rare genetic disorder that will eventually leave him in a vegetative state, blind and without the ability to swallow – and his baby could have the disease too.
The first-time dad is now losing out on precious time with the tot, who has a Chinese passport, after he was wrongly advised by visa experts that he could fly back to England and apply for his son's visa from here.
Chris arrived in the UK alone almost two weeks ago and is currently in hospital after his sister Lisa Smith met him at the airport and rushed him to A&E.
Lisa, 35, of Crowborough East Sussex, said: "Chris is a very good dad and it's heartbreaking for him to be away from his son.
"The two of them are extremely close.
"Michael must really be missing his dad, and he needs to be tested for the disease too.
"If Michael has the defect gene, we can plan ahead for treatment as the childhood onset is treatable.
"Chris was the person that was always there in that baby's life and now they have been separated. He is probably confused and wondering where his daddy is, the poor little thing."
ALD affects just one in 18,000 people and involves the breakdown of the fatty substance which surrounds the brain's nerve cells.
Doctors in China diagnosed Chris after blood tests detected the disorder.
But they could not confirm how quickly he would deteriorate, and advised him to return in six months for further analysis.
Lisa said: "This whole situation is like living in a nightmare.
"I feel like somebody could pinch me at any moment and say this has all just been a bad dream.
"Chris was just plodding along, enjoying his life in China where he had a good job and a nice apartment when, out of nowhere, this happened. It's heartbreaking.
"When he arrived at the airport, I cried, I was so shocked to see him like that.
"He has lost so much weight and he looked very poorly."
The former DJ planned to move back to England with his wife and son where they would be supported by family and friends while he waited to be referred to a UK specialist.
China do not recognise dual nationality so if Chris were to apply for a British passport for his son, he would have to give up his Chinese one.
Chris's mum phoned the Home Office multiple times to find out what alternatives were available, but said they seemed 'disinterested' and redirected her to the UK Visa Office helpline.
The family were told by the UK Visa Office that Michael could fly back with Chris on a family and friends visa, where he could then apply for a more permanent solution.
But after Chris applied and attended the interview in China, he received a letter to say Michael's visa could not be considered because he needed a right to abode certificate instead, to travel between the two countries.
When the family informed the Visa Office, they were told they should have never been given this information by one of their officers because they are not permitted to advise.
They felt 'stuck in a viscous circle' between the Visa Office and the Home Office and turned to immigration lawyers for the correct advice.
Lawyers also 'messed up' when they told Chris he could apply for the certificate from England provided he had the baby's documents with him.
But they backtracked once he had flown home and said the paperwork had to be presented in China and could take more than six months to process from the UK.
Lisa said: "My brother is in no fit state to be flying backwards and forwards to China.
"We don't even know if he is even going to be able to walk or talk in six months.
"The disorder is so aggressive and so violent.
"We think we are getting somewhere and then we take two steps back and all the while, my brother is without his son which is devastating.
"It is more difficult for Chris to be away from Michael that it is for him to cope with the disease right now.
"Michael is what he lives for.
"Chris could miss his first Christmas when he is used to spending every day with him.
"It is all just a big mess to be honest.
"If we had known that in the first place, I might have suggested a different solution.
"I could have flown out to look after Chris in China while he made Michael's application but now he is stuck here without his son."
Chris has been scheduled to have an MRI scan in six months' time, but his family fear it could be too late by then.
Lisa said his dementia-like symptoms have already started and feels like he is in a constant brain fog, where 'his mind is not his own.'
He is forgetful, struggles in conversation, has tingling in his arms and hands and is also epileptic because of the disorder.
Lisa said: "Doctors said they would do all the tests from China again, but they don't seem to know what they are dealing with.
"They had to Google what the condition is.
"We need to speak to a specialist to find out how far the degeneration has gone.
"Once we know what is to come, we can all work towards the future.
"At the same time, we need to get Chris back to some sort of strength so he can get back to his family in China."
Chris moved to China three years ago to teach English when he met his wife Sharon, a 28-year-old consultant.
The pair married just under a year ago and took it in turns to look after baby Michael while the other is at work.
But Sharon is now having to rely on her parents for help, who live near their home in Fuzhou city, in south east China.
Chris's family have raised 25 per cent of their £30,000 target on Just Giving to fly Chris, Sharon and Michael to the UK together and get Chris the urgent help he needs.
But when his condition worsened ahead of schedule, Chris flew home early on the false premise he could apply for his son's visa from home and the family are still fighting for the three of them to be reunited.
ALD is most common in boys but approximately half of women who carry the abnormal gene will develop some symptoms.
Lisa will also have to be tested to see if she is a carrier of the gene along with her four daughters, Ayla, 11, Lottie, eight, and three-year-old twins Indy and Zadie.
She said: "I am trying to run a house with four daughters, be a wife while taking Chris on as my fifth child almost, but it is just what you do.
"I would give my life for my brother, there is no doubt about it.
"Once we have seen a specialist and the family are back together, we will all feel better.
"Everything is time precious."