A fugitive robber who taunted police by changing his Facebook profile to his mugshot while on the run is back behind bars.
Craig Ramsay, 35, was being hunted by cops for breaching his licence conditions after he was released early from prison.
The brazen thug shared a West Midlands Police appeal to trace him on his Facebook page while threatening to "blast off the doors" of anyone who helped the force.
He posted a message alongside the picture which said "f**k the police" and later posted in a comment "police can suck my d**k and go crash the van into a wall".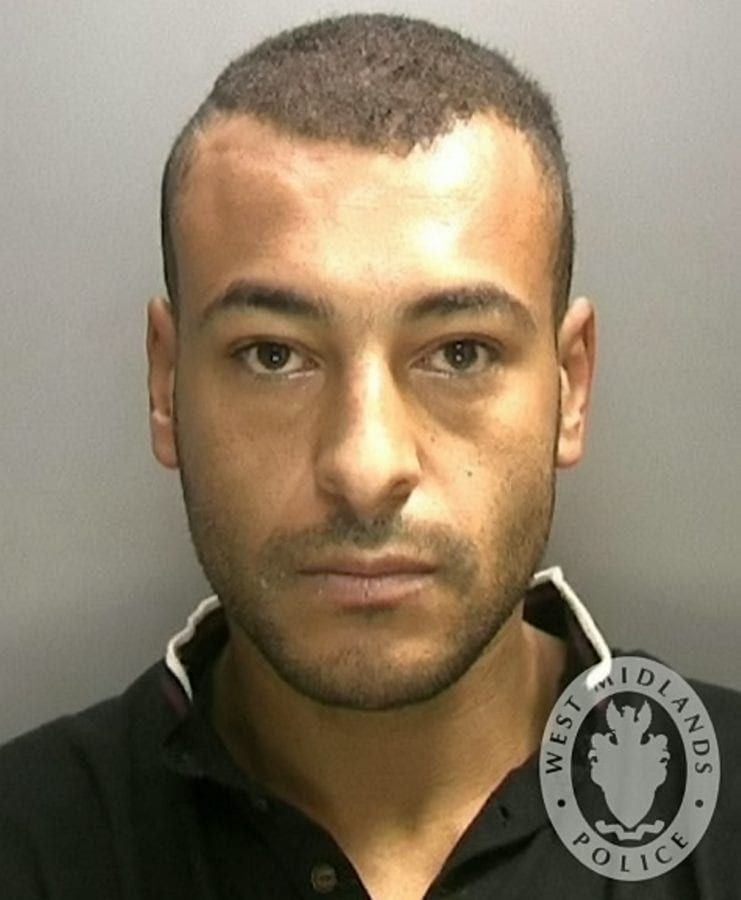 He also suggested police could find him "over here at the bar" after police posted the appeal on Halloween.
One Facebook user wrote "keep goin mate go in after Xmas enjoy it while you can bro", to which Ramsay replied: "Thats the plan."
Another friend wrote: "Your a f****** genius. Keep ya head dwn. Hide and seek champion."
But Ramsay is now back behind bars after an anonymous tip-off led officers to find him hiding in the back of a van in the Bescot area of Walsall, West Mids.
In response to Ramsay's taunts, police got their own back by writing: "Like! Fugitive in Facebook taunts to police #backinprison within hours" on their Facebook page.
Ramsay, of Aldridge, West Mids., was jailed for two years in February last year, but was released on licence in September.
He was recalled to prison on October 4 for failing to stick to the terms of his release.
PC Matt Williams, of West Midlands Police, said: "Ramsay seemed to treat his wanted status as something of a joke, but now we've had the last laugh.
"One of his comments said that he planned to hand himself in after Christmas, but now Christmas has come early for him.
"He's now back in prison to serve the rest of his sentence.
"This case shows the power of working with the public to get a criminal back behind bars."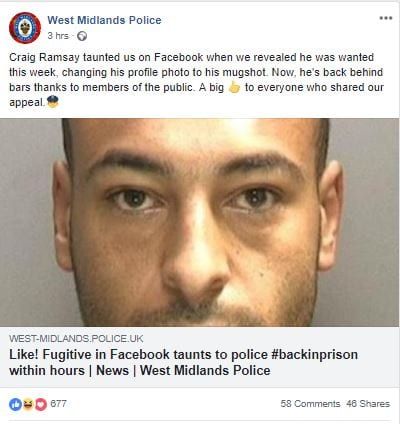 In 2010, Ramsay was jailed for eight years after being involved in a series of robberies on teenagers.
Wolverhampton Crown Court heard Ramsay and an accomplice both wore hooded sweatshirts and face masks as they stole mobile phones and cash from school pupils.
A 16-year-old girl had a knife held to her face as she was robbed of £6, while her boyfriend had his mobile and cash stolen.
A third victim, a schoolboy, was also forced to hand over his mobile phone.
The robberies all took place in Walsall on July 6, 2009.
Ramsay had denied three robbery charges but he was found guilty following a trial.