An "arrogant" surgeon who branded his initials on the livers of two patients has been spared jail and fined £10,000 in the first case of its kind in British criminal history.
Simon Bramhall, 53, told a nurse "I do this" when she saw him about using an argon beam coagulator to burn the letters 'SB' on one unconscious patient's organ.
He carried out the bizarre assaults at Birmingham's Queen Elizabeth Hospital on two separate occasions in 2013.
An alarmed colleague took a picture of one of the branded livers and following an internal investigation, police were called in.
One of his victims was so traumatised, she developed symptoms of post traumatic stress disorder and was left feeling "like a rape victim".
Last month, Bramhall, of Tarrington, Herefordshire, admitted two counts of assault by beating at Birmingham Crown Court.
Today Bramhall, described as a "distinguished and highly skilled surgeon", was handed a 12-month community order and told to do 120 hours of unpaid work.
He was also fined £10,000 and told to pay £1,200 costs.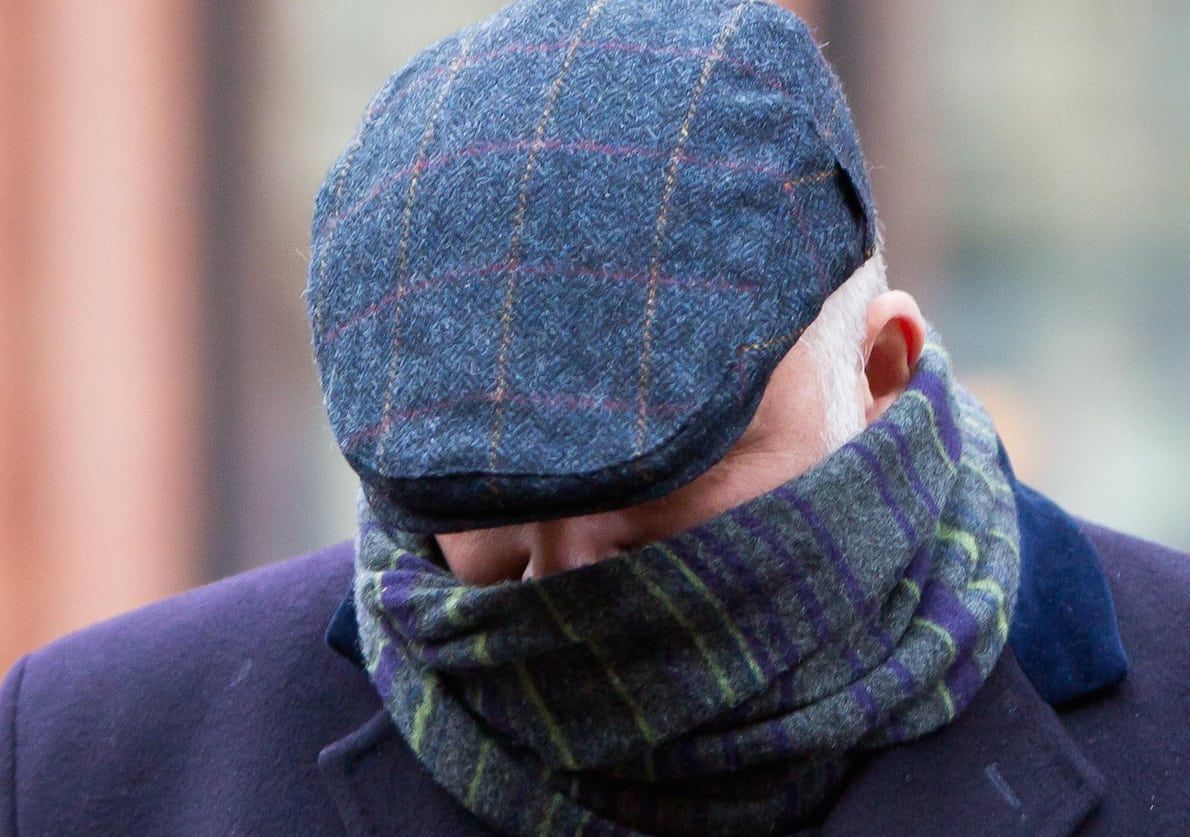 Judge Paul Farrer QC said: "Both of these actions [branding the patients] represent conduct which was born out of professional arrogance and it's magnitude is what makes it stray into the realm of criminal prosecution.
"I accept that you were tired and stressed and this may have clouded your
judgement.
"However, the fact that you have done this on two occasions is a significant aggravating factor.
"These patients were unconscious and as such were vulnerable, and you were aware of that.
"You were full aware that there was no consent for you to do this to them.
"Your actions will inevitably have a corrosive effect on the trust between patients and doctors."
The court heard Bramhall signed the first patient on February 9, 2013 but it only came to light after he did it to a woman who was suffering from jaundice on August 21 that year.
Bramhall was seen by a nurse writing his initials onto the organ at the end of the operation but when she asked him what he was doing, he replied: "I do this."
The nurse did not report it but when the liver failed and the patient was given a second organ, surgeon Darius Mirza discovered the 4cm (1.5ins) markings.
He asked an operating nurse to take a photograph of the liver on his Blackberry.
Professor Mirza showed the picture to David Rosser, the Executive Medical Director for University Hospitals Birmingham, who ordered a probe into Bramhall's actions.
During the investigation it was discovered that on February 9, 2013 Bramhall marked another patient's liver, which was witnessed by a consultant anaesthetist.
In a statement issued to police, Bramhall admitted he branded the liver with a "flick of the wrist".
Prosecutor Tony Badenoch QC said: "He said that following the stressful surgery on August 21, 2013, he flicked his wrist for just a few seconds and marked his initials on to the liver.
"He said that in hindsight this was naive and foolhardy and was a misjudged attempt to relieve the tension in the operating theatre.
"This was an arrogant act and one that he could not defend.
"He had no idea that the marking was still there eight days later and as not told about Professor Mirza's picture."
Judge Farrer told Bramhall: "In 2013 you were a distinguished and highly skilled surgeon involved in the treatment of those with liver disease.
"On August 21, 2013 you performed a liver transplant on a woman.
"The operation was complicated and there is no doubt that you performed it skilfully and, initially, successfully.
"You quite rightly used a piece of equipment known as an argon beam coagulator during the operation.
"At the end of the operation, you used that device to mark the initials 'SB' onto the new liver.
"You realised that a nurse and seen this done and said 'I do this' when she queried it.
"The damage done of the liver would heal within six to eight weeks and would not cause any physical damage or pain to the patient.
"You believed that this would not cause any damage to the patient.
"Unfortunately, you were wrong.
"A second transplant was needed and was performed by a different surgeon on August 29.
"He saw the markings and took a photo later, believing it was a one off incident did not show anyone else the photo.
"However, he eventually showed the photograph to colleagues in confidence during a meeting in December 2013.
"It was the publicity which followed the investigation that led to the patient becoming
aware of what had happened.
"She suffered an extreme reaction to what had happened.
"The patient showed symptoms of post traumatic stress disorder, but could not be diagnosed as the markings were not witnessed by her.
"She cannot shake the erroneous belief that your actions caused the failure of her first liver transplant.
"She claims act the ordeal has caused her to lose trust in doctors and has regular flashbacks and nightmares.
"She has had counselling but has not been able to return to her job.
"I accept that you did not intend or foresee any harm to your victims.
"In accepting guilty pleases by assault by beating, the prosecution accept that this damage was no more than transient.
"Regrettably, the damage which has been done to the second patient has been extreme.
"You have been described in this court as having integrity and outstanding character.
"It's beyond argument that you were and indeed are an exceptionally good surgeon.
"You have performed 371 liver transplants and many other surgical procedures.
"Over the years you will have saved the lives of many people, and improved the lives of countless people."
In a victim impact statement from the woman operated on in August, she said: "The full horror hit me when a medical professional at the Queen Elizabeth Hospital informed me.
"It was what I would imagine the feeling is for someone who is a victim of rape.
"I was meant to be undergoing a life saving operation. What was Simon Bramhall thinking of? Why did he think that it was appropriate to do this to me?
"Because of my ordeal, my trust in doctors has been destroyed.
"I genuinely believe that the failure of the liver was due to the actions of Simon Bramhall burning his initials on to it.
"The horror of seeing the photo of my cut open body with the initials SB on the liver will forever live in my mind.
"I personally hate the thought of tattoos anyway, and the thought of someone doing this to me while I was unconscious is abhorrent.
"The following four years have been impossible. Right up until today, I am still having to relive this in front of you.
"I have been astonished that his actions were ignored and unreported by other colleagues for such a long time.
"Were they all too frightened or scared to report him?"
The court heard Bramhall was suspended from the hospital but resigned in 2014 and moved from his home in Redditch, Worcs., to Herefordshire.
He took up a role as consultant general and Upper Gastro-Intestinal surgery at Hereford County Hospital.
The public gallery was packed with around 20 people, including several of his transplant patients who were showing their support for him.
Michael Duck QC, defending, said: "It's obvious that a number of people who sit in this court are able to do so because of the work of Simon Bramhall.
"They are here to show their support for him.
"He accepts that it was a stupid action, and a moment of stupidity for which he is profoundly sorry."
Bramhall, who disguised himself by wrapping a multi-coloured scarf around his face, refused to answer questions when he left court.
https://www.thelondoneconomic.com/news/watch-jeremy-hunts-laughable-attempt-re-writing-history/03/10/