A hungry diner got the shock of his life when he sat down to eat his breakfast – and a three foot long snake slithered out of his cereal box.
The shocked householder, who asked not to be named, as left stunned when the white reptile crawled out of the box and into a nearby dishwasher.
The RSPCA were called to a man's house in Sheffield, South Yorks., on Saturday morning (May, 19) to deal with the intruder.
The sneaky escape artist is likely to be someone's pet, that found the dark cereal box an enticing place,. they said.
Although the corn snake was not dangerous, the RSPCA says calls like this one are surprisingly common, as they are such a popular pet in Britain.
Animal collection officer Katie Hetherington said: "I think he was expecting to have Cornflakes for breakfast – not corn snakes.
"The poor chap was absolutely terrified – I think it was the last thing he expected to find in his kitchen!
"The 3ft-long snake is now recovering at a specialist centre."
The snake has been identified as a corn snake – a species native to North America, although they are one of the most commonly kept exotic pets in this country.
Fortunately, the snake was unharmed and has now been taken into specialist care.
RSPCA senior scientific officer in wildlife, Nicola White, said: "Corn snakes are one of the most commonly-kept exotic pets – and they are particularly good at escaping!
"Exotic pets such as corn snakes, have increased in popularity and the RSPCA do receive a high number of calls about reptiles.
"These are amazing animals but they can be challenging to care for properly.
"We are really urging people to do their research before they take on a reptile, or other exotic animals, as a pet, so they are confident that it is the right pet for them.
"That they can provide everything the animal needs for its whole life – which could be many years.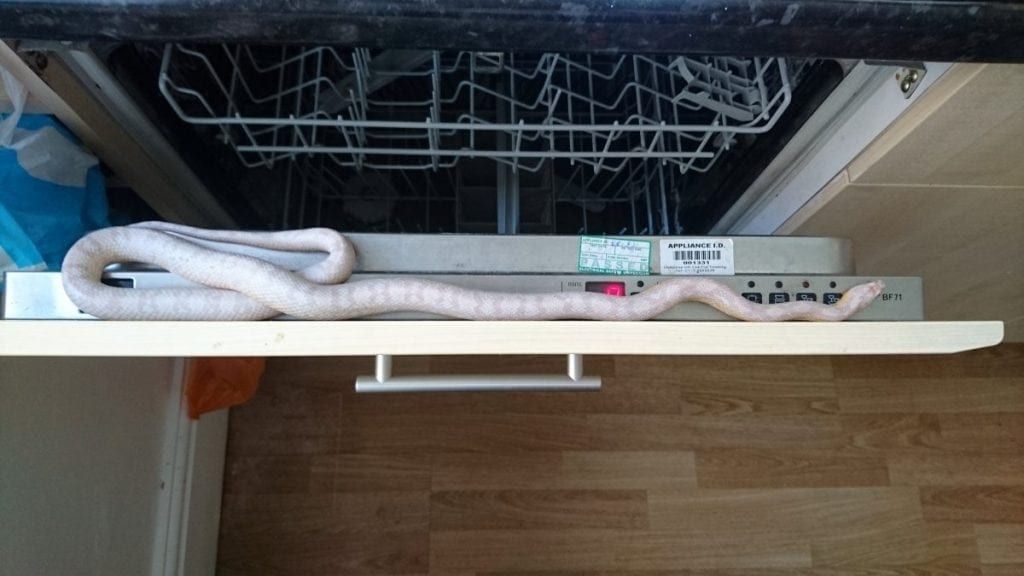 "With many rescued snakes in need of a home, we would also like people to visit rescue centres if they're confident they can provide one with a forever home."
The mischievous snake is believed to be someone's missing pet so posters have been put up in the local area and details have been uploaded to PetsLocated.
If you recognise this snake you can call the RSPCA's inspectorate appeal line on 0300 123 8018.
https://www.thelondoneconomic.com/must-reads/fox-rescued-after-getting-its-head-stuck-in-a-watering-can/21/05/
https://www.thelondoneconomic.com/sport/football/football-match-abandoned-when-pitch-invaded-by-cow-tsunami/21/05/