A kind-hearted professor set up a cot in his office so his PhD student could bring her baby to work – and 'wouldn't have to choose between being a scientist and a mother'.
Troy Littleton, a professor of Neuroscience, made a heart-warming gesture for one of his graduate students by setting up a baby cot in his office so she could bring her 10-month-old daughter to work.
Professor Littleton, who is Director of the Molecular and Cellular Neuroscience Graduate Program at Massachusetts Institute of Technology (MIT), wanted to help his PhD student Karen Leopold, 29, to continue her lab research whilst looking after her 10-month-old daughter, Katie.
He kindly suggested setting up a cot in his own office so Karen could pop into their Boston-based lab for experiments and bring Katie with her – meaning she 'wouldn't have to choose between being a scientist and a mother'.
Despite receiving praise from many for his thoughtful gesture, Professor Littleton said it was "no effort" on his part and "the real hard work is being done by Karen" for her academic research into nerve transmission.
Win-win
In a tweet, he mentioned that he gets "to play with her while her mum gets some work done" – calling it a "win-win" situation.
Professor Littleton said: "Having a baby in a pandemic has been incredibly difficult for Karen – but we work as a team in our lab and we'll do whatever we can to help each other.
"Buying a crib is a simple thing I could do to make things a lot easier for Karen as we come back into the research lab – she's the one we should be applauding for the scientific work she's doing.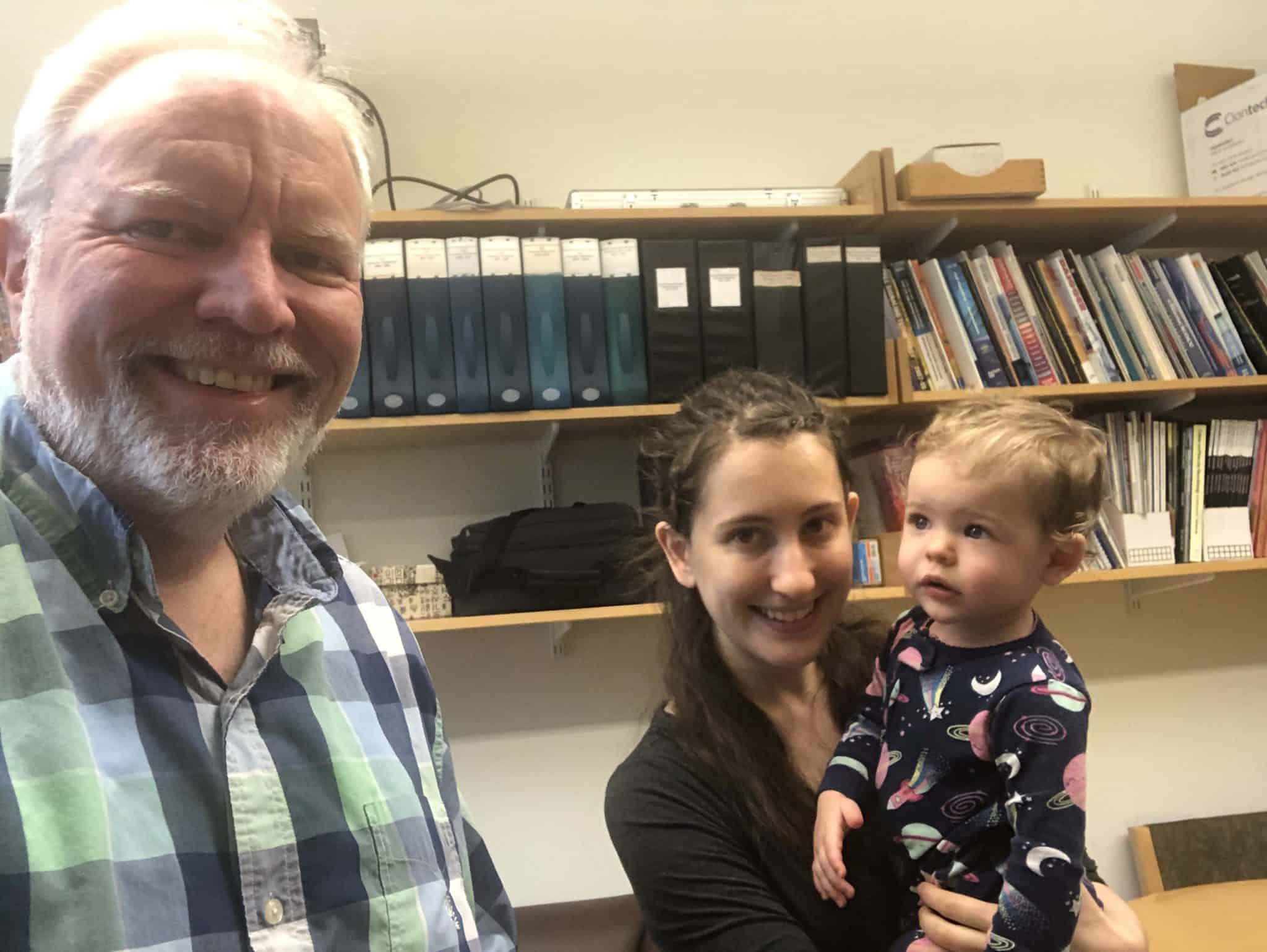 "Karen is facing the same issue I have seen many other women face in academia – there is never a 'perfect time' to start a family and it's incredibly difficult to raise a child in an academic environment.
"But having children doesn't decrease a woman's ability to do science and women definitely shouldn't have to choose between being a scientist and a mother."
This had been the all-too-common situation Karen faced with 28-year-old husband Steve Leopold, a secondary-school maths teacher, as she explained they hadn't wanted to wait until she finished her seven-year PhD to start a family.
After the couple, who live near the lab in Boston, had much-loved baby Katie ten months ago, they had struggled to manage their full-time jobs when childcare was limited due to the pandemic.
Really sweet
So when the labs finally re-opened with social distancing measures in place last month, Katie welcomed Professor Littleton's supportive gesture.
Karen said: "When Troy suggested the crib in his office, I thought it was really sweet – he has been so supportive of me and everyone in the lab in whatever way we need.
"It's always going to be tough starting a family while doing a PhD, especially in a pandemic, but this has shown that it is possible to do both if you have good people around you.
"Having the crib has meant I can be a lot more flexible with my work, and I can pop into the lab a couple of times a week with Katie to get on with my experiments.
"It's also been really sweet seeing Troy play with Katie because he'd been really excited to meet her – he even gave her a tour of the lab the first time she came in!"
Related: 'Completely out of touch' Gavin Williamson slammed for comment about university courses