On the slopes of the Kentish North Downs, Wye is a medieval village-cum-town quietly nestled between Canterbury and Ashford. Voted third best place to live in the UK by The Sunday Times in 2013 (behind Kendal in Cumbria and Stamford, Lincolnshire), Wye's settlement origins date back to the Roman period, used as a royal manor and site of a royal court during the Saxon era, then utilised as a market come medieval times – renowned as a historic resting place for Pilgrims en route to Canterbury.
Today, many of the local buildings are medieval, albeit generally concealed by comparatively modern facades. The village itself, with its medieval street layout part of a conservation area, is home to various pubs, restaurants, a butcher's shop and a small Co-operative store. On the first and third Saturday of each month, Wye farmers' market pedals plenty of local produce with various breads, cakes, jams, organic meats, fresh fish and locally-produced cheeses available.
Accessible from London in less than an hour by train (from St. Pancras International, with a quick change at Ashford), or 90 minutes by car, the village is a bucolic escape from the city with it picturesque scenery and noticeably relaxed pace of life. One of the village's dining destinations, The Wife of Bath, with its handsome Georgian frontage, first opened during the early 1960s, named after Geoffrey Chaucer's Canterbury tale – and in honour of the original owner's wife, who he'd allegedly met in Bath. More than 50 years later, the restaurant was taken over by chef and restaurateur Mark Sargeant in 2016.
"The restaurant had been there since 1965 and had always had a brilliant reputation," Mark Sargeant tells me. "But over the last five years it went through a series of different owners and sadly went down hill. When it came up on the market my business partner Josh and I were really interested. After one look we really saw the potential and that was that really."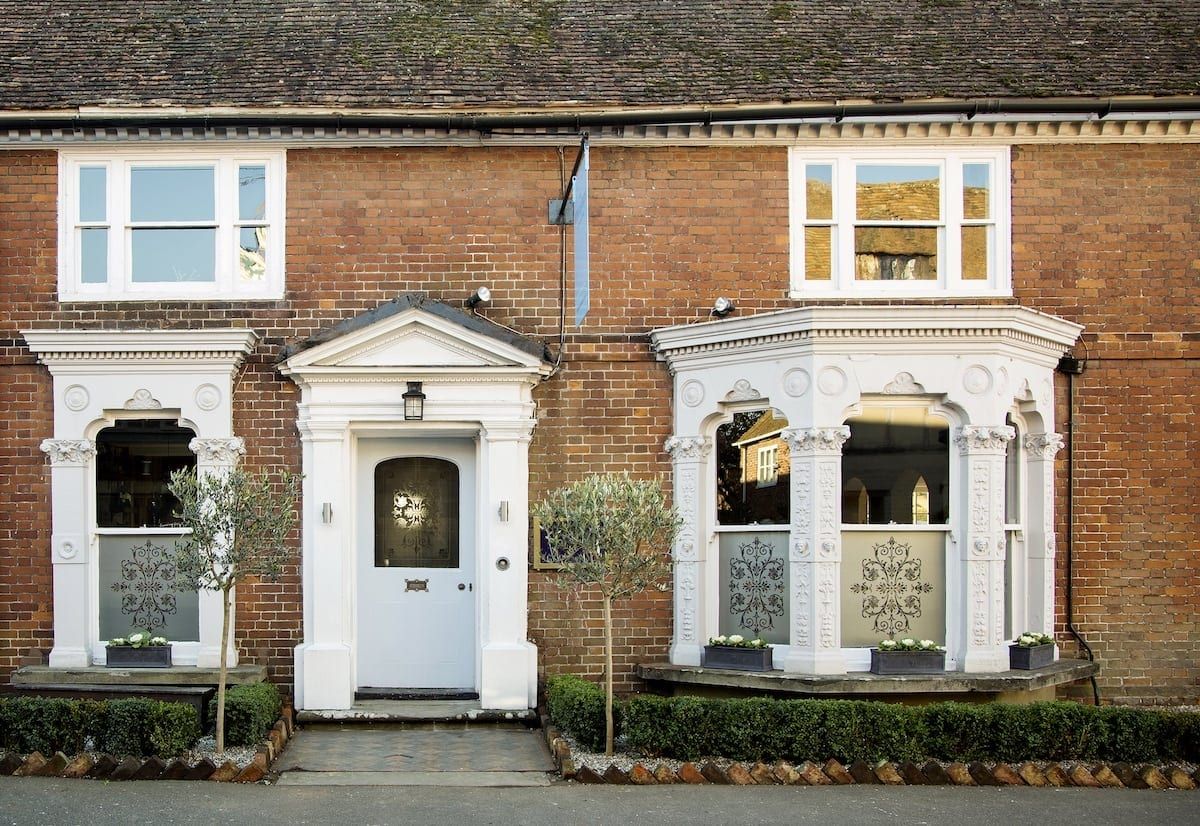 Having grown up in Kent, the former Claridge's chef has gone on to open restaurants including Plum + Spilt Milk in London, Sargeant's Mess, The Duke William in Ickham, near Canterbury, plus two projects in Folkestone: The Smokehouse, an upmarket fish and chips shop, plus Rocksalt – a restaurant with a glorious harbour side location, championing expertly cooked local produce, primarily fish.
"Rocksalt was the first part of the jigsaw puzzle of the regeneration of Folkestone, and in the last seven years there have been masses of changes," Mark explains. "The harbour arm, in particular, has been completely renovated along with the old railway and there are lots of street food stalls and bars along with a champagne bar in the old lighthouse. The new housing development starts next year too and this will be huge for the area."
While the menu at Rocksalt is quintessentially British, The Wife of Bath launched as a serious modern Spanish restaurant, equipped with a tapas bar and six homely rooms for guests to book (the last London-bound connecting train departs Wye station before eleven o'clock). In the main Georgian town house, three bedrooms are decorated with stylish minimalism. A subtle palette of white and grey is accented with burnt orange and contemporary Matador-themed artwork which discretely evokes Catalonia – without distracting the focus from the Grade II-listed building's unique character. Timber beams are exposed, rooms are equipped with fire places, the flooring is slightly skewwhiff and hefty bay windows allow plenty of light to flood the lofty bedrooms. Two further rooms are situated in the garden cottage across the car park. Both are snug yet well-equipped, sharing an entrance and living room-cum-pantry.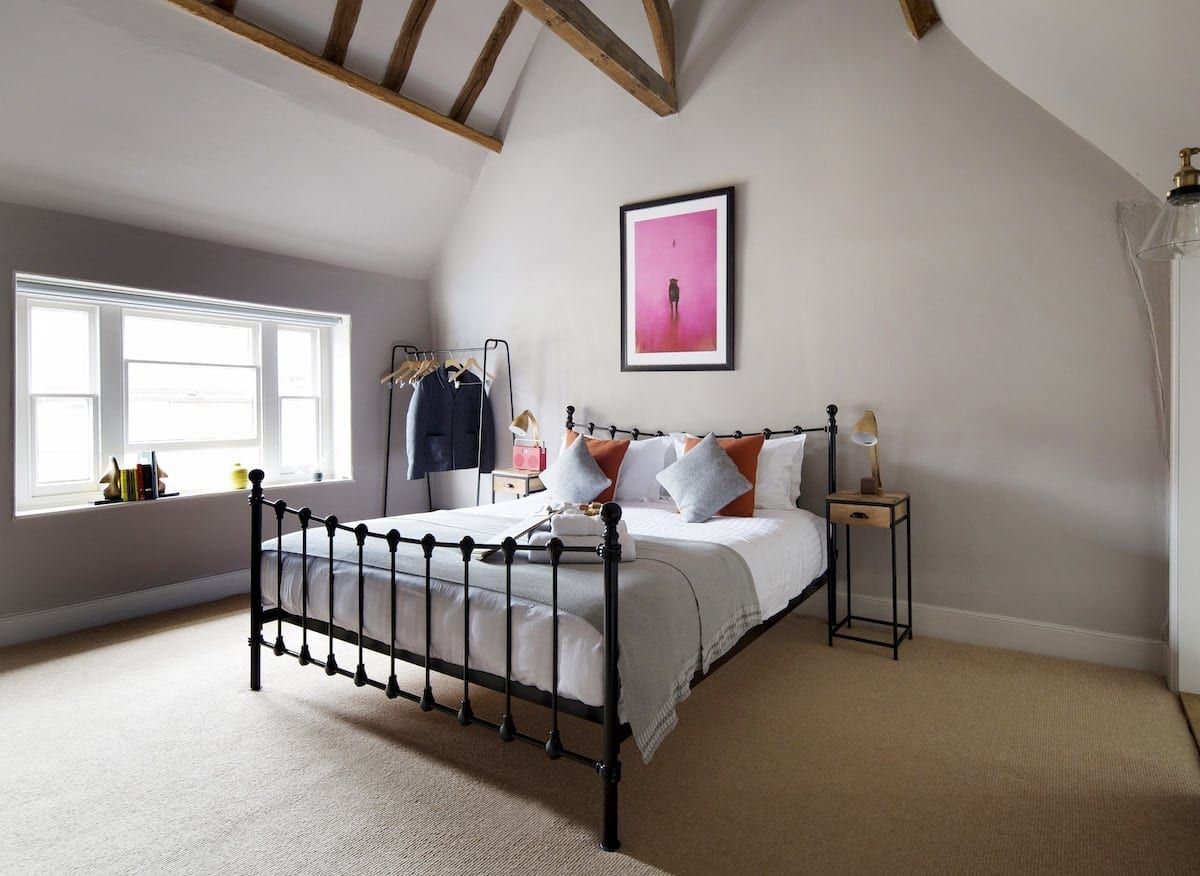 All named after characters from Chaucer's The Canterbury Tales, 'Sir Thopas' is the house's grandest room, bedecked with a spacious wrought-iron bed, looming vaulted ceiling and a bathroom equipped with a bath and shower. A Nespresso machine is available, alongside tea making facilities, plus a cute, pocket-sized decanter of sherry to welcome guests. Bedrooms inside the house also have shared access to a pantry stocked with extra towels, toiletries and fresh milk. An 'honesty bar' also boasts prices which will make you want to move in, seemingly adhering to the medieval theme. (Beers begin at £2.50. Wine costs £12 per bottle, or £3 by the glass). 
"Because the Wife [of Bath] is in a small village, I wanted to harp back to the local bistros of the 60s and 70s that constantly had the smell of fried garlic and onions, which made customers feel like they were on holiday," the chef clarifies, speaking on the Northern Spanish-inspired menu served her. "I was doing some work with Mahou Spanish beer at the time and had been spending a lot of time in Spanish restaurants; plus, my mum has lived in Spain for 15 years, so it was this that made me want to take the Spanish route. Plus, it was something different from what I usually do, so more exciting for me too." 
The menu is a breath of fresh air for Kent, too, occupied by so many gastro pubs (some remarkable, nonetheless) and dated fine dining restaurants with a penchant for balsamic glaze, convoluted menus and prehistoric cooking swamped by so much pompous flummery. Here, the 47-cover restaurant is set across two spacious rooms, attended by well-informed, intent staff. The space is simple but attractive, festooned with light wood tables dressed with flowers, grey linen napkins and a candle.
On the menu, it's unsurprising that much of the produce celebrates the best of British, specifically that from Kent. After all, the Garden of England is responsible for plenty of ambrosial produce: Romney Marsh lamb, English wines from Chapel Down and Hush Heath, Goldings hops, Beauty of Kent apples. Our conversation moves on to locally-sourced ingredients, what with such prominent focus on vicinity at Rocksalt.
"We champion local produce but, of course, also use prime ingredients from Spain. We buy our fish from the south east coast as much as we can and local meat, vegetables and dairy too." The chef then goes on to list a handful of notable suppliers: Foodari, Folkestone Trawlers, Orchard Farm. Dockers Bakery also produce all of The Wife of Bath's bread and some of the restaurant's beer.
A recent dinner at The Wife of Bath began with a dish of plump green Nocellara olives and thin grissini to nibble while assessing the menu, whittling down potential choices. A signature dish of the restaurant: a cricket ball of rabbit is studded with chorizo, wrapped in savoy cabbage and gently poached, resembling an oversized Brussel sprout (£9.75). In being steamed, the well-seasoned rabbit retained plenty of moisture – wildly uncommon in boned meats, particularly in beasts as small as rabbits – bolstered by a Catalonian romesco, rife with punchy red pepper and toasted almonds which lent depth of both texture and complementary sweetness. Comparatively, the cured salmon starter (£9.50) was less adventurous, albeit fine. Thick wedges of fish redolent with a whisper of citrus peel were served on a sea blue plate, embellished with ribbons of paper-thin fennel, samphire, and sharp orange segments to sever the fish's inherent oiliness.
Torn between the paella, rump steak from 12 year-old Galician cattle and the pork wellington, we were helpfully coerced into opting for the wellington (£48 for two, as opposed to the £75 steak), warned that the pork would be cooked slightly rare (as it should be, much to the behest of grandparents across the country, I'm sure). A reasonable hunk of tenderloin was cradled by flaky puff pastry, insulated by a layer of brackish parma ham and spreadable morcilla, in place of duxelle, ultimately forming a holy trinity of piggy lustre. The integral pork tenderloin was quickly seared, yet blushing in the centre; the flavour bolstered by the convoying treats.
On the side, more of that romesco accompanied, present alongside fried potato segments, acerbic aioli and four croquettes harbouring additional morcilla: firmer than in the wellington, rampant with pepper, lightly breaded and fried. Insalubriously decadent: carnal, almost. To conclude dinner, The Wife of Bath's bitter chocolate tart is joined by Sevillano olive oil, tamed by rock salt from Folkestone (£6.75). Raisin ice cream, on the other hand, is made in house and soaked with toothsome Pedro Ximinez (£7).
In addition to lunch and dinner, breakfast is also served for hotel guests. Here, the Spanish menu influence continues with a choice of various dishes, including an ascetic hamper of croissants, granola and fruit to be enjoyed in bed. In the dining room, however, breakfast dishes include the likes of a 'Full Spanish' breakfast, featuring a Spanish omelette, chorizo and Padron peppers. Eggs are also served in a variety of styles, plus savoury (slightly heavy for breakfast) chorizo and Manchego scones with a sauce of sweet red pepper and escorting Padron peppers blistered on the grill and dressed with a torrent of salt.
With so much national attention on Kent's restaurant scene, at present – particularly from a London-based perspective – The Wife of Bath is an exciting addition to the Garden of England's cornucopia of noteworthy restaurants; an idyllic base for a weekend escape from London.
The Wife of Bath can be found at 4 Upper Bridge St, Wye, Ashford TN25 5AF. 01233 812232. Double rooms are priced from £75 to £140, including breakfast. Christmas bookings are now open via thewifeofbath.com/christmas.
Transport: The Wife of Bath is a nine-minute walk from Wye train station, with a regular service to London (St. Pancras International, via Ashford International).
Further information on The Wife of Bath can be found here.
RELATED
https://www.thelondoneconomic.com/food-drink/restaurant-review-rocksalt-folkestone/23/08/
https://www.thelondoneconomic.com/food-drink/restaurant-review-sargeants-mess/12/06/
https://www.thelondoneconomic.com/food-drink/new-restaurant-openings-october-2018/01/10/