Like much of the Kent coast, Folkestone has been the subject of much regeneration, of late. Long gone are the beach arcades, the mouldering Magic Mouse rollercoaster and the Sunday Market: a haven for cleaning products, mystery meat from the back of a van and snide Calvin Klein underwear. Once God's waiting room, a terminal for troops to sip one final cup of tea before crossing the Channel to fight in France, Folkestone's Harbour Arm is thriving in 2018. Reaching into the channel, the town's concrete femur is tattooed with trendy restaurants, bars and street food vendors. At the end of the walkway, the lighthouse now serves as a Champagne bar which plays languid jazz music and offers plenty of outdoor seating – ideal for the hottest day of the year, thus far. The bleak Kentish resort of the late '90s, this is not.
With its sleek title visible from afar, Rocksalt occupies a contemporary, state-of-the-art building on the old harbour front. One of two local projects from Kent-born Mark Sargeant (the other a fish and chip shop, The Smoke House), the restaurant occupies a hive of dark timber, yacht-inspired steel and glass, designed by award-winning architect Guy Hollaway. East Kent's answer to the Sydney Opera House, perchance. A panoramic glass wall spans the entire seaward side of the restaurant, harbouring glorious views across the Channel. Outside, a quaint terrace amplifies the restaurant's proximity to the sea, yet the hurricane of air conditioning up-sells the inside space with its blond parquet flooring, dark tables and a tsunami of natural light.
As for the food, it's perhaps unsurprising that fresh fish is a prime focus at Rocksalt – much of which is caught from bobbing day boats moored beneath the restaurant's terrace. A handful of meat dishes are also served, similarly championing locality, with much of the produce bred in the surrounding countryside and marshlands. Lunch begins with a round of Kentish sourdough bread, accompanied by whipped butter and decorative oyster shells filled with taramasalata that's rich, brackish and silky. Crystals of rock salt (of course) are correspondingly presented, cradled in ornamental scallop shells, but are pleasingly unnecessary throughout lunch.
Perhaps unusual for this century, Rocksalt's sprawling a la carte menu offers three soups. Rather than acting as a perfunctory preference for toothless octogenarians, chilled pea and mint soup (£6.85) dispenses tremendously profound depth of flavour, highlighting an age-old, tried and tested flavour combination. Even better are the accompanying choux buns lavishly piped with smoked salmon mousse. A generous portion of baked mussels (£12.50) are served in a cast iron pot – plenty to feed two as a lighter starter. These plump molluscs are well-cooked, yet it's the creamy sauce spiked with smoked bacon lardons and Kentish Gala cider that's borderline transcendent. A finger bowl is served alongside the mussels, but a soup spoon or a straw would be a more appreciated accompaniment in order to slurp every last drop of liquid.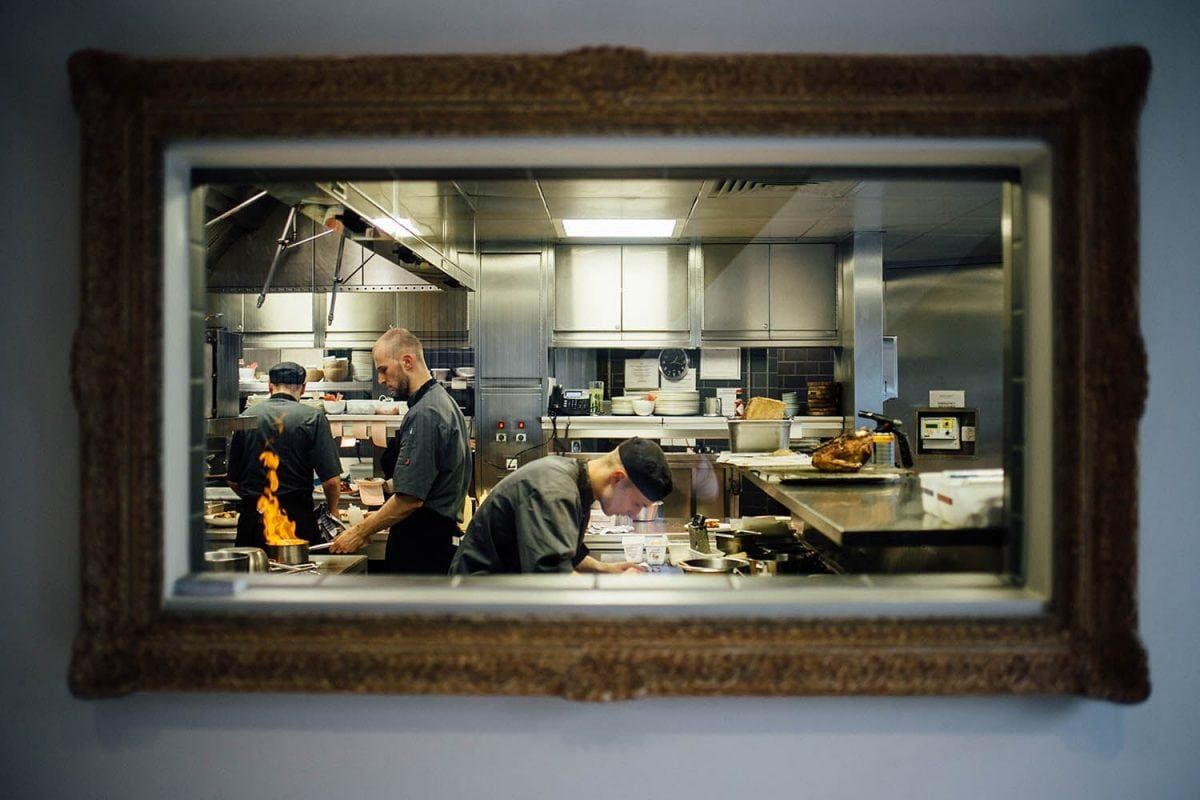 From a separate menu headed 'Fish Friday', fried skate wing (£19.50) highlights bounty rarely seen outside fish and chip shops. Without a whiff of ammonia often synonymous with skate, the fish is deftly fried, effortlessly coaxed from the bone. This is lashed with an insalubrious, satisfying sauce of butter, chives and smoked bacon; crowned with spears of al dente (arguably too al dente) tender-stem broccoli. Grilled lemon sole (£22.50) is served whole, cloaked with vibrant green seaweed butter and also cooked with precision. Although the puddings menu is deeply rooted in nostalgia, we skip dessert, already sated and well-fed. If the petit fours of Kentish gypsy tart fudge are anything to go by, however – the gypsy tart would be a must-try.
A noteworthy occasion restaurant, Rocksalt utilises a gorgeous setting and showcases accomplished cooking that's undeniably elegant while abstaining from sanctimony. Cooking that's become increasingly difficult to unearth outside the nation's more cumbersome cities.
Rocksalt can be found at 4-5 Fishmarket, Folkestone, Kent, CT19 6AA.
RELATED
https://www.thelondoneconomic.com/food-drink/restaurant-review-ondine-edinburgh/16/01/
https://www.thelondoneconomic.com/travel/why-everyones-banging-on-about-margate/30/08/
https://www.thelondoneconomic.com/food-drink/angler-launches-taste-autumn-menu-review/23/10/