Everybody knows that grain is crucial in spirit production, yet the importance of water quality is so often overlooked by consumers. Operating from a site within The Lake District National Park – famous for its vast rainfall, in addition to breathtaking scenery – The Lakes Distillery uses water directly from the nearby River Derwent in the production of all its spirits. A fast flowing spate, the Derwent is one of the fastest flowing rivers in Europe which ensures the waters are continually filtered and flushed through to ensure optimum purity, in part thanks to rainfall.
With the initial idea conceived in 2010, inspired by a family holiday in the Lake District, Paul Currie eventually opened The Lakes Distillery in December 2014, following a £9 million investment and three years of development. Five miles north-west of Keswick, The Lakes Distillery operates from a site close to Bassenthwaite Lake (technically the Lake District's only actual lake), housed within a disused Victorian dairy farm. With three spirits to its name, The Lakes Distillery provides The Lakes Gin, The Lakes Vodka and The ONE Whisky – which is the only blended whisky to feature produce from all of the British Isles' whisky-producing countries. The distillery will also release their first single malt next year, not constricted to the strict laws of the Scotch Whisky Association.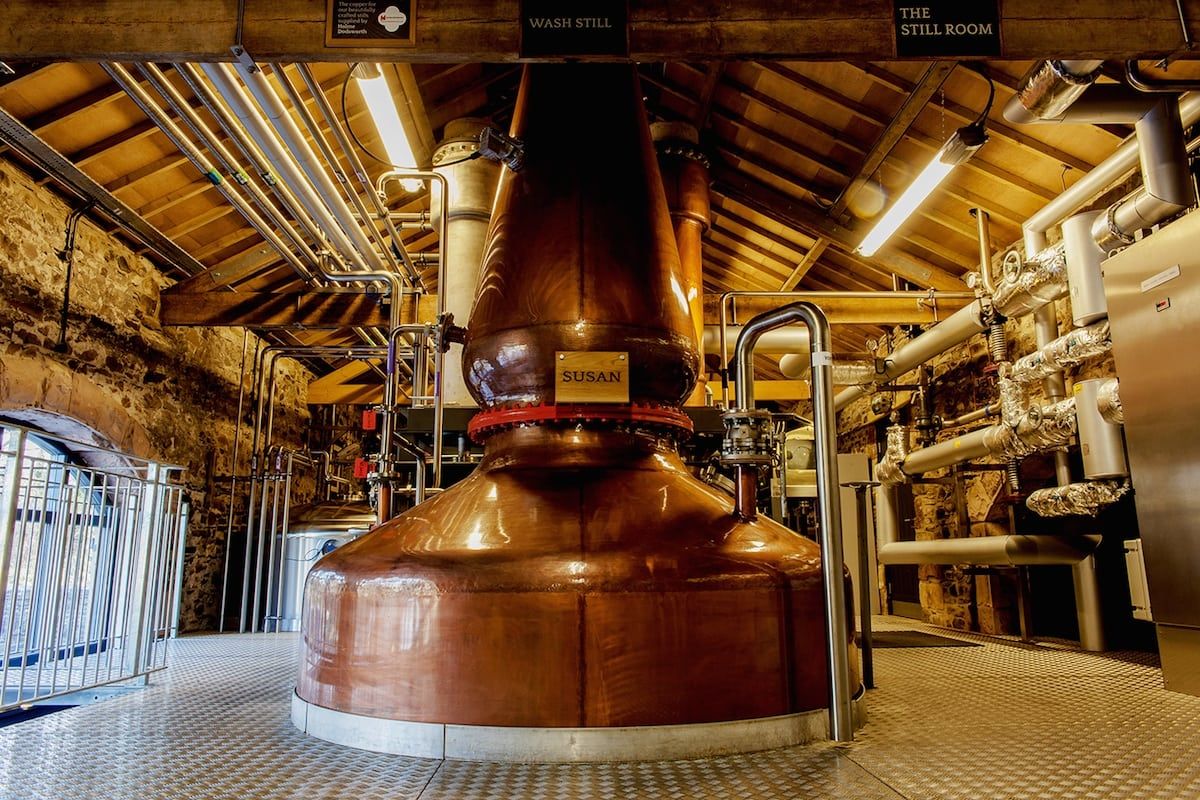 A "unique blend of exceptional whiskies from the British Isles", The ONE has a light straw complexion with some viscosity that sticks to the side of the glass. At first, the nose is fairly closed but eventually develops with some rich fruity notes of raisins and apples, sweetness of heather honey, caramel, and vanilla from bourbon casks. Elsewhere, bulbous cereal notes are complete with some very gentle smokiness. On the palate, The ONE is very slightly watery, though pleasant with a mellow flavour. Further cereal notes are instantly distinctive, with savours of Bran Flakes, some hazelnuts plus more dried fruit. Elsewhere, some sweetness of toffee and auxiliary vanilla becomes ostensible on the tongue, finished with some smokiness that rounds off the whisky's complex flavour profile. The ONE then concludes with peppery, warming and silky finish, albeit short.
With a similar price point to Johnnie Walker Black Label, The ONE is a fine blended whisky. A fair entry level spirit to entice new whisky drinkers, though it's silky enough to drink irresponsibly (not that I'd recommend doing so) while awaiting the arrival of The Lakes Distillery's debut single malt with baited breath.
Further information on The Lakes Distillery can be found here.
RELATED
https://www.thelondoneconomic.com/food-drink/the-lakes-distillery-a-british-blend/10/08/
https://www.thelondoneconomic.com/food-drink/gordon-ramsays-maze-grill-launches-eve-veal-supper-club/09/05/
https://www.thelondoneconomic.com/travel/exploring-lake-windermere-lakeside-hotel-spa/07/02/