According to recent YouGov Omnibus research, beef is generally regarded as Britain's favourite centrepiece meat for roast dinners. (33 per-cent of participants favoured roast beef, followed by roast chicken at 27 per cent). It's thus unsurprising that the Sunday roast at the new Beef and Brew in Haggerston has quickly garnered much attention.
Following the launch of a cosy Kentish Town restaurant in 2015, the team behind Beef & Brew opened their second site during the summer, taking over the former premises of Duke's Brew & Que near Haggerston over ground station. Occupying a pub which dates back to the early 1800s, the space is strikingly informal – comfortable, even. Through the proper bar area (a new feature at Beef & Brew, with this larger site), the sympathetically lit dining room is bedecked with well-spaced dining tables which join exposed brickwork and hard wood flooring. In addition to the classic pub surroundings, the informal atmosphere is heightened by warm, accommodating staff happy to suggest recommendations on food and beers from the extensive drinks list.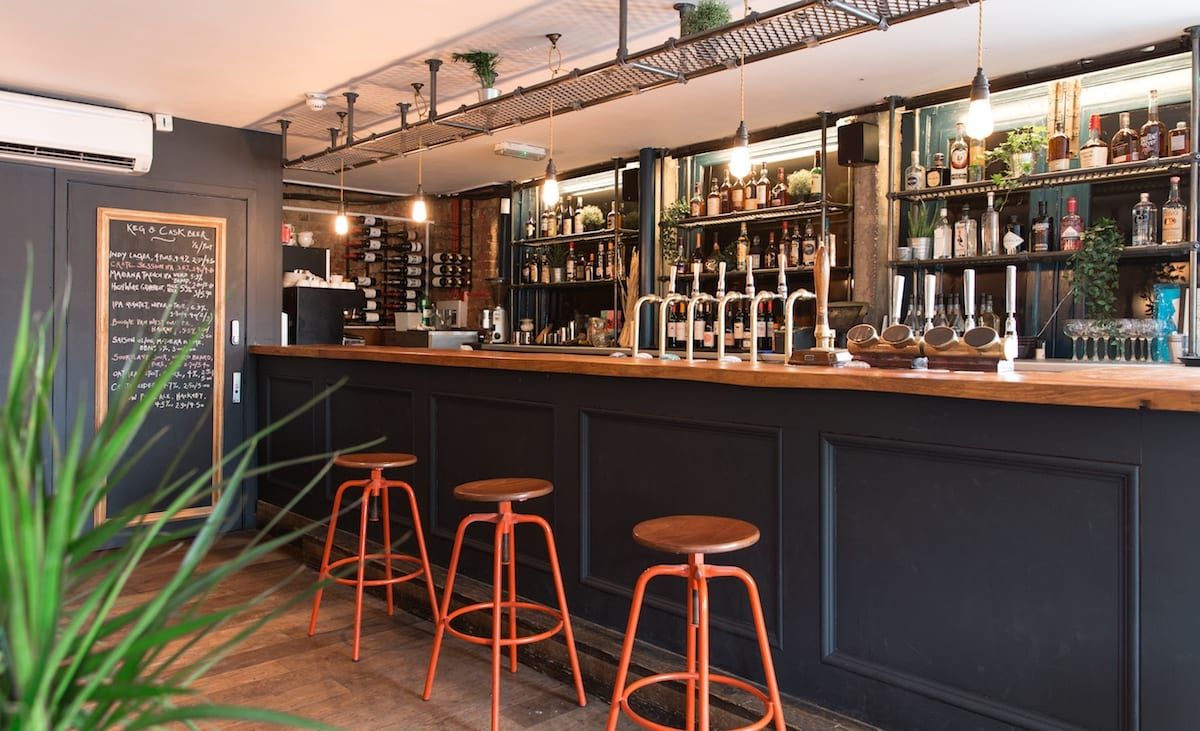 Alongside the Sunday roast, the restaurant's menu has a very slight French leaning, dominated by steaks, all especially sourced. The restaurant's signature sirloin, for instance, utilises 14 year-old retired dairy cows from Galicia, Spain; while fillet is sourced from Swaledale Foods' native-breed cattle in North Yorkshire and onglet is cut from grass-fed Hereford cattle, priced at just £10. Moreover, each steak is dipped in beef dripping prior to being grilled. Elsewhere, the menu features a selection of snacks such as sourdough bread served with fresh radishes and a mound of butter whipped with decadent chicken fat. Brisket jam nuggets, on the other hand, ensnare hunks of slow-cooked beef brisket, embellished with sweet fruit. These delightfully insalubrious treats are deep-fried and cloaked with a generous armour of breadcrumbs: texturally evocative of Findus crispy pancakes, yet eminently edible.
In addition to the two key beef roasts, a perfunctory roast chicken is served, available alongside a rotating selection of larger cuts of beef intended to be shared. A colossal, bone-in wing rib steak – cut from where the sirloin meets the forerib – is served on a plate of its own, while two black plates (evocative of Come Dine With Me circa 2009) are stacked with trimmings. The beef is, of course, the main draw, sourced from Swaledale Foods. Free range, fed on grass, hay and silage, the beef is hung in Himalayan salt chambers for at least 28 days, concentrating the flavour of the meat over a longer period of time, ultimately offering unique depth of flavour. Cooked medium-rare, as ordered, the steak's texture was robust yet tender, snuggled by a strip of well-rendered fat harbouring intense bovine depth. While so many big name steak restaurants counter intuitively serve great produce that's badly cooked – the cooking of this particular steak was near perfect.
On the side, charred hispi cabbage was somewhat overzealously charred – fine, but out of place. The rest of the roast was majestically straightforward, nonetheless. Large spears of carrot were also branded with deep char lines, like railway sleepers, but gloriously contrasted the vegetable's inherent sweetness, bolstered by a whisper of star anise; a large Yorkshire pudding was well-risen and airy; horseradish cream was potent and naturally delectable alongside the beef; roast potatoes were superlatively cooked, well-seasoned with a gold, crisp armour shielding fluffy internal matter, not unlike triple-cooked chips. Thick gravy was also rich with cooking juices and plentiful to convoy the outrageous amount of food, rendering dessert completely unnecessary, regardless of how delightful the nostalgic ice cream Sundaes appear.
Beef & Brew Haggerston can be found at 33 Downham Road, London, N1 5AA.
RELATED
https://www.thelondoneconomic.com/food-drink/review-the-belrose-roast/12/10/
https://www.thelondoneconomic.com/food-drink/restaurant-review-roast-restaurant/22/01/
https://www.thelondoneconomic.com/food-drink/disappointing-steakhouse-london/09/06/