As far as unique experiences are concerned, high-rise dining has become exponentially popular since London's skyline has become crowded with so many Neo-Futurist cloud botherers. In 2018, nearly all of the city's skyscrapers have been bedecked with a fancy restaurant. The problem with eating at altitude, however, is often a matter of cost. Costs so astronomically high they're impossible to warrant when compared with the often lacklustre food served: almost always compromised. After all, most diners book tables purely for the '#views', for self-aggrandising social media gratification; and end up ordering the boneless chicken breast anyway. It is perhaps unsurprising that some of the city's highest restaurants are also some of London's worst. With London In The Sky, though, the food seems just as important as the sweeping views across what's (arguably) the greatest city in the world – if not even more so.
Returning this year, the al fresco dining experience will run until Sunday 15th July, featuring involvement with three of the city's most exciting chefs: Club Gascon's Pascal Aussignac; The Dairy co-founder, Robin Gill; and Lee Westcott, formerly of the Typing Room, Noma and Per Se in New York. On Friday 6th and 13th June, these chefs will also personally cook their menus, served at their respective 'sky tables'. Throughout the ten-day event, three 22-seat tables will be lifted 100 foot above the South Bank, above the smog and away from the endless chunter of galling school children, serving breakfast, brunch, lunch, afternoon tea, dinner and late night cocktails.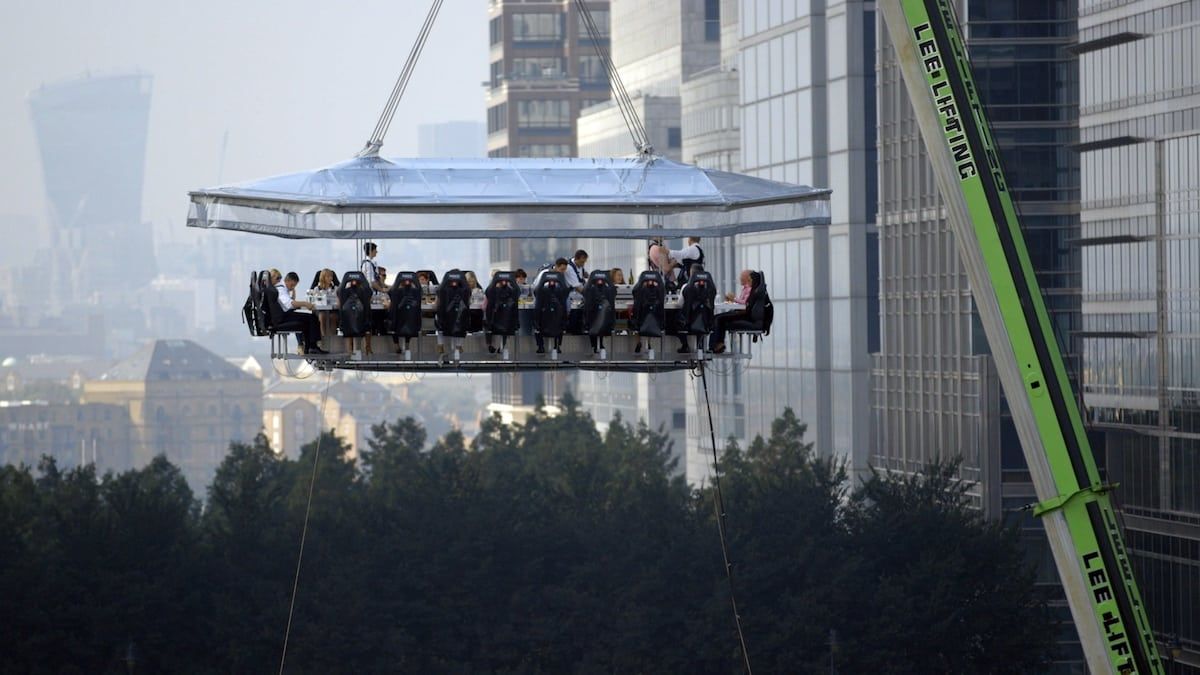 Arriving for the later lunch sitting (two o'clock) on London In The Sky 2018's launch date, we're escorted to our table and strapped into leather bucket seats around an open-plan table, centred with a pocket-sized kitchen. Before lunch is served, each of the three tables are crane lifted into the sky to dangle over the city for the duration of the 45-minute service. As the table gently revolves, lunch includes unspoiled views of landmarks such as St Paul's Cathedral, the Shard, the OXO Tower, Canary Wharf and Crystal Palace tower. At our table, the menu is designed by The Dairy's Robin Gill, featuring three courses (a vegetarian menu is also available) served alongside water and a couple of glasses of wine.
Showcasing courgettes sourced from Simon Rogan's 'Our Farm' in the Cartmel Valley, Cumbria, lunch begins with a delicate dish of paper-thin courgette ribbons. These are tangled with some thicker horizontal slices – ultimately adding textural depth – simply paired with brackish green olives, sweet basil, whipped sheep's curd and a praline of sunflower seeds; all garnished with vibrant yellow courgette flowers. Simple in execution but complex in flavour, the starter has a notable lightness: perfect for the warmer months.
With the main course, one-year-old lamb is featured in the form of blushing cutlets and nuggets of Merguez sausage harbouring a feint whack of spice, prettily presented alongside globe artichoke hearts and silky aubergine puree. This all lolls across a bed of beans, lending a Gallic cassoulet slant to the main – along with the sausage – albeit lighter and (dare I say) deconstructed. This is quickly followed by a sprightly dessert of fresh white peach segments, blanched almonds, elderflower gel and a scoop of subtly-flavoured ice cream.
Although quick and relatively expensive (£125), lunch with London In The Sky is incomparably experiential – boasting competent cooking with food never overshadowed by the sweeping views. Arguably one of the summer's most adventurously rousing dining experiences.
Further information on London In The Sky, along with booking details, can be found here.
RELATED
https://www.thelondoneconomic.com/food-drink/londons-best-new-restaurant-openings-july-2018/02/07/
https://www.thelondoneconomic.com/food-drink/restaurant-review-st-john/08/05/
https://www.thelondoneconomic.com/food-drink/review-city-social/11/05/