"#gyozadreams" reads the laser-cut decal emblazoned across the window of Titu. A sentiment so drenched with hubris, it's almost arrogant; perhaps fittingly for this hive of Mayfair that's still yet to be dragged into 2018. Although festooned with commendable independent restaurants, Shepherd Market and its surrounding warren of narrow streets remain adulterated with cigar smoke, juxtaposed to the gold-wrap supercar fumes of nearby Berkeley Street.
Titu, though, is refreshingly modern. Officially London's smallest restaurant, the 15-cover space opened just three months ago, headed up by ex Novikov chef Jeff Tyler. Having worked in the kitchen of Novikov's glossy Asian counterpart, the Kiwi chef continues to experiment with a strand of Pan-Asian cuisine, albeit far more accessible and undoubtedly more enjoyable. Food is served all day and all dishes are also available to take away. During lunch on a warm afternoon, Jeff is present at a corner table for the duration, perched behind a laptop.
Inside, the space is cosy – with tables packed in – simply decorated with a palate of turquoise and gold. In keeping with the size of the restaurant, service is fast, courteous and executed with military precision. Before ordering, a snack of fried lotus root crisps is served with a vivid sauce of corn, yuzu and numbing pepper, which acts as a pleasing introduction alongside simply spiced edamame (£4.50) and a bottle of rosemary water (expensive at £6.50 for a 330ml bottle, nonetheless).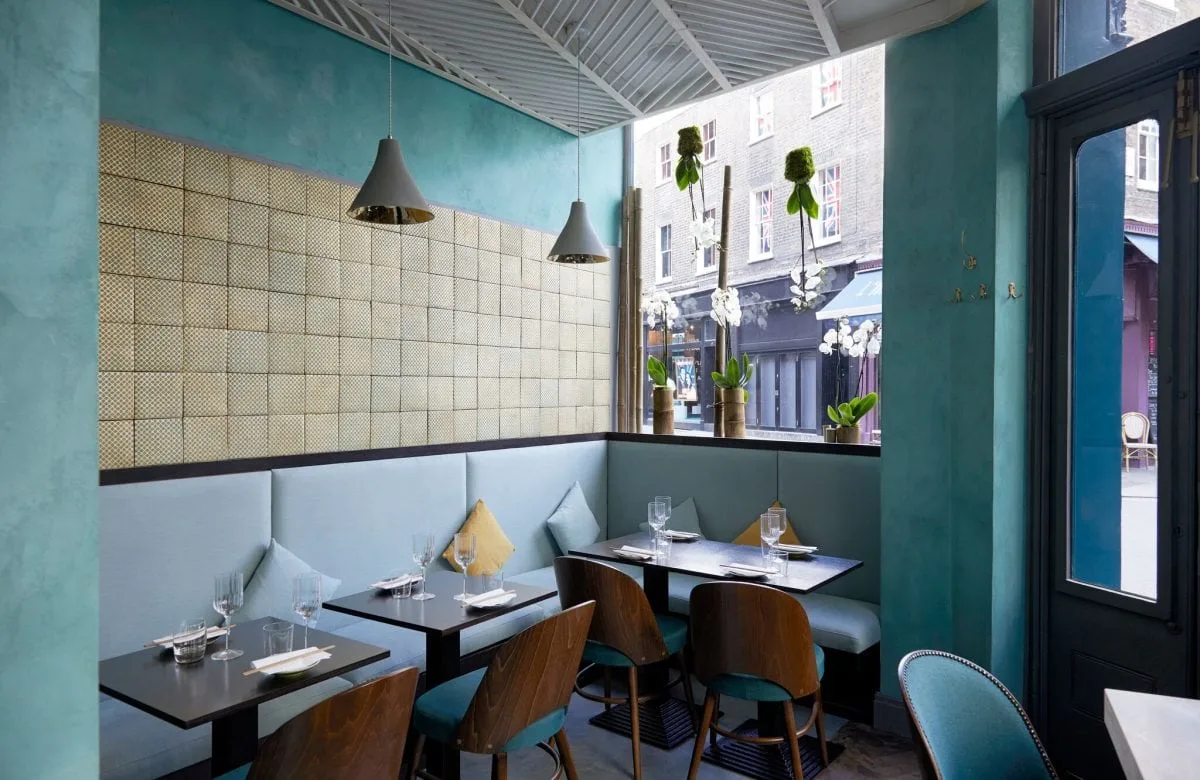 Alongside the lotus crisps, the relatively short menu features a number of comforting deep-fried treats. Shitake rice balls (£7.50) ooze with molten cheese, like miniature arancini, breaded with panko. Chicken popcorn (£7) is less exciting, although well-seasoned, yet sheets of crispy seaweed (£3.50) aren't overwhelmed by the taste of cooking oil. One of the salads available, Titu's Thai influenced soft shell crab salad (£8.90) also has a deep-fried offering at its helm. A whole crab is generously seasoned, lightly battered and superlatively cooked, lopped into segments and embellished with bean sprouts, fistfuls of young leaves, rings of pickled onion and grapefruit segments which slice through the itinerant oiliness of the crab.
At Titu, gyozas are clearly the main draw. All cooked flat-side down, the Japanese dumplings are steamed until the pan becomes dry, eventually frying the bases, with excess starch forming a paper-thin pancake that's left attached when the dumplings arrive at the table. Various fillings are available, including vegetable, chicken and cheese, and spicy prawn; plus chicken and foie gras or Wagyu beef with black pepper towards the more super-luxe end of the spectrum. Of these, the Wagyu dumplings are the most expensive, albeit democratically priced at £12.90 for five – considering the quality of produce. Although the dumplings are remarkably well made, harbouring the tried and tested flavour of slightly spiced beef with a nip of black pepper – the beef is minced.
Renowned for its rich marbling and fat content each contributing to the high-end breed's outstanding texture, to mince Wagyu beef seems somewhat wasteful: rendering the expensive cattle completely bereft of its characteristic consistency. Yes, the flavours and execution are near perfect, but given the technique, less expensive beef from this time zone would certainly suffice. Then again, Titu does take residence at the most affluent end of the Monopoly board.
Lunch finishes with a dessert platter (£25) – the pinnacle of the licentious Mayfair menu: one last overindulgent blow-out. "Let's see if we can push the bill into four figure territory." In this part of the city, dessert platters have somehow become almost as ubiquitous as gyoza in Japanese drinking establishments, generally filled with all sorts of sugary fare, loaded with unnecessary bells and whistles then brought to the table in a giant boat, only to be pushed around and sent back to the kitchen fit for reuse. At Titu, however, this is not necessarily the case. Of course, it's unnecessary, but the portions seem reasonable, featuring an almost perfect chocolate fondant, scrotal mochi (best of which is the sesame flavoured ball) and a sweet matcha crème brûlée topped with fresh strawberries and pine nuts.
Like the rest of the food served at Titu, the desserts are generally well-executed: a comforting conversion from the silliness usually associated with lavish Pan-Asian in Mayfair.
Titu can be found at 1A Shepherd Street, London, W1J 7HJ. 
RELATED
https://www.thelondoneconomic.com/food-drink/restaurant-review-hide/21/05/
https://www.thelondoneconomic.com/food-drink/restaurant-review-southam-street/12/12/
https://www.thelondoneconomic.com/food-drink/restaurant-review-streetxo-london/11/06/