Unlike so many other South East Asian cuisines, I'd be surprised if I weren't the only Londoner unfamiliar with Burmese food until recently. According to Dan Anton, co-owner of Lahpet in London Fields, this is likely due to the relative lack of Burmese nationals anywhere outside of Burma (or Myanmar).
Leaving complex political situations aside, if (like me) you are uninitiated, you've been missing out. Located in the railway arches of London Fields, at the edge of the park itself, Lahpet promises a selection of both traditional Burmese dishes and ones that have been given a modern twist by co-owner and Head Chef Zaw Mahesh.
Originally cultivated as a pop-up in Maltby Street Market, Lahpet has a nomadic feel even in its more permanent residence. The entire front opens up, thanks to large windowed doors that concertina, which, along with plant baskets hanging from the high ceiling, is particularly lovely on a summer evening. The venue's set-up is one of communal tables (of which, I must admit I am generally not a fan, but here, it's worth suffering for the food itself) and al fresco dining, all of which together proves for a clean, airy and light atmosphere.
The venue is fairly empty when we arrive for dinner but it quickly becomes clear that this is one restaurant you'll have to book ahead. Although it feels much larger than it is, seating is ultimately limited (it seats 44). During the course of the night a number of walk-ins are unfortunately driven to make alternative dinner arrangements. Those of us lucky enough to have scored a couple of seats, however, feel all the more special. The menu is light on descriptions of ingredients, adding to the mystery of the cuisine. As we take our seats at one of the shared tables within the open doors, we know we're in good hands. Dan, who shares Burmese heritage with Head Chef Zaw, is on hand to explain the menu and make suggestions, which we promptly take him up on.
We start with a selection of fritters (£3 each), a tea leaf salad (£9) and a bottle of house white (£18). Although the selection of Mile End Brewery's beers is equally tempting, the Lahpet White is crisp and refreshing. The fritters – Mandalay (kidney bean and ginger); shrimp and watercress; sweetcorn and Shan tofu – are each delightful, served with a tamarind dip. Particularly interesting is the tofu, made on site using split peas. It's firm and has an unusual taste, unlike that of any other tofu I've tried before.
It's easy to understand the chef's choice to have a tea leaf salad as the restaurant's signature dish. It is fresh, perfectly balanced and simply delicious. The menu leaves us guessing as to its ingredients (a truly secret recipe) but I trust my tastebuds on picking up peanuts, sesame, lemon, kidney beans, red and white cabbage heirloom tomatoes and, of course, the key ingredient. 'Lahpet' translates from Burmese as 'tea' and the pickled tea leaves used in this salad are specially imported straight from Myanmar.
Already, we're converted. I'd come back just for this salad, and I know I'm not alone. The communal tables are conducive to dinner conversation with complete strangers and I have it on good authority that the tea leaf salad is a hit throughout the venue.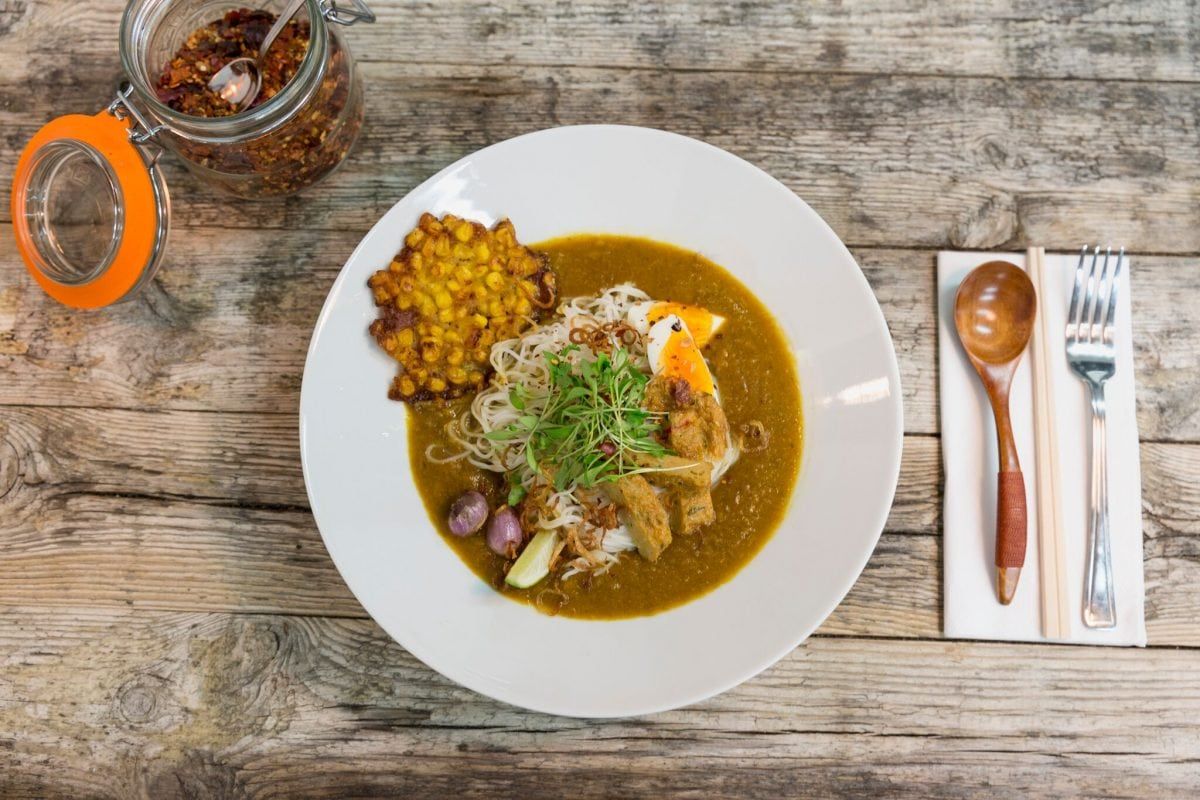 For mains, fish chowder (£12) is served with rice vermicelli, a split pea fritter and a soft-boiled egg. The dish, which has a consistency more akin to a curry rather than a New England clam chowder, is fragrant with lemongrass and (thankfully) not overly fishy. It is a light and silky, yet robust, dish which I understand is on the traditional end of the Burmese cuisine spectrum. The hake masala (£16), on the other hand, is perfectly cooked and flakes at the lightest touch. Together with the Burmese masala sauce and a lemongrass rosti, this is our modern Burmese dish selection and I would gladly order it again and again.
We're also offered a small bowl of Balachaung (spicy prawn relish: £2), which at first knocks our socks off with its heat. But once we figure out the portioning, it adds a nice spice to the dishes, both of which are naturally quite mild. At this point, I am not sure that this meal can get any better. But it does. A selection of Lahpet's ice creams and sorbets (£2 per scoop) include lime and ginger; banana and coconut ice cream; and papaya sorbet. Each one is incredibly fresh and packed with clearly identifiable natural flavour. Simply; they're perfectly made.
Overall, dinner at Laphet is difficult to fault. The menu changes monthly, based on seasonality of produce, and is made entirely of locally supplied or indigenous products. These are obvious in each dish, thanks to their fresh, interesting flavours. My advice? Go, now – but be sure to book ahead!
Lahpet can be found at 5 Helmsley Place, London, E8 3SB.
–