The famous postcode of NW3 is known for impeccable homely feel, leafy streets and its ruthless approach to neighbourhood restaurants: with refined palettes to serve and high rents to pay, only the best survive.
Enter Delicatessen, a confusingly-named modern Middle Eastern restaurant from the owners of similarly kosher restaurants Head Room Cafe, Pzazza, and Soyo. It's nicely placed in the middle of the buzzy Rosslyn Hill, with Carluccio's on one side and Café Hampstead on the other. That's confidence for you, but then the restaurant had time to assess its worth in its original home in Swiss Cottage, just a stone's throw away.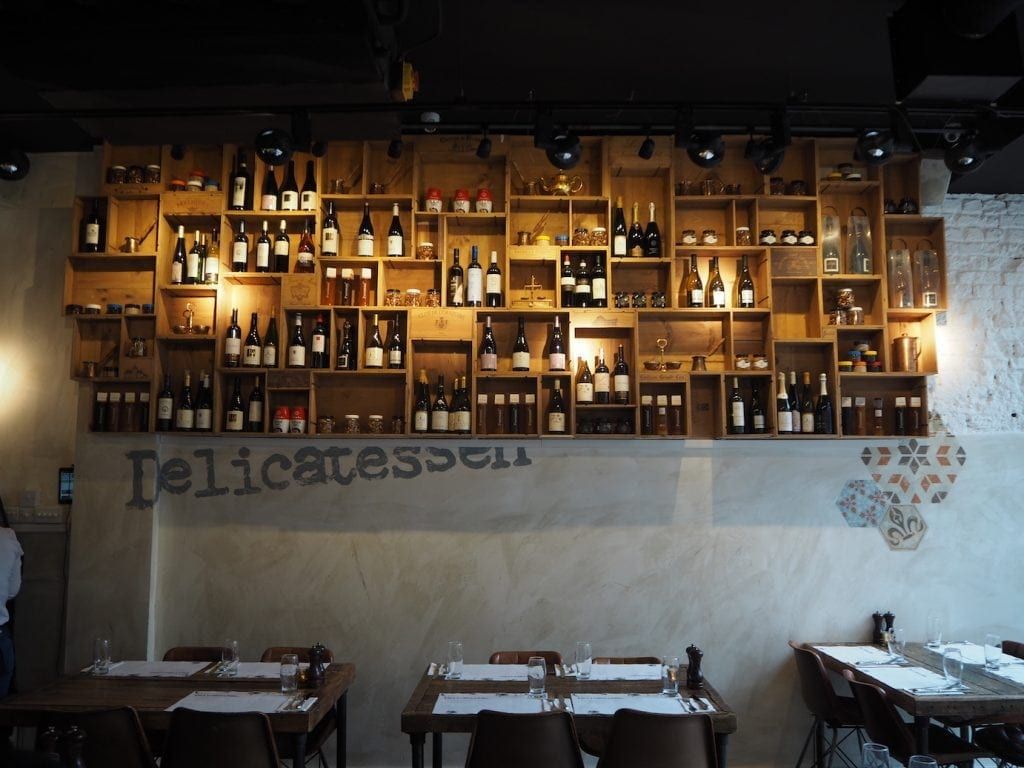 The new home is a fantastic space. Seating around 40, there's exposed brick in parts of the light, airy room, but it's all whitewashed roughly. The industrial chic continues with its Eames-style chairs and artist studio wooden tables, lit up with rows of spotlights that show off the wine stored along its shelves. All in all, it's boldly at odds with its menu, traditional Kosher with subtle interesting twists.
Being vegetarian, Middle Eastern food is a blessing. With favourites like green falafel and a creamy, tahini-heavy hummus on this menu, there's no forgoing strong flavours and interesting blends. If anything, it's the meat dishes that are in danger of being bland, though in ordering the Lambshuka – moist cuts of lamb with tahini, herbs and nuts served in a cast iron bowl – my friend proves me wrong. To wash it down, there's an interesting list of mostly kosher wines. The second cheapest red, the Barkan Malbec from Israel (£23), is medium-bodied, nicely dry and a good compliment to both the meat and vegetarian dishes.
Drinks in hand, out comes the star of the show: the skillet of tanned aubergines, which are skilfully smoked, flattened on a skillet and served with figs, pomegranates and parsley (lots and lots of parsley, a running theme in the dishes). Not only does it taste delicious and easily passes the could-I-make-this-at-home test, it takes pride of place on the table, heaving with so many sharing plates – intense Persian rice, perfectly delivered chargrilled corn cobettes with vegan parmesan and salt beef schnitzel – that I, er, drop the skillet. A mortifying waste of a third of a delicious dish, but at least that proves the staff's lightning speed reaction.
On a sunny Thursday, the small restaurant is full of chatter by the time we leave. They'd another large group coming in, so no time for dessert – a shame as the Basbousa cake with tahini semifreddo was calling my name. At least that's an excuse to drop in next time I'm in the neighbourhood.
Delicatessen can be found at 46 Rosslyn Hill, London NW3 1NH. 
RELATED
https://www.thelondoneconomic.com/food-drink/restaurant-review-ham-west-hampstead/20/04/
https://www.thelondoneconomic.com/food-drink/restaurant-review-st-leonards/10/07/
https://www.thelondoneconomic.com/food-drink/review-untitled/13/07/