Arguably one of the most gastronomically diverse cities in the world, London is home to countless restaurants and pop-ups focusing on the cuisine of far-flung nations. Given its relative locality and a clutch of acclaimed chefs, however, the food of Portugal remains dramatically under-represented here. The city's Portuguese restaurant scene has been over zealously described as 'burgeoning' of late, following the opening of Londrino and Bar Duoro, but according to TripAdvisor, Nando's still occupies four of the top ten Portuguese restaurant slots in London (at the time of writing).
Billed as London's first Algarvian restaurant, Casa do Frango opened on the first-floor of a Victorian warehouse space on Southwark Street earlier this Summer. A project from Algarvian-English Marco Mendes, Jake Kasumov and Reza Merchant, the 85-cover dining room is a strong contender for the title of London's most picturesque. Large arched windows and a skylight allow natural light to flood the room with its bleached, naked brickwork, raw wood flooring and communal bench tables. Suspended fans whirl, suspended from the vaulted ceiling with its exposed beams, hanging alongside a forest of draped foliage. Aesthetically, the space is evocative of a cross between Alcazar in Paris and a trendier-than-thou Columbia Road boutique. An additional cocktail bar occupies a hidden room, illuminated by candle light and set to officially open later in the year.
On the menu, Algarvian-style piri piri chicken is a key focus. Literally translated as 'house of chicken', in Portuguese, Casa do Frango is a complete far-cry from Chicken Cottage. Instead, the free-range chicken served here is cooked over a wood-fired grill in the traditional way, overseen by 'pitmaster' Lucidio da Fonseca Monteiro. A selection of small, sharing plates also feature on the menu, while the democratically-priced wine list focuses on Portuguese natural wines, showcasing a different facet of the country's winemaking tradition.
Dinner began with a traditional port and tonic alongside a generous serving of whitebait cloaked with loose batter, more akin to tempura than that of those fish served in pint glasses – without irony – throughout so many seaside pubs. Chargrilled cauliflower with chilli and coriander-flecked yoghurt had impressive depth of flavour, though was considerably firmer than desirable. The additional presence of nibbed pistachio nuts did lend a North African slant to the blueprint of charred cauliflower that has become so omnipresent in innovative London restaurants, nonetheless.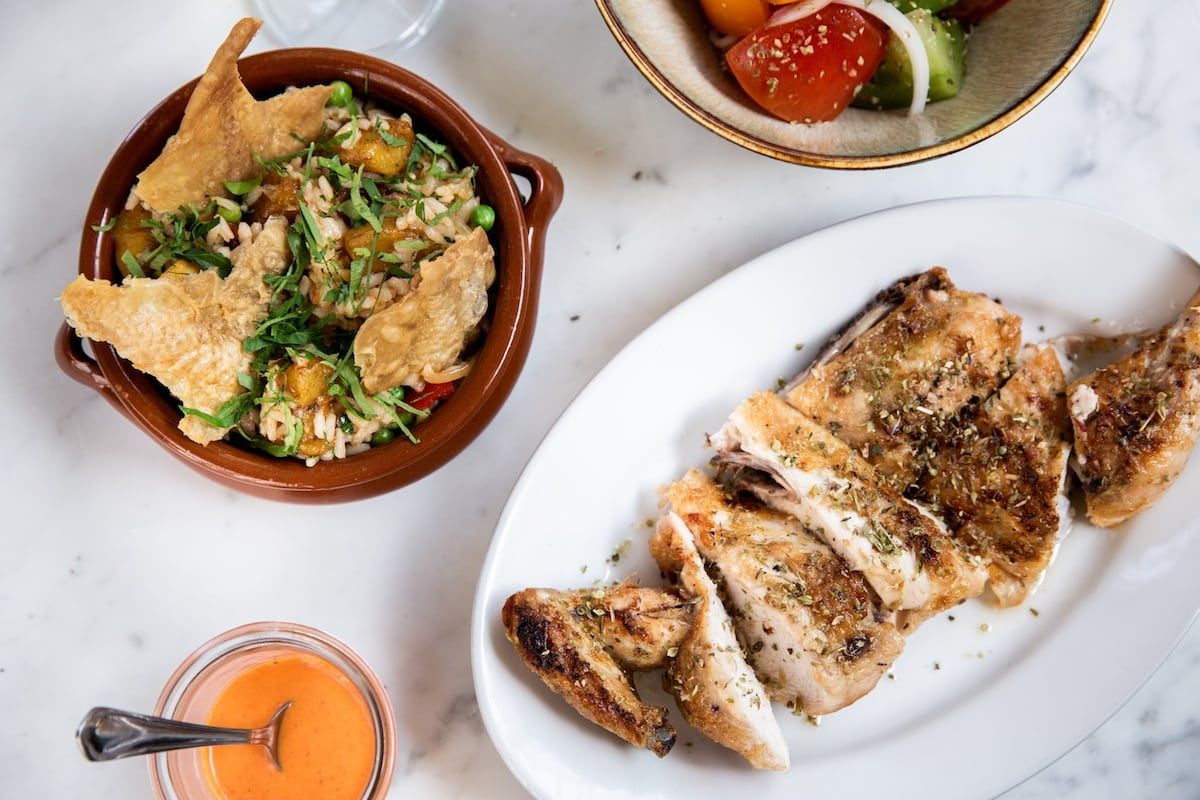 In regards to the frango, chicken is the menu's sole large plate, served by the half and slathered with a choice of three sauces: piri piri, oregano and lemon and garlic. A steal at just £9. Unlike much of the chicken served throughout the UK, the chicken was cooked well: the flesh and skin heavily charred rather than oven dehydrated. The piri piri sauce delivered a fair whack of heat, while the lemon and garlic dressing delivered far more flavour than expected, like a Mediterranean riff on a Sunday roast but with pronounced spicing. The chicken was even more gratifying paired with a glass of Adega de Monçao e Melgaço – a sharp vinho verde ('green wine') from Alvarinho, produced with young grapes harvested in a DOC wine-making region in the north of the country.
On the side, fries were pallid but weren't of the cheeky, frozen McCain variety, at least. Casa do Frango's African rice, on the other hand, is an essential order. Studded with shards of crispy chicken skin, chorizo hunks, onion petals, plantain chips and peas, the deeply sating rice was comparable to an enchanting amalgamation of Jollof rice and paella. To finish, a warm pastel de nata was a solid interpretation of a much loved Portuguese classic with its brittle layers of puff pastry and barely set custard.
Alongside boasting one of London's most glorious dining rooms, Casa do Frango also offers remarkable value while championing largely unexplored Algarvian cuisine.
Casa do Frango can be found at 1st floor, 32 Southwark Street, London, SE1 1TU.
Header photograph: Charlie McKay
RELATED
https://www.thelondoneconomic.com/food-drink/londons-best-new-restaurant-openings-august-2018/01/08/
https://www.thelondoneconomic.com/food-drink/garden-cafe-terrace-menu/17/08/
https://www.thelondoneconomic.com/food-drink/restaurant-review-ikoyi/04/04/