Battersea's new neighbourhood Mexican, Cartel, specialises in hand-pressed tacos, tequila and mezcal.
Reassessing all of the moments in life I'd rather forget, tequila has played an integral role in nearly all of them. Teenage recollections of bottom-shelf bottles adorned with synthetic Sombreros, lime wedges and salt almost inspire me to give up the booze, for good. Over the past six years, in fact, tequila has been incremental in the ruination of so many perfectly good shirts, shoes, livers and friendships.
But with so many Mexican restaurants opening around the British Isles, it's hardly surprising that tequila (and Mezcal, tequila's complex little sister) has become so popular, now for all the right reasons. Opened earlier this year, provocatively named Cartel boasts a collection of over 100 Mezcals, all available at this Battersea neighbourhood restaurant. Inspired by traditional Mexican taquerias, Cartel's food menu is deeply rooted in hand-pressed tacos, designed to reflect Mexico's traditional street food methods. If you are after the hard (read: disgusting) Old El Paso tacos like oversized corn flakes, you'll need to look elsewhere.
Inside, the space is vast but simple with rustic exposed brickwork, rough wood seating and floor-to-ceiling windows that open out onto Battersea Park Road. On a warm Tuesday evening, it's instantly apparent that, although difficult to reach (Clapham Junction, the nearest station, is a ten-minute bus ride away), Cartel is filled with locals enjoying copious amounts of tequila and soft, traditional tacos. Before taking our seats on the fringe of the main road, we begin with a signature 'Cartel' cocktail at the bar. Combining Patrón Blanco tequila with citric acid, the drink is balanced by a touch of peach liqueur. This potent-but-pleasant concoction is then served in a miniature Patrón bottle, over ice, with small serving glasses.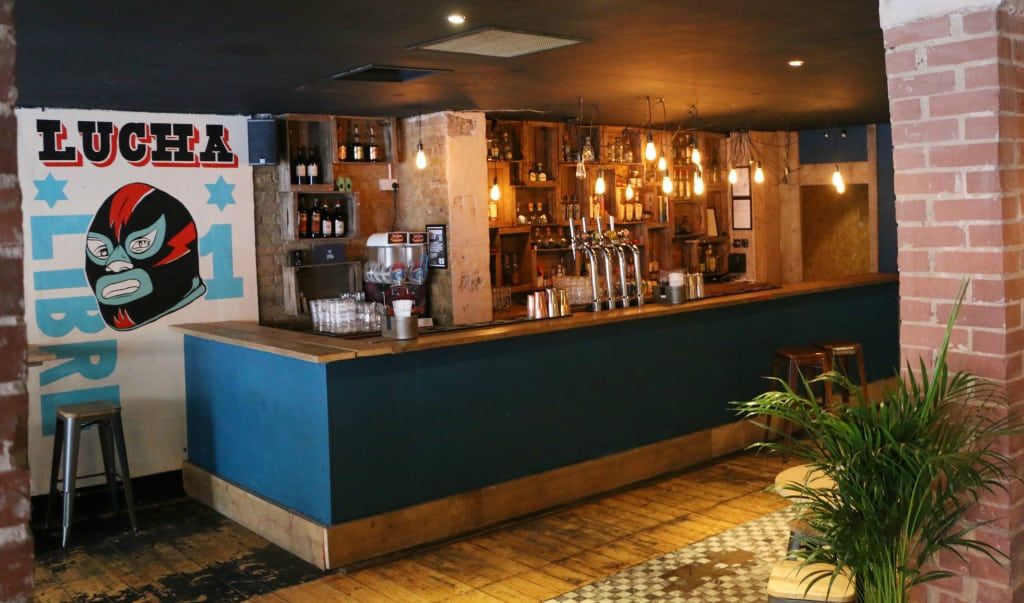 With the food, Head Chef Gareth Rowntree's menu features a concise selection of starters, plus various tacos and quesadillas. Lightly seasoned tortilla chips are subtle and available with a selection of three salsas, most exciting of which is the sweet, smoky dip made with Ancho chilli. Freshly made each day with gluten-free corn flour, taco fillings include acquiescent pulled pork (fortunately without barbecue sauce) teamed with a smooth puree of black bean, coriander and slivers of ripe mango, bringing delightful sweetness to complement the pork. On paper, the lemon, garlic and Mezcal chicken filling seems exciting, though the Mezcal is so potent it overpowers the rest of the ingredients and tastes wholly unpleasant. Far better are the plump king prawns perfectly cooked in a marinade of chilli and garlic. This is topped with coleslaw and insalubrious chipotle mayonnaise – delightful with the paper-thin tacos.
Even the quesadillas are a far-cry from the oleaginous envelopes of plastic cheese served at most "Mexican" restaurants in London. Here, tortillas are filled with Monterey Jack cheese and lightly grilled, with fillings such as pulled pork and red onion; or asparagus with peppers and more of that chipotle mayonnaise. The filling of spicy chorizo hunks is bulked with waxy potatoes (a good friend of chorizo) and grilled just enough for the cheese to have melted into a deeply insalubrious liquid.
Desserts are unavailable, provoking the necessity of ordering more drinks. Mezcal-lovers, or those merely curious, will relish the chance to journey through a selection of Mezcals – from the lighter, sweeter end of the spectrum, through to the intense, smoky spirits.
With its enjoyable, un-pretentious atmosphere well-matched with the food and drink offering, Cartel is a rare, exciting new neighbourhood restaurant.
Cartel can be found at 517-519 Battersea Park Road, London, SW11 3BN.
–

RELATED
https://www.thelondoneconomic.com/food-drink/weekly-cocktail-recipe-cartels-tommys-margarita/07/07/